A hilarious duo.
Royal Trouble (Full)
by G5 Entertainment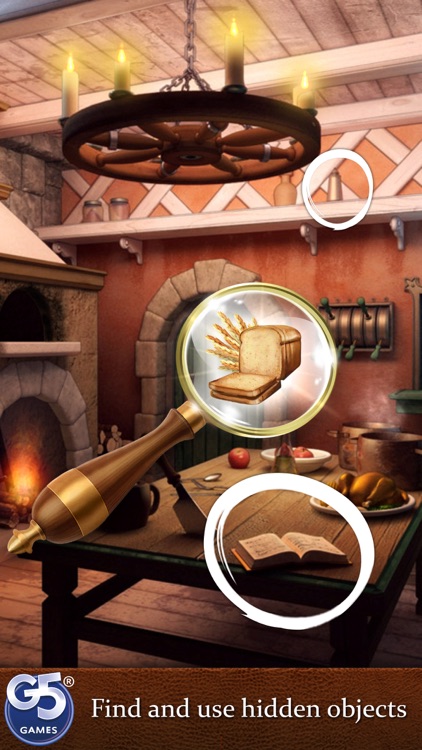 $4.99

in the App Store
Help Princess Loreen and Prince Nathaniel get out of some royal trouble in this hidden object adventure game.
What is it about?
Help two charming royal heirs escape from a secluded island in this hidden object quest! Princess Loreen and Prince Nathaniel find themselves locked in a dungeon without any idea of how they got there. She is bright, witty and rebellious. He is handsome, smart and brave. Unfortunately, they can't stand each other! Take control of both the Prince and Princess and help this hilarious bickering duo escape from their dastardly kidnappers.
For those who...
It's for fans of casual puzzle games.
Not for those who...
If you prefer competitive hidden object games, like those that are timed, you'll have to look elsewhere.
Why we love it
If you enjoy having an adventure story peppered in to your hidden object games, Royal Trouble is for you.
App Store Description
Help two charming royal heirs escape from a secluded island in this hidden object quest! Princess Loreen and Prince Nathaniel find themselves locked in a dungeon without any idea of how they got there. She is bright, witty and rebellious. He is handsome, smart and brave. Unfortunately, they can't stand each other! Take control of both the Prince and Princess and help this hilarious bickering duo escape from their dastardly kidnappers.
Search through the castle for exits and avoid being caught. Find suitable items to help manage their inventories, to solve puzzles, and play outstanding mini-games in search of answers. Solve the mystery of their captivity, and watch love blossom in this charming adventure game with fun twists and turns.

● 22 Entertaining locations
● 16 Intricate mini games
● Charming witty characters
● Explosive combination of mystery, romance and fun!
● Game Center Support
● iPhone 7+ Display support
____________________________

Game available in: English, French, Italian, German, Spanish, Portuguese, Brazilian Portuguese, Russian, Korean, Chinese, Japanese, Dutch, Swedish, Polish
____________________________

Sign up now for a weekly round-up of the best from G5 Games! www.g5e.com/e-mail
____________________________

G5 Games - World of Adventures™!

Collect them all! Search for "g5" in iTunes!

Adventure:

▶ Pirates & Pearls™: A Treasure Matching Puzzle
▶ Mystery of the Opera: The Phantom's Secret
▶ Mahjong Journey®
▶ Twin Moons®: Object Finding Game
▶ Survivors: the Quest®

Strategy:

▶ Supermarket Mania® Journey
▶ Farm Clan®: Farm Life Adventure
▶ Virtual City Playground®: Building Tycoon
▶ Stand O' Food® City: Virtual Frenzy
▶ The Island Castaway: Lost World®
____________________________

VISIT US: www.g5e.com
WATCH US: www.youtube.com/g5enter
FIND US: www.facebook.com/g5games
FOLLOW US: www.twitter.com/g5games
G5 End User License Supplemental Terms: http://www.g5e.com/G5_End_User_License_Supplemental_Terms
Terms of Service: http://www.g5e.com/termsofservice