Samsung and Apple finally play nice – at least for printing.
Samsung Mobile Print
by Samsung Electronics CO.LTD.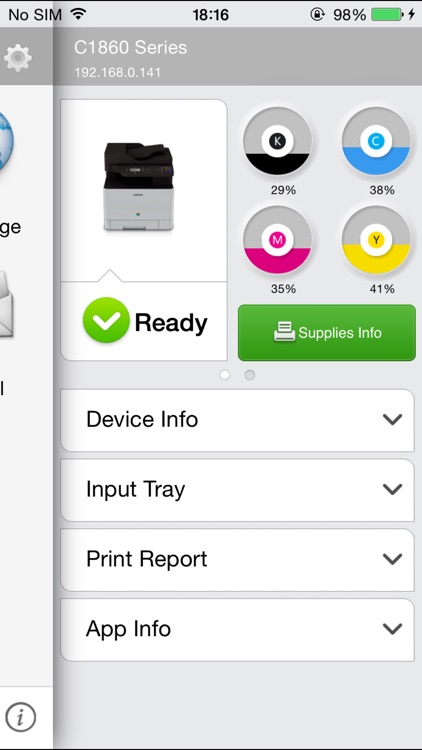 What is it about?
Many Samsung printers don't support AirPrint, but it's reassuring to know that they care about customers who purchase their printers and own iOS devices. You can easily print to a Samsung printer over Wi-Fi by using their Mobile Print app, which can accept documents from cloud services or other apps. More specifically, you can associate your Dropbox, Google Drive, Box, or other cloud account. The app also allows you to scan documents from your Samsung multifunction printer to your iOS device.
For those who...
Need to print or scan to or from a Samsung printer
Not for those who...
Do not need to use Samsung printers
Why we love it
The app is simple while allowing you to use most of your printer's functions from your iOS device.
App Store Description
[Overview]
How great would it be if you could print pictures, Documents, and web pages directly from iPhone, iPod Touch or iPad?
With the Samsung Mobile Print application, now you can print to and scan from your Samsung printer/MFP.
With Samsung Mobile Print, you now have a convenient printing application for your busy lifestyle with convenience, great prints, and lightning-fast scanning.

[Features]
- Automatic printer searching on a local wi-fi network.
- Can configure and print on Samsung printers shared via print server or PC.
- Requires no driver installation.
- Printing photos, documents, email and web pages.
- With support of OpenIn, Documents and images stored with other apps can be printed easily.
- In-App support for printing documents and images stored on cloud service.
- Can copy and print images / text / web pages using clipboard function.
- Scanning a document directly to your mobile device as PDF, JPG, PNG formats
- Integration support for Auto Toner Ordering Service (UK, US)

[Supported Network Models with Ethernet or Wi-Fi]
* M2020/2070/283x/288x/262x/282x/267x/287x/4370/5370/4580/5270/4530/403x/408x/301x/306x/5360 Series
* C410/460/420/470/430/480/1810/1860/2620/2670/268x/140x/145x/4820/3010/3060/351x/401x/406x Series
* CLP-300/31x/32x/350/360/610/620/660/670/680/770/775 Series
* CLX-216x/316x/317x/318x/838x/854x/9252/9352/92x1/93x1 Series
* ML-1865W/2150/2160/2165/2250/2525/257x/2580/285x/2950/305x/3300/347x/331x/371x/405x/455x/551x/651x Series
* SCX-1490/2000/320x/340x/4623/4x21/4x24/4x26/4x28/470x/472x/4x33/5x35/5x37/6545/6555/8030/8040/8123/8128 Series
* SF-650, SF-760 Series
* SL-J1760/2920/2960/3520/3560/5520/5560 Series

[Customer Support]
[email protected]

[App Access Privilege]
To provide quality service, the app needs below app access privilege. You can use basic function of
app without consent of Optional App access privilege:
- Mandatory Access Privilege
. Storage: Needed for temporary storage of files for printing and scanning
. Contacts: Needed for getting Fax numbers from contacts
. Notifications: Needed to receive remote notifications from server
. Background Mode: Allows app to run in background for long running operations like scanning and firmware update
. Wi-Fi: For searching and connecting to MFPs, sending Print jobs and receiving scanned images

- Optional Access Privilege
. Camera: Allows user to capture images and then preview and print directly to Samsung printers
. Photos: Allows user to search photos on the device and then preview and print directly to Samsung printers
. iCloud: Allows user to import files from iCloud and other web storage services for printing and fax