تقدم السعودية تجربة سفر رائعة على الهواتف الذكية
SAUDIA for iPad
by Saudi Arabian Airlines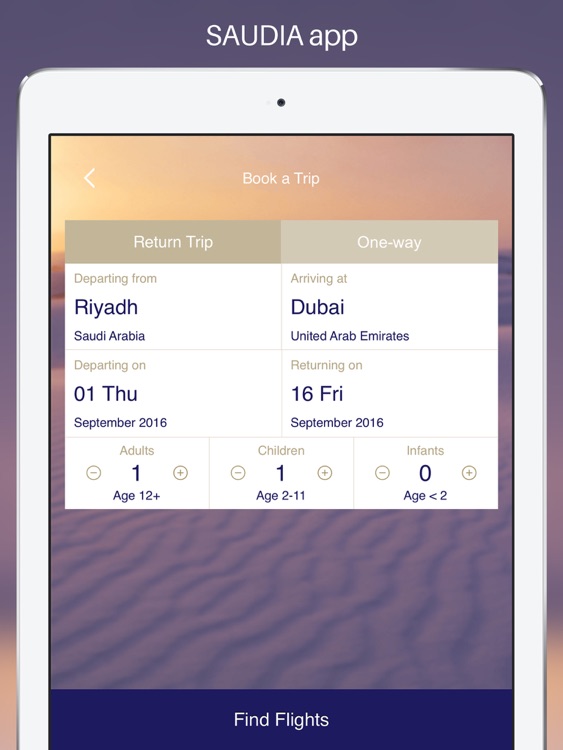 What is it about?
تقدم السعودية تجربة سفر رائعة على الهواتف الذكية.
App Store Description
تقدم السعودية تجربة سفر رائعة على الهواتف الذكية.
يقدم التطبيق خدمات فريدة لأعضاء الفرسان والضيوف لاستعراض معلومات العضوية وعدد الأميال والرحلات السابقة وكذلك حجز الرحلات واستعراض الحجوزات بالإضافة إلى إنجاز إجراءات السفر وإصدار بطاقات صعود الطائرة.

المميزات

برنامج الولاء (الفرسان)
- إنشاء عضوية الفرسان
- استعراض، تعديل وحفظ الملف الشخصي
- استعراض الاميال و المكافآت
- اعادة تعيين كلمة المرور

حجز الرحلات
- اختيار الرحلات بشكل بسيط وسريع جداً بمميزات سهلة الاستخدام.
- جميع بيانات المسافرين يتم تخزينها في هاتفك.
- إدفع عن طريق بطاقات الائتمان من فيزا أو ماستركارد.
- يمكن الدفع عن طريق نظام "سداد" بالريال السعودي خلال فترة يتم حسابها بناءَ على تاريخ ووجهة السفر.
- التعرف وإدخال بيانات بطاقة الائتمان عن طريق تصويرها بالكاميرا بشكل آمن.

اختيار المقاعد
- قمنا بجعل اختيار المقاعد بشكل أسهل لجعل تجربة الحجز عن طريق التطبيق أكثر متعة.
- إذا كنت في عجلة، قم بتجاهل اختيار المقاعد وسيتم اختيار مقعد عشوائي لكل راكب أثناء إصدار بطاقة الصعود.

إنجاز إجراءات السفر
- أنجز إجراءات السفر من أي مكان بشكل سريع ومرن.
- يتم تخزين بطاقات صعود الطائرة في الهاتف الخاص بك بدون الحاجة للاتصال بالانترنت في المطار أو على متن الطائرة.

حجوزاتي
- قم باستعراض حجوزاتك المنشأة مسبقاً عن طريق الموقع أو مكاتب المبيعات لتخزينها في هاتفك لاستعراضها لاحقاً بدون اتصال بالانترنت.

معلومات الرحلة
- يمكن استعراض معلومات الرحلة المجدولة عن طريق رقم الرحلة ويتيح ذلك معرفة المنشأ والوجهة وأوقات الإقلاع والوصول.

الإشعارات
- ستقوم السعودية بإرسال إشعارات تتعلق بالخدمات الجديدة للتطبيق وأحدث العروض وكذلك المعلومات المهمة والضرورية.
- نوصي جميع المستخديمن بتفعيل خاصية استقبال الإشعارات في هواتفهم الذكية ليتمكنوا من استلام الإشعارات.

SAUDIA provides a great travel experience on mobile phones.

The app has features that help SAUDIA Alfursan members and guests to manage their profiles, book and display their trips as well as checking-in and getting flight info.

FEATURES

ALFURSAN
- Join Alfursan
- Retrieve and update Alfursan profile
- Retrieve miles and rewards
- Retrieve flight history
- Reset PIN

BOOKING FLIGHTS
- Book your flights simply and quickly.
- All of your passengers' details are stored on your phone.
- Pay on mobile with Credit Card, Visa and MasterCard accepted.
- Pay in Saudi Riyal through SADAD within a time-limit calculated based on your travel dates and destinations.
- Scan your credit card number just by using your camera, it's safe and easy!

SEAT SELECTION
- You can move around the plane and choose each seat for each passenger in the booking with great ease.
- If you're in a hurry just skip right through and you will automatically be allocated seats during check-in.

CHECK-IN
- Check-in all of your passengers while on the move.
- Boarding passes are stored on your phone and you don't need internet at airport or onboard.

MY BOOKINGS
- Retrieve your bookings made outside the app easily and store them on your phone offline.

FLIGHT INFO
- Check flight schedules for any flight number to confirm scheduled arrival/departure times.

NOTIFICATIONS
- Saudia will occasionally send you timely and relevant notifications to your app about new features, offers, and other important news.
- We recommend all our guests to opt in for receiving notifications
Disclaimer:
AppAdvice does not own this application and only provides images and links contained in the iTunes Search API, to help our users find the best apps to download. If you are the developer of this app and would like your information removed, please send a request to
[email protected]
and your information will be removed.