Two years in development
Scanner911 Pro
by Fullscreen, LLC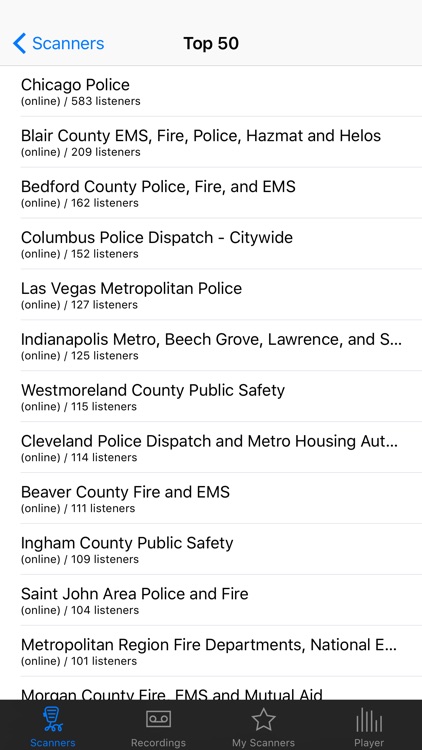 $3.99

in the App Store
Scanner911 is a worthy alternative to the essential app. The interface is very good and some may like it better than the essential app. The content is very similar to the essential app. We wish the developers offered a free version of this one. That is what puts its competitor over the edge. The two apps are very similar and some may prefer this one to the essential app.
What is it about?
Scanner911 Pro gives you exclusive features in addition to the basics. Not only can you listen to the emergency stations, but pull a slider to hear an instant replay, view a visual level history, and edit or upload recordings. Listen live, check the police code chart, and play it in the background.
Why we love it
For emergency stations, Scanner911 Pro provides fire, police, air traffic control, and more with an option to replay what you hear.
App Store Description
Two years in development... version 4 is ready!

Know what is really going on. Listen in on police and fire crews in your local area!

We blow away the competition with our exclusive features:
* Instant Replay! What did they just say? Pull the slider and hear it again.
* Visual level history. Visual level history lets you see when they were talking. Quickly scan and review what has happened.
* Like Tivo for police radio. Scanner911 is always recording so you can make a permanent copy of what you have heard!
* Edit & upload recordings.

Plus these great features:
* Listen Live. Listen to live police, firefighter, emergency medical, air traffic control, and railroad scanner radio bands.
* Listen while you use other apps.
* Follow the action with a handy police code chart.
* Local and global. Listen in to your town or others in the US, Canada, and Australia!

We offer all the police, fire, EMS, ATC, and railroad scanners of our competitors. (All police scanner apps provide our feeds under license from Broadcastify.)

*** For iPad search for Scanner911 HD ***

"...Scanner911 is the app to have." Chosen as the app of the week by cnet.com (http://j.mp/WFJpE) Also covered on wired.com.

"Just wanted to say I love your app. Bought the full version and got rid of those other crappy scanner apps I had. You put them all to shame. Keep up the good work." - Written in our user forum