The perfect multitrack recording studio for creating ringtones
ScratchTones
by Graphixware, LLC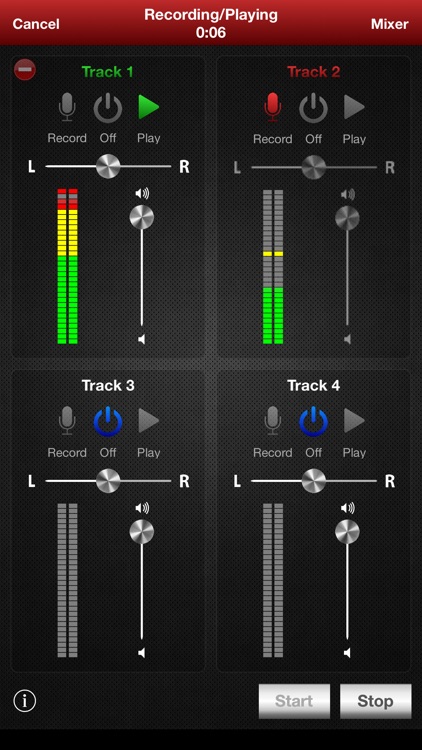 $0.99

in the App Store
ScratchTones is a full-fledged DJ mixer for creating ringtones. With multitrack support, you can set individual track volumes and balances in the app's recording studio and mixing board. You can overdub additional tracks, and add special effects like reverb and equalizer settings. It allows you to upload your recordings to SoundCloud, Twitter, Facebook, Tumblr, and Foursquare.
What is it about?
If you want a full-fledged recording studio for creating ringtones, this is it. You can set up to four individual tracks, set the volumes for each of them, and mesh them together. With ScratchTones, you can create some truly special ringtones quickly and easily. With individual track mutes, volume and balance control, and level indicators, you'll be laying down some mean tones in no time flat.
Why we love it
This app is a full-on recording studio for ringtones and text tones. It's great to mix multiple tracks together and create something really unique and different. The ability to fade each track in and out and mix them together is really unique.
ScratchTones is $0.99 but there are more add-ons
$0.99

Wah Me

$0.99

Motorcycle

$0.99

Escape

$0.99

Heavy Bones

$0.99

Snakebite

$0.99

Hot Wired

$0.99

Lightning Strike

$0.99

Electric Charge

$0.99

Symphoid

$0.99

Sleigh Bells
App Store Description
You got the music in you? Have a hit song in your back pocket? Get ready to rock!

ScratchTones is the one and only multitrack recording studio for creating custom ringtones!

With just a few taps, you'll be laying down your first track. Overdubbing additional tracks is just as easy. Individual track volumes and balances can be adjusted in the recording studio and mixer board, and master volume and special effects like reverb and EQ can be added to your final mix. With unlimited song lengths and full editing capabilities, re-record and remix any of your tracks, anytime!

Don't waste another minute waiting for the band to show! Plug in, write a new tune, rock on!

ScratchTones is the essential tool for musicians on the go!

Features include:

• Recording studio with 4 individual tracks for recording, playback, volume/balance adjustments, level indicators
• Mixer board with individual track mutes, volume/balance adjustments, master volume, reverb, and iPod equalizations
• Unlimited song length capabilities
• "My ScratchTones" view to search, review, play, trim, edit, and remix your custom ringtones
• Support for Apogee Jam and MiC interfaces on all iPhone and iPad devices
• Recordings can be be uploaded to SoundCloud (and optionally to Twitter, Facebook, Tumblr, and Foursquare)