*** IMPORTANT:  Make sure your devices are compatible with Bluetooth LE before purchasing
Scribe - Copy anything from your Mac to your iPhone
by Hippo Foundry Inc.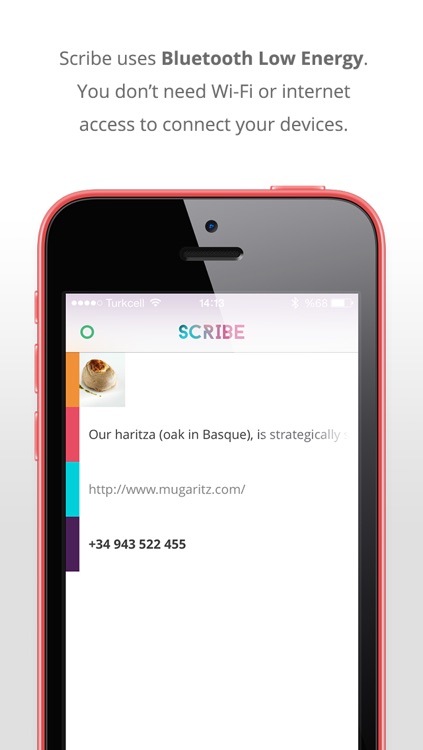 FREE

in the App Store
Copy anything from your Mac and send it to your iDevice without using a Wi-Fi connection with Scribe.
What is it about?
*** IMPORTANT:  Make sure your devices are compatible with Bluetooth LE before purchasing. You can find the list of compatible devices below. ***
For those who...
This is the ideal app for those who want to be more efficient throughout their work day.
Not for those who...
Obviously, if your iDevice or your Mac isn't supported, this is of no use to you.
Why we love it
If you're always in need of the ability to send links, text, and small files to your iDevice, this is the perfect app for it. It always stays paired, so there's no hassle.
App Store Description
*** IMPORTANT:  Make sure your devices are compatible with Bluetooth LE before purchasing. You can find the list of compatible devices below. ***

Scribe lets you copy anything from your Mac to your mobile device, without Wi-Fi.

Select text, links, numbers or small images, and simply press "COMMAND + SHIFT + X" to instantly transfer your selection from your Mac to your iOS Device.

See your sent history, copy, enter URL links, call or add contact numbers, and share items in a great interface.

NEW UPDATE: Scribe now routes your snippet directly into other apps! You can now send an address directly into the Maps app, send copied text directly into Whatsapp as a new message or Twitter as a new tweet! Pressing "CMD + SHIFT + X" now gives you a menu where you can select the iOS app you want to send your copied item to. Just swipe the notification you receive, and let Scribe do the rest.

Scribe uses Bluetooth Low Energy™; a new technology that constantly keeps your devices paired and provides a secure connection without eating up your battery life. You can literally use it all day and not feel the sting on your iPhone's battery.

Since it doesn't rely on Wi-Fi, Scribe doesn't require a network connection to work. All you need are the devices you are already using.

Scribe works on all Macs and iOS devices that support Bluetooth LE. Here's a list of all compatible Mac and iOS models:

Macbook Air - 2011 or newer
Macbook Pro - 2012 or newer
iMac - Late 2012 or newer
Mac Mini - 2011 or newer
Mac Pro - Late 2013 or newer

iPhone - 4S or newer
iPad - 3rd generration or newer
iPad Mini - All generations
iPod Touch - 5th generation or newer

Hint: You can check your Mac's model by clicking on the Apple Icon > About this Mac > More Info

Feel free to hit us up with any questions or feedback at [email protected]