Together we are loud
Seedio
by supertask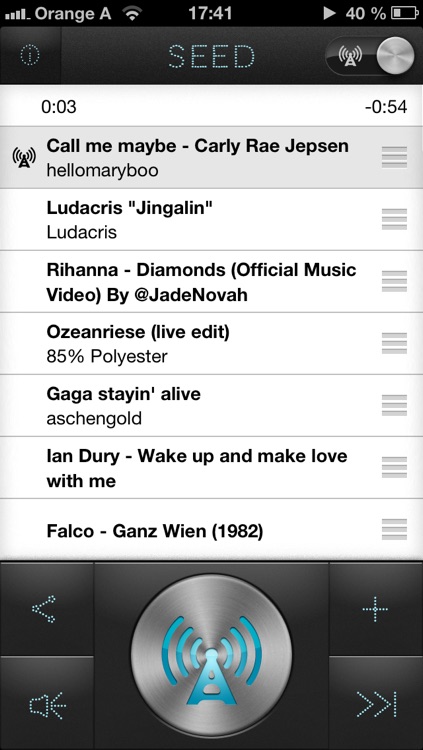 Removed

from the App Store
Connect multiple iDevices together and turn them into a synchronized loudspeaker with this music app. Seedio is a fantastic option for those times when you don't want to lug around large music equipment just to get the music pumping.
What is it about?
Together we are loud!
Why we love it
If you have multiple iDevices at home, you must download this app. You may not realize it, but there will come a time when you're going to want to use its unique playback features. When that time comes, you'll be prepared!
Seedio is $0.99 but there are more add-ons
$0.99

Seedio SoundCloud Support

$0.99

Stream URL Support
App Store Description
Together we are loud!

Enjoy music together: Seedio connects multiple iOS devices to create one perfectly synchronized loudspeaker. Play songs from your Music Library and from YouTube (more sources to be added in the future). Broadcast (seed) music to other iOS devices over Wi-Fi for perfectly synced group playback. Pump up the volume by adding more iOS devices.

Connect iOS devices to active loudspeakers for the ad hoc outdoor party and leave heavy equipment at home. All you need is a couple of iOS devices running Seedio and a Wireless Network - a Personal Hotspot set up on one iOS device is fine! For more connected devices and a wider range use mobile WiFi access points or routers.

Use Seedio as a wireless headphone splitter to broadcast and share audio to a group of colocated listeners in quiet environments - playback is simultaneous and synchronized on all devices.


Use your old unused iOS devices (iOS 5.x required - iPhone 3GS, iPod touch 3rd Gen., iPad 2nd Gen.) at home to receive your music in your kitchen, bathroom and/or garden.

General App Features:
- Broadcast (seed) songs to other iOS devices running Seedio
- Play music seeded by other Seedio users, perfectly in sync
- Create playlists and play songs from your Music Library and from YouTube
- Add songs or complete playlists from your Music Library or YouTube
- Add more music sources via inApp purchase
- Rearrange your playlist on the fly
- Save playlists in your history
- Automatic history of seeded songs in receiver
- Mute playback without interrupting seeding
- Switch between all available seeders on the network
- Search and buy seeded tracks on iTunes
- View seeded YouTube videos right from the receiver's history
- Open source URLs for other music sources right from the receiver's history
- Share activity on Facebook and Twitter

*** Additional music sources available as inApp Purchase.
Currently we support SoundCloud and Streaming URLs (like m3u, Podcast RSS) ***