Get stuff done while on the move.
SharpScan Pro: OCR PDF scanner
by Pixelnetica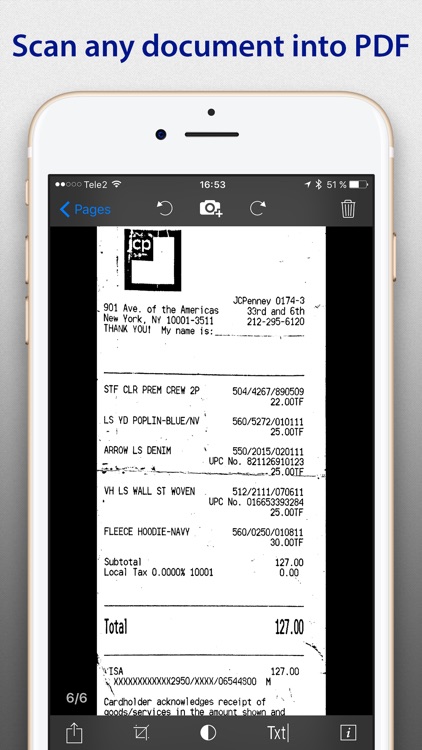 Scan any document and share it.
What is it about?
Turn your iPhone into a jet Fast multi-page document scanner with SharpScan!
For those who...
It's perfect for business travelers.
Not for those who...
If you need to layer the text you've recognized, you're going to want a different app. SharpScan Pro separately charges you for the feature.
Why we love it
If you need a reliable document scanner, you've found one. SharpScan Pro produces fantastic quality scans that can be sent wherever they need to go.
SharpScan Pro is $2.99 but there are more add-ons
$2.99

Recognize (OCR) & share text in 50+ languages
App Store Description
Turn your iPhone into a jet Fast multi-page document scanner with SharpScan!
Recognize and Share text in Images on 50+ languages (OCR)*.

*For text layer sharing an additional in-app purchase required.

***** I have an iPhone 6 and works great. Not much else to say (KidsITManager)

***** It's easy, intuitive, & rarely fails. Good editing capabilities. Excellent free version. Saved me many times. Thank you for making such a terrific & useful app!! (Maricopa Maggie)

Perfect companion for busy users, SharpScan automatically produces small, clear, and legible standard PDF documents from any photos at a very high speed.
Share documents as a tiny Black & White PDF. Convert them to Color, Grey or Original anytime with no pixel loss.

Are you on the go and urgently need to send an expenses receipt, business card, presentation slide, or any other document to colleagues?
SharpScan offers a perfect solution to your problem. Check it out!

WHAT MAKES SHARPSCAN UNIQUE

◆ MADE WITH SPEED AND QUALITY IN MIND
Perfect combination of image processing Speed and Quality - takes less than 3 seconds from the image shot to a ready-to-use document without any annoying manual adjustments.

◆ SMART CROP
Fully automatic document boundary detection, cropping, and perspective correction without manual interaction. Of course manual adjustments are also possible.

◆ SIZE DOES MATTER
True Black & White image processing to produce tiny documents with lossless compression. Compare to ordinary JPEG: ~20x smaller with no pixel lost for compression. Can scarcely be overestimated in case of a slow or expensive network connection.

◆ PRO CAMERA
Enable Camera Stabilization to get sharpest documents you can. Use Touch Focus and Exposure to shoot crystal clear photos.

◆ MAGIC COLOR
Content oriented adaptive Color processing profile automatically generates perfect documents.

◆ SAFETY ASSURANCE
Feel free to experiment with your documents - with Non-Destructive image editing you can always revert to the original image.
You can share a document as a tiny Black & White PDF and then convert it to Color, Grey or Original with no pixel loss.

◆ EVERY PIXEL COUNTS
Highest image enhancement quality - get rid of noise, shadows, distortions, and other shooting artifacts at full resolution.
Special mode for strong shadows processing - every detail will be revealed.

◆ PDF POWER
Create industry standard PDF documents.
- Manage document and pages: Move, Copy, and Merge.
- Protect documents with passwords.
- Automatic page size and orientation detection.
- Custom page sizes including flexible (like long receipts).

◆ NO MORE MANUAL WORK
Image processing and enhancement in full auto - no tedious manual adjustments necessary.

◆ WORKING WITH LARGE VOLUMES
Harness the speed and convenience of Batch processing to scan and manage multi-page documents on the go.

◆ SHARING WITH EASE
Share documents as PDF, image or text files on the go.

Free version has advertisement, scanned documents generated with watermark.

Don't hesitate to contact us at any time and send your suggestions or questions to our support team www.pixelnetica.com/support.html
We'll do our best to answer to your questions as soon as possible.

TWITTER: @Pixelnetica
FACEBOOK: www.facebook.com/Pixelnetica
YouTube: www.youtube.com/user/Pixelnetica