Sidewords is a combination of word and logic, thus creating a unique experience that is hard to replicate.
Sidewords
by Milkbag Games
watch trailer
$2.99

in the App Store
What happens when you combine word games with logical puzzles? You end up with a unique experience like Sidewords.
Word and logic combine. In Sidewords, players must solve puzzles by spelling out words and filling the grid. But be careful — words cannot overlap, and need to be at least three letters long.They start out simple enough but get more difficult as the grids get larger. Do you think you can solve all of the puzzles?
Fill the grid. If you can fill up the grid with words with no overlap, then the puzzle is solved. You'll unlock more puzzles in each collection, but feel free to go to any level as you please. There's no restrictions.
Bonus game mode. The Quad Mode is more of an infinite game mode where you slide tiles to move them around while also bringing in more tiles from the sides. Spell words out with adjacent tiles and make sure they're spelt out next to the Quad pieces, as the only way to earn points is to get rid of Quads.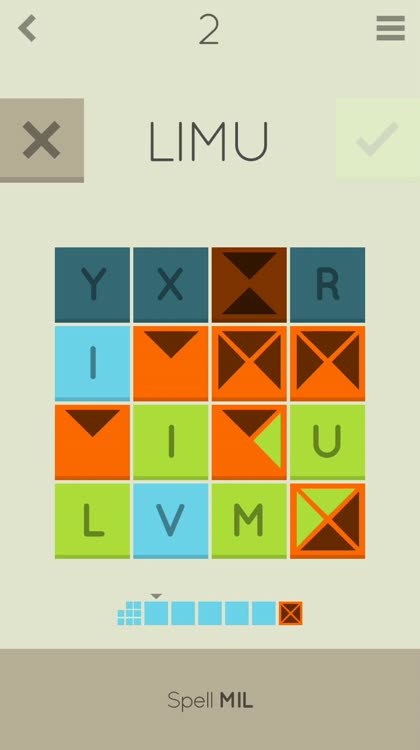 What is it about?
In terms of visuals, Sidewords features a completely minimalist design that's also customizable to the player's wishes. Upon the first launch, players get greeted with a simple game menu that's laid out in a square grid. The background's set to letter tiles that move, but you can change that to nothing, or just have the animation stop. The other options include changing color themes (four to choose from) and toggling haptic feedback.
App Store Description
Grab a cup of coffee and relax with Sidewords.

Sidewords is part logic puzzle, part word game, all original.

No timers. No penalties. No pressure. Just you and a good puzzle.

Sharpen your mind with hundreds of puzzles, from small and quick, to large and captivating. Plus three new puzzles to do every day! There's even a bonus game included!

Choose a color scheme that fits your mood and environment. Get your morning started with bright colors, or unwind at the end of a long day with a dark theme.

So sit back, relax, and enjoy a good puzzle. You deserve your Sidewords time.

----- Critics Are Saying -----

"If you're looking for a truly new word game experience, this is the game to get."
- 148Apps

"The word and logic elements mashed together create a special experience that I've never seen before in a word game"
- AppAdvice

"If you're looking for a word game with some unique ideas, go download Sidewords"
- AppUnwrapper

"Sidewords isn't quite like anything else you've ever played before."
- PocketGamer