Are you looking for an ad free currency converter application
Smarty Currency Converter
by Javelin OU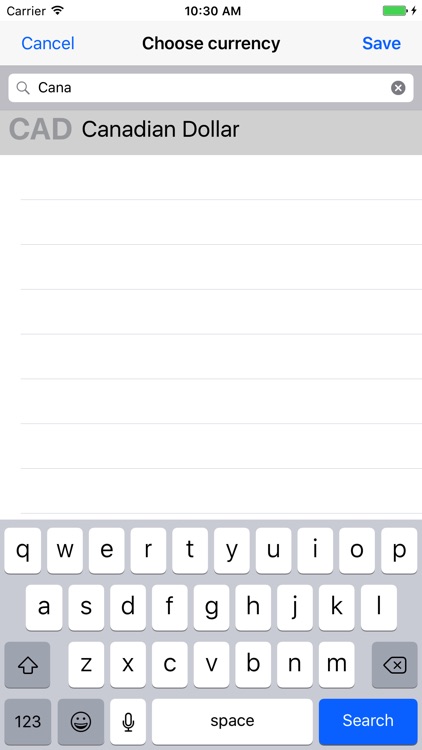 What is it about?
Are you looking for an ad free currency converter application?
App Store Description
Are you looking for an ad free currency converter application?

This currency converter includes 160 currencies from all over the world with online updated conversion rates. Every single thing in this converter is created with top-level usability in mind including:

- Specially designed big keyboard
- Simple currency selection with currency search function
- High contrast layout that is visible even in bright sunlight
- Works offline

* FEATURES *

- 160 Currencies
- Online rates update
- No ad
- All features absolutly free
- Big usable keyboard
- High contrast layout for best visibility

We support currency exchange rates for:

United Arab Emirates dirham
Afghani
Lek
Armenian Dram
Netherlands Antillian Guilder
Kwanza
Argentine Peso
Australian Dollar
Aruban Guilder
Azerbaijanian Manat
Convertible Marks
Barbados Dollar
Bangladeshi Taka
Bulgarian Lev
Bahraini Dinar
Burundian Franc
Bermudian Dollar
Brunei Dollar
Boliviano
Brazilian Real
Bahamian Dollar
Ngultrum
Pula
Belarussian Ruble
Belize Dollar
Canadian Dollar
Franc Congolais
Swiss Franc
Chilean Peso
Yuan Renminbi
Colombian Peso
Unidad de Valor Real
Costa Rican Colon
Cuban Peso
Cape Verde Escudo
Cyprus Pound
Czech Koruna
Djibouti Franc
Danish Krone
Dominican Peso
Algerian Dinar
Kroon
Egyptian Pound
Nakfa
Ethiopian Birr
Euro
Fiji Dollar
Falkland Islands Pound
Pound Sterling
Lari
Cedi
Gibraltar pound
Dalasi
Guinea Franc
Quetzal
Guyana Dollar
Hong Kong Dollar
Lempira
Croatian Kuna
Haiti Gourde
Forint
Rupiah
New Israeli Shekel
Indian Rupee
Iraqi Dinar
Iranian Rial
Iceland Krona
Jamaican Dollar
Jordanian Dinar
Japanese yen
Kenyan Shilling
Som
Riel
Comoro Franc
North Korean Won
South Korean Won
Kuwaiti Dinar
Cayman Islands Dollar
Tenge
Kip
Lebanese Pound
Sri Lanka Rupee
Liberian Dollar
Loti
Lithuanian Litas
Latvian Lats
Libyan Dinar
Moroccan Dirham
Moldovan Leu
Malagasy Ariary
Denar
Kyat
Tugrik
Pataca
Ouguiya
Maltese Lira
Mauritius Rupee
Rufiyaa
Kwacha
Mexican Peso
Malaysian Ringgit
Metical
Namibian Dollar
Naira
Cordoba Oro
Norwegian Krone
Nepalese Rupee
New Zealand Dollar
Rial Omani
Balboa
Nuevo Sol
Kina
Philippine Peso
Pakistan Rupee
Zloty
Guarani
Qatari Rial
Romanian New Leu
Serbian Dinar
Russian Ruble
Rwanda Franc
Saudi Riyal
Solomon Islands Dollar
Seychelles Rupee
Sudanese Pound
Swedish Krona
Singapore Dollar
Saint Helena Pound
Slovak Koruna
Leone
Somali Shilling
Surinam Dollar
Dobra
Syrian Pound
Lilangeni
Baht
Somoni
Manat
Tunisian Dinar
Pa'anga
New Turkish Lira
Trinidad and Tobago Dollar
New Taiwan Dollar
Tanzanian Shilling
Hryvnia
Uganda Shilling
US Dollar
Peso Uruguayo
Uzbekistan Som

* If you have issues with the app or feature requests, please write to us at [email protected] *
Disclaimer:
AppAdvice does not own this application and only provides images and links contained in the iTunes Search API, to help our users find the best apps to download. If you are the developer of this app and would like your information removed, please send a request to
[email protected]
and your information will be removed.