An online multiplayer game with two distinct styles to play.
Snipers vs Thieves
by PlayStack Ltd
watch trailer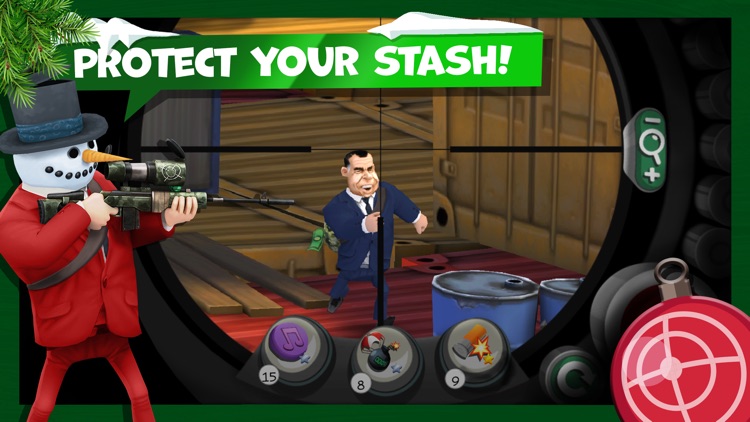 FREE

in the App Store
Play as either a sniper trying to take out thieves, or thieves trying to steal loot and get away clean. It's an online multiplayer expereince with two different camps to play as with unique gameplay on each side.
What is it about?
Snipers vs Thieves is a REAL-TIME multiplayer heist game! Protect your stash as a deadly Sniper or LOOT your rivals as a gang of filthy Thieves!
Snipers vs Thieves is FREE but there are more add-ons
₱ 99.00

Stack of Gold

₱ 299.00

Pile of Gold

₱ 999.00

Stash of Gold

₱ 4,990.00

Mountain of Gold
App Store Description
Snipers vs Thieves is a REAL-TIME multiplayer heist game! Protect your stash as a deadly Sniper or LOOT your rivals as a gang of filthy Thieves!

As a Sniper you must stop the thieves from reaching the getaway van, legendary Snipers use the best rifles available to reach the Elite rank!

CREATE and UPGRADE a deck of epic gadgets ranging from big-head ammo, freeze bullets to the ever-reliable invisibility cloak.

Become a Sniper in a fully 3D PvP world full of mayhem and heists.

Collect guns in this next generation shooter, built from the ground up for mobile.

Play in SEASONS to earn stars and REWARDS as you work your way up the ranks. Earn game changing MASKS such as the Gorilla King, Frankenstein and the legendary Presidents collection!

*************

FEATURES:

PLAY AS A SNIPER!
• Protect your vault in real-time from rival bankers! Take them out before they get to the getaway van!
• Over 25 guns to collect!

LOOT AS A GANG OF THIEVES!
• Team up with Thieves across the world or buddy up with your friends and take on rival gangs!

UPGRADE OVER 50 DIFFERENT WEAPONS AND GADGETS!
• Blow your rivals away with explosive ammo or ice the competition with freeze bullets!
• Disguise yourself as a car or perhaps even a tree to slip away with all the loot!

GET RICH IN STYLE!
• Collect over 100 different masks! Highlights include Samurai, Pumpkin head and Manly Sombrero!

JOIN A CLAN WITH FRIENDS!
• How much loot can you take in a weekend? Co-ordinate your clan to maximise your returns!

SEASONS AND COMMUNITY!
• Seasons and events filled with new content and surprises!
• Climb your way to the elite leaderboards and prove your worth against the best in the business.

DELVE INTO THE BLACK MARKET!
• Hundreds of weapons and gadgets flow through the black market every day - keep an eye out for rare items!


*************

Please follow us on social to keep up to date on the latest in-game events:

Twitter.com/SvTGame
Facebook.com/SvTGame/

Don't forget to leave a review on the store, we want your feedback to keep making SvT a better experience!

Privacy policy: www.playstack.com/legal/privacy
Terms of service: www.playstack.com/legal/tos

*************