Space is Key
Space is Key
by ChrisJeff Games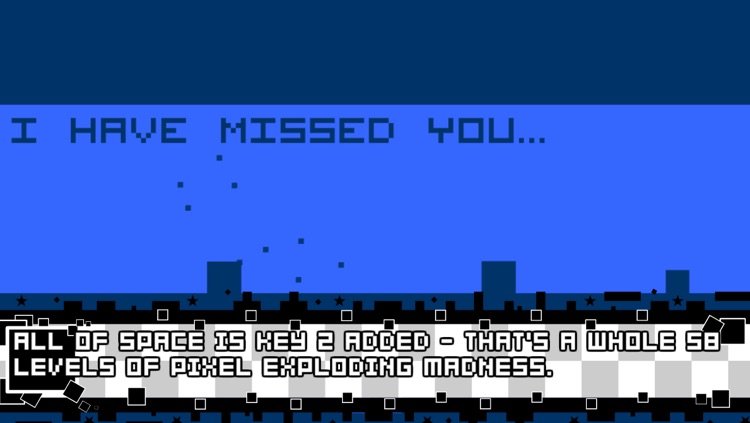 What is it about?
Space is Key. Simple concept, but can you do it?
For those who...
It's for fans of the original Flash game and those who enjoy platformers.
Not for those who...
Even with its silky smooth controls and instant restarts, it can get frustrating. If you're not up for a challenge, skip this one.
Why we love it
If you enjoy pick-up-and-play games, drop everything and download Space is Key. It's easy to learn yet difficult to master.
App Store Description
Space is Key. Simple concept, but can you do it?

Ported over to iOS by popular demand! From the hit flash game that has accumulated over 30 million plays! Now you can feel the frustration of exploding pixels on your iOS device! You won't want to put you're device down after you get a taste of Space is Key!

Time your jumps carefully, or you turn into tiny particles! Challenging, yes, but the computer provides plenty of snarky encouragement. Its like getting advice from a mildly annoying friend.


**********

Packed full of fun features:

- 131 levels of action packed gameplay!

- A whole new "hell mode" which is a challenge mode consisting of levels to drive you to the edge! Do you have the pixels?

- Universal. Get once and download on your iPhone, iPod or iPad with out the need for extra versions!

- In-game narrative that coaches you along!

- Supports game saving and loading with local top scores.

- Facebook and Twitter integration. Share your score with your friends! See if they can beat it.

- Easy, pick up and play style controls, hard to master!

- Smooth, responsive gameplay.

**********

""Did you think Super Meat Boy was a tad too easy? Then Space Is Key is the iPhone game for you." - GameSpot UK.

"Fiendishly difficult but strangely captivating arcade experience" - TouchArcade

"Space is Key oozes style from its simple mechanics" - AppSpy

"Definitely a fun, challenging game" - DailyAppShow

"Is Space Is Key the most hardcore highscore iPhone game this year?" - PocketGamer

"Shining example of how effective keeping it simple can be" - Altiapp