Math made simple.
Speed Distance Time Calculator
by Danny Connell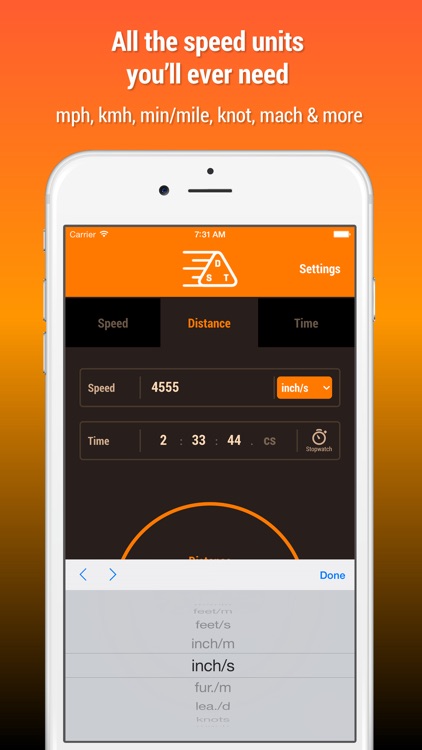 Calculate Speed, Distance or Time. Tap the unit you want to calculate (Speed, Distance, Time), from the 3 tabs at the top, then enter your values and units by tapping the empty fileds.
Many speed and distance units.
What is it about?
Calculate either speed, distance or time by entering the other two measurements.
For those who...
It's great for everyone from runners to students.
Not for those who...
If you want an app to measure units for you, this isn't it.
Why we love it
If you frequently deal with speed, distance, or time, you need this app. It's not only easy to use, it's also easy on the eyes thanks to the two beautiful themes.
App Store Description
Calculate either speed, distance or time by entering the other two measurements.

► EASY TO USE - Tap the name of the measurement you want to calculate (Speed, Distance or Time), then enter your values by tapping the empty fields. Your result is updated whenever you make a change.

► SPEED UNITS GALORE - Many speed units are supported and you can quickly switch between them: mph, km/h, min/mile, min/km, min/m, m/s, cm/s, m/min, feet/m, feet/s, inch/min, inch/s, furlongs/minute, leagues per day, knots, mach, % speed of light, Mm/s

► DISTANCE UNITS GALORE - Likewise, many distance units are supported: miles, km, meters, cm, mm, feet, inches, yards, furlongs, nautical miles, leagues, light years (ly), parsecs (pc) and megameters (Mm)

► STOPWATCH - Easily record your time values directly into the app using this highly accurate stopwatch.

"How long will it take me to get there?"
"What was my average speed on that journey?"
"How far can I travel in an hour?"

Find out quickly and easily with this app.

CUSTOMER REVIEWS

***** Great app for anyone that needs a time/distance/speed calculator
"App is excellent and very easy to use. Love that I can easily switch between rates of speed."
Mdelesd1, United States

***** Great App!!!!
"Amazing app this is exactly what I was looking for. Helps You avoid a lot of calculation!!! Good job"
[email protected], UK

***** Very Helpful
"Easy to use - all the info in 2 clicks"
Travelworks4me, United States

***** Great app !!!
"Essential for any sailor too tired and wet to do simple math! Highly recommended!"
William16538, United States

***** Great for Running
"Had this app for 5 or 6 months. Great for walking and running. Very handy"
Local celeb drummer, United States

***** Must have for all travel situations
"In short, this app is worth the money in gas and time saved!"
Tonebg, United States

***** Law Enforcement Applications
"Most recently I have taken a law enforcement radar class at which point we are required to calculate a persons speed over a specified distance and this application is perfect! Big props to the "developer.
Aub'r Dean!, United States

***** Brilliant!
"With the inclusion of the in app timer it's even better. A must have app!!" - Yorky Mike, UK

***** Thanks
"Great app
I'm using this for long journeys with the car and time trials for my bike.
does what it says on the box :)" - ipodalong, UK

***** Does what I need, and does it well
"I use this for flight, and flight simulation purposes among other things. Having units such as Mach, knots and nautical miles means that it is perfect for what I need and it can be used for many things. Thanks to the developer, great having this on an iPhone" - Donald Webb, UK