Stream your screen.
Splashtop Personal for iPhone
by Splashtop Inc.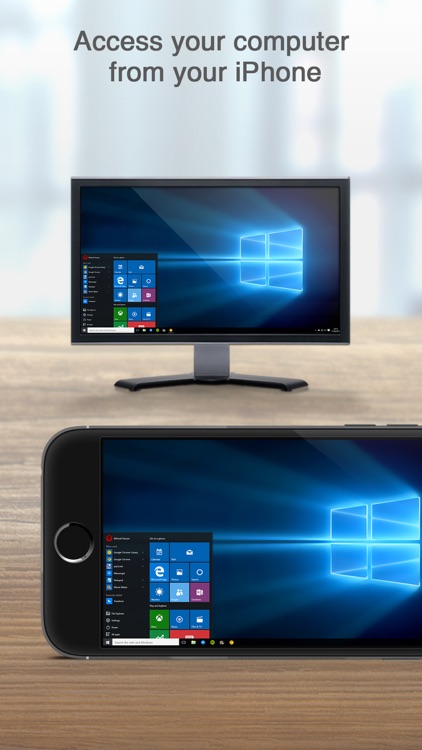 FREE

in the App Store
Access your Mac or PC remotely from your iPhone or iPod touch with this business app.
What is it about?
Splashtop offers great fluidity for browsing through your operating system and auto adjusts the resolution for your iPhone's display.
For those who...
It's perfect for those who want to operate and utilize computer apps and files on their iDevices.
Not for those who...
All of your devices have to be on the same Wi-Fi connection in order to utilize Splashtop 2. If you want to access your computer from anywhere, you'll need to purchase a subscription.
Why we love it
If you need to access files on your computer often, Splashtop 2 will help you get the job done.
Splashtop Personal for iPhone is FREE but there are more add-ons
$1.99

Anywhere Access Pack

$16.99

Anywhere Access Pack
App Store Description
Limited Time SALES!! (retail $9.99 USD)
"Both a breakthrough and a bargain." – NY Times
"Splashtop -- Meet the most popular app on iTunes." – USA Today
"Apple's Top 25 best-selling iPad app of All-Time" -- iTunes
#1 iPhone business app in 62 countries

Over 35 Million Users -- #1 Remote Desktop App for iPhone & iPod! Splashtop is the easiest and fastest way to access your Mac or Windows PC from your iPhone & iPod!

Use Splashtop to access your computer on the local network with best-in-class video streaming performance. View and edit Microsoft Office and PDF files. Browse the web using IE, Chrome, and Firefox with full Flash and Java support. Play 3D PC and Mac games. Access your entire media library and documents. Put your PC or Mac in your pocket!

To access your computer from across the Internet, subscribe to Anywhere Access Pack via In-App Purchase.


* Use your iPhone or iPod to access all of the programs and files on your computer with 100% compatibility, including PowerPoint, Keynote, Word, Excel, Outlook, Quicken, IE, Chrome, Safari, and all other PC/Mac applications

* Use your full desktop browser (IE, Chrome, Firefox) with Flash and Java support, with all of your bookmarks and your favorite plug-ins

* Enjoy the full video and music libraries that are playable only on your computer, whatever formats they're in

* Play all the 3D games (World of Warcraft, StarCraft, Skyrim, Diablo III, etc.) and all the Flash games (FarmVille, CityVille, etc.)

* Enjoy the most vibrant experience with Apple Retina display support (when using native resolution)

===================================
Optional In-App Subscription

Get Anywhere Access Pack to access your computer over 3G/4G or from across the Internet, via our global network of secure, high-performance servers:
-- Access across Internet over 3G/4G and Wi-Fi
-- Optimized streaming performance under varying network conditions
-- Fully secured via SSL with 256-bit AES encryption
-- Subscribe monthly for $1.99 or annually for $16.99

Subscriptions will be charged to your credit card through your iTunes account. Your subscription will automatically renew unless cancelled at least 24-hours before the end of the current period. You will not be able to cancel a subscription during the active period. Manage your subscriptions in the Account Settings after purchase.

See our Terms of Service and Privacy policy at http://www.splashtop.com/terms/splashtop.
===================================
===================================
License:

You may access up to 5 computers via your Splashtop Account.

Splashtop Personal is for non-commercial use only, i.e. use it to access your personal computers for non-work related purposes.

For commercial use in a professional environment, please use Splashtop Business which is specifically designed for the workplace offering enhanced manageability, security, and compliance (www.splashtop.com/business).
===================================

Notes:
1. Install Splashtop Streamer on your PC (Windows 7/8/10, Vista, and XP), Mac (10.7 and higher), or Linux (Ubuntu 12.04). Download for free from www.splashtop.com/downloads
2. A computer with dual-core CPU is strongly recommended for best performance