Spoiler Shield blocks TV & sports spoilers in your social media feed

Spoiler Shield
by Picking Carrots, LLC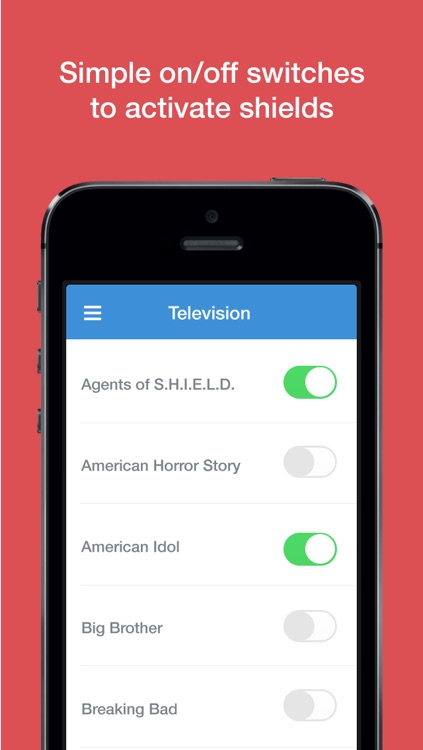 What is it about?
Spoiler Shield blocks TV & sports spoilers in your social media feed. Yahoo News raves: "Here's the one app you absolutely need to save you from TV spoilers."
For those who...
It's for anyone who loves social media but doesn't want to spoil their favorite shows and sports.
Not for those who...
If you enjoy brand new shows, you may want to skip Spoiler Shield. It has all of the most popular TV shows from the last couple of years, but it takes a while for it to be updated with new ones.
Why we love it
If you enjoy checking your social media feeds but hate spoilers, you have to get Spoiler Shield. It's absolutely painless to set up, and you can avoid the heartache of ruining your favorite shows and sports.
App Store Description
Spoiler Shield blocks TV & sports spoilers in your social media feed. Yahoo News raves: "Here's the one app you absolutely need to save you from TV spoilers."

FEATURED IN:
• CNN: "It's a year-round app."
• Business Insider: "Spoiler Shield helps you block harmful information that could ruin your weekend."
• NY Times: "Filters to protect you."
• LA Times: "Avoid seeing [spoilers] without having to spend Sunday night under a rock."
• CNET: "This ingenious app filters your Facebook and/or Twitter feeds so you can stay social-media active while avoiding accidental spoilers."

USERS LOVE US:
• "The #1 spoiler blocker!"
• "Perfect for Game of Thrones, Survivor and House of Cards."
• "Where have you been all my life?"
• "Pure genius."

SPOILER SHIELD OFFERS:
► Facebook & Twitter integration
► Shields for your favorite TV shows and sports teams
► Simple on/off switches to activate shields
► Double-tap to reveal a shielded post

We've added new TV shows and sports to Spoiler Shield, including:
• Survivor
• The Bachelor
• House of Cards
• Vikings
• Award shows
• Every professional basketball team

We created a way for you to watch broadcasts at your convenience, yet still check Facebook and Twitter anytime without accidentally seeing spoilers. You decide what to shield. You no longer have to hide from social media while waiting to watch your favorite shows and sporting events. Watch television on your own time and protect yourself from spoilers!

Socially Connected, Spoiler Protected