One on top of the other.
Stackables for iPad - Layered Textures, Effects, and Masks
by Samer Azzam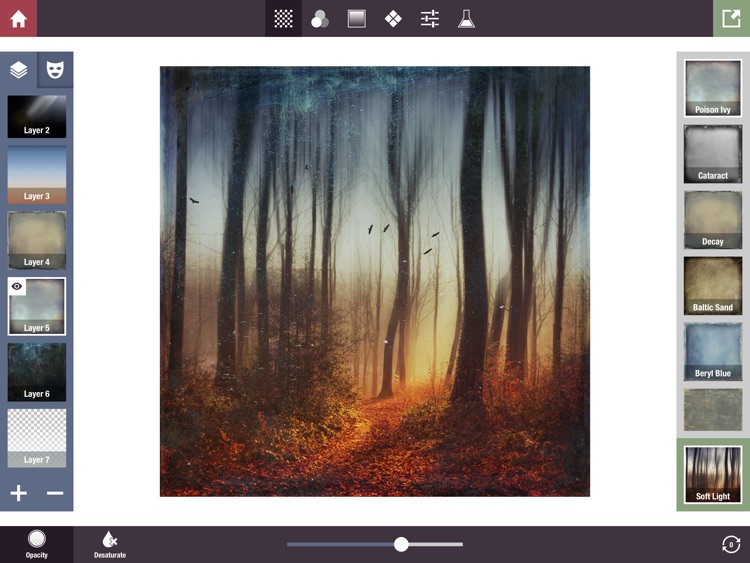 $2.99

in the App Store
Transform your photos by stacking layers upon layers of effects, textures, and filters with Stackables.
What is it about?
Stackables is the most advanced and comprehensive effects layering and blending app. It's packed with over 200 effects expertly crafted by renowned photographer Dirk Wuestenhagen. These include tasteful textures, light leaks, emulsion, grit and grain, analog film filters, vintage gradients, elaborate geometric patterns, and much more.
For those who...
It's really ideal for iPadographers of all levels thanks to its flexibility.
Not for those who...
The app is absolutely loaded with options, but there are still many, many more effects and filters available via in-app purchase. If you simply can't stand the thought of not having them all, you're either going to have to spend $3.99 to download the master pack or skip this one.
Why we love it
If other photography apps have left you feeling limited and wanting more, download Stackables today.
Stackables for iPad is $2.99 but there are more add-ons
$2.99

MASTER PACK

$0.99

ATMOSPHERIC

$0.99

EMULSION

$0.99

FRAMATIC

$0.99

EMULSION II

$0.99

ARTISTIC

$0.99

CRYPTIC

$0.99

RUSTIC
App Store Description
Stackables is the most advanced and comprehensive effects layering and blending app. It's packed with over 200 effects expertly crafted by renowned photographer Dirk Wuestenhagen. These include tasteful textures, light leaks, emulsion, grit and grain, analog film filters, vintage gradients, elaborate geometric patterns, and much more.

In addition, Stackables comes equipped with over 20 professional adjustment tools most notably White Balance, Color Balance, Vignette, Sepia, Grain, Blur, Tilt Shift, and Depth of Field. And for the first time ever on a mobile device, these tools are added as layers, giving you unprecedented control over color and tonal levels in your composition.

Stackables' layers-based architecture and nondestructive workflow encourage experimentation and foster creativity. Add layers to your heart's content and see impressive results with every new layer. Have peace of mind in knowing that all edits are completely modifiable and reversible regardless of when you've done them in your editing process.

Usher in a whole new world of creative possibilities with advanced masking tools. Whether used to partially apply effects or as building blocks in abstract art constructions, masks are an indispensable part of any workflow. Choose from dozens of gradient and geometric masks and enjoy unprecedented creative freedom and control.

Instantly transform your photos into works of art with 30 preset formulas meticulously constructed by Dirk. Explore dozens of user-created formulas hand-picked from hundreds of submissions. Or save your own edits as formulas and never lose a custom edit you love. And with our proprietary social editing platform, you can share your formulas with friends via email or transfer them between your devices.

With its revolutionary design, easy to navigate interface, and streamlined workflow, Stackables is perfect for any skill level. Whether you're an avid photographer or an aspiring enthusiast, Stackables provides you with the tools you need to elevate your mobile artistry.

MAIN FEATURES:
◉ 200+ unique effects (many with multiple variations).
◉ 20+ professional adjustment tools.
◉ 60+ gradient and geometric masks.
◉ Unlimited layers. Modify, rotate, rearrange, hide, and delete layers.
◉ 18 blend modes with live preview.
◉ 30 preset formulas, dozens of user-created formulas, and the ability to save your own edits as formulas and share them via email.

OTHER:
◉ Facebook, Twitter, Instagram, and email sharing options. Also supports iOS's "Open in Other Apps" protocol.
◉ Supports JPEG, lossless PNG, and lossless TIFF formats.
◉ Supports all image aspect ratios.
◉ URL Scheme "stackables-ipad://".

SUPPORTED RESOLUTIONS:
◉ 16MP (4000 x 4000) on iPad mini 2G, iPad mini 3G, iPad mini 4G, iPad 3G, iPad 4G, iPad Air, iPad Air 2, iPad Pro.
◉ 9MP (3000 x 3000) on iPad mini, iPad 2.

CREDITS & DISCLAIMER:
Special thanks to Dirk for his exceptional work and contributions. Check out Dirk's inspiring work at wuestenhagen-imagery.photoshelter.com.

All image resources in Stackables are the Copyright of Dirk Wuestenhagen Imagery licensed to RedEye Development under a perpetual enhanced agreement.

SUPPORT:
Experiencing issues? Have comments or suggestions for future updates? Please contact us at [email protected]