A fresh new take on the traditional shoot-em-up game.

Steelbound Sky
by Witherwood Studios
watch trailer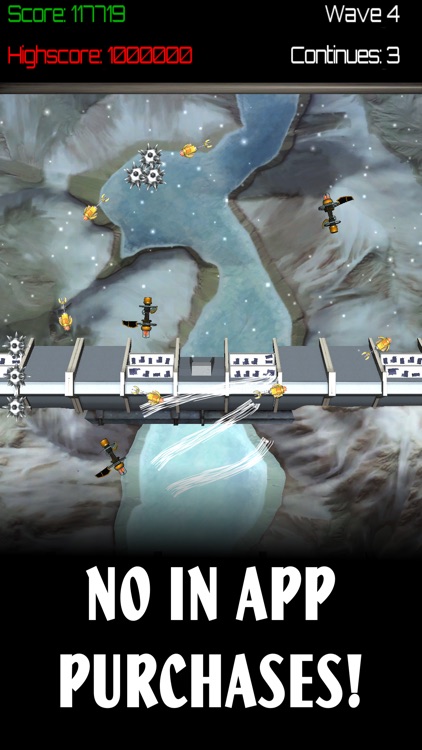 Removed

from the App Store
There's a town under siege from hostile forces and it's up to you to save it. Manipulate the sky and create wind streams to deflect enemies and their attacks. String together combos to rack up the points. Unlock special abilities to take out your foes and gain access to new game modes.
Manipulate the wind. Create wind streams to deflect the projectile attacks and protect the town.
Unlock levels and abilities. Can you make it through all of the challenging levels? Make sure to use those special abilities to your advantage.
Strategize. While small enemies can be flicked off the screen, some tougher foes need more strategy to defeat.
What is it about?
Steelbound Sky is a unique take on the traditional shoot-em-up game. Instead of fighting back with your own ship and lasers, you control the wind to deflect attacks and foes and protect the town. Some enemies need a bigger strategy to bring down.
For those who...
Don't like change
Prefer classic gameplay
Not for those who...
It's an innovative new take on a classic game genre.
Why we love it
- Like arcade shooters - Want something different
App Store Description
----- Overview -----

Steelbound Sky is a game which combines the intricacy of traditional shoot 'em ups with a contemporary control scheme. Players must guard the town under siege from the surrounding waves of enemies and their projectiles. Mastering control of the wind streams is the only way to defend the town and defeat the hoards of enemies.

-Use simple touch gestures to create wind streams that manipulate enemy and projectile movement. Have a fresh take on playing the bullet hell genre!
-Eight levels and dozens of enemy types that encourages mastery of new gaming skills.
-Hundreds of challenging enemy patterns to memorise and persevere through.
-Unlock powerful new abilities and learn to use them together to take full control of the skies.
-Unlock new game modes: Endless Mode, Boss Rush and Guardian Mode!

NO IN APP PURCHASES! Pay Once and Play!

----- Articles & Commentaries -----

"Steelbound Sky by Witherwood Studios is a fresh new take on the traditional shoot-em-up genre. If you love those arcade shooters, but have wanted some different gameplay for the genre, then look no further than Steelbound Sky."

-AppAdvice

"It's a great mechanic and it provides immediate, exciting and tense experience with tons of last seconds moments where you are the brink of death but you still make it out alive. It's really cool and gives you a great feeling of accomplishment every time you beat a level."

-GamingReviews