Slice up waves of enemies for as long as you can.
Super Samurai Rampage
by Brackish Games
watch trailer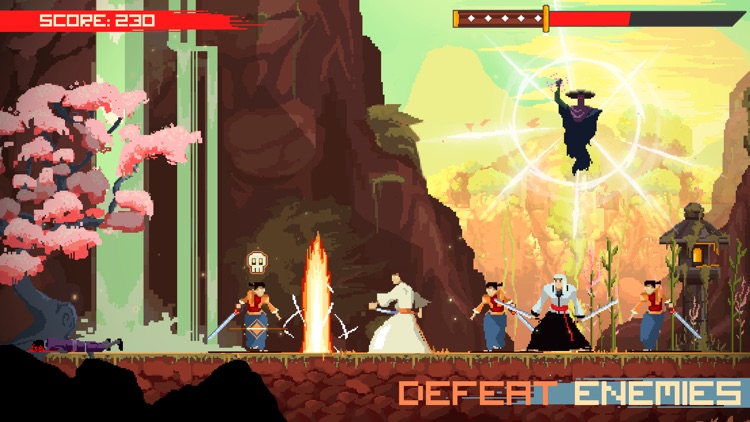 $1.99

in the App Store
If you're in need to de-stress, then there's no better way to do it than by slicing up enemies as a lonesome samurai warrior.
Epic hack-n-slash action. Super Samurai Rampage is full of epic samurai hack-n-slash action and fun. Take control of a samurai and face off against endless hordes of foes who want you dead. Use simple swipe controls to attack, dodge, and focus your attacks. Aim for multiple kills for multipliers and bonus points, and strive for Lightning Mode to devastate all who stand in your way.
Careful with your moves. You'll have to be quick but also careful in Super Samurai Rampage. Get rid of enemies before they slash you up, and also make sure you dodge their incoming attacks too. Otherwise, a small mistake will cost you.
Pick your arena. There are multiple stages to fight in with Super Samurai Rampage. However, the other stages must be unlocked first by reaching a certain point threshold in the previous level. Think you're up to the challenge?
What is it about?
The visual style in Super Samurai Rampage is a great homage to the classic 16-bit games of yesteryear. While everything's dressed up in a pixel art style, the game's still incredibly detailed when it comes to the environments, backgrounds, and character sprites. The color palettes range from soft pastels (like in cherry blossom trees) to muted earth tones to gloomy dark hues and bright, vibrant shades to indicate powerful special attacks. Animations are smooth and fluid, with no lag on my iPhone 7. To top it all off, there's a fitting Japanese war-style soundtrack that plays in the background to get players into the mood of samurai hack-n-slash action. The sound effects as you swing and slice up your foes is a nice touch too.
App Store Description
Super Samurai Rampage is a bloody, retro pixel style high score chaser. You play as a legendary Samurai warrior provoked into a relentless rampage. Armed only with your katana, you must slash your way through endless gangs of challenging enemies. Defend your honor or go down fighting!

*Beautiful retro-themed environments
*Bloody, fast-paced action
*Simple swipe controls
*Challenging Gameplay - the smallest mistake will result in death
*Leaderboards - Compete with others by executing the most successful rampage
*No IAP or pay-to-win advantages, only skill is rewarded
*Unlock additional rampages to truly prove your mettle
*Arcade style pixel art