Work smarter, not harder.
Templates for Keynote Pro
by Made for Use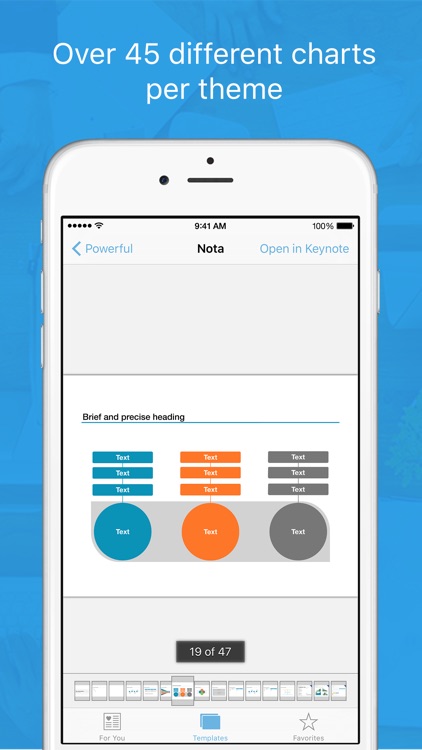 $4.99

in the App Store
Expand the possibilities of Apple's Keynote app for iPhone and iPad with Templates for Keynote Pro.
What is it about?
Templates for Keynote Pro is the ultimate Add-On for Apple's famous Keynote application on the iPad and iPhone. With over 35 carefully designed Keynote Templates, including more than 1250 slides, you are definitely ready for your next presentation. Export every template quick and easy to your Keynote app and start working on your presentations in just a few seconds.
For those who...
It's ideal for business professionals and students.
Not for those who...
If you don't own Keynote, this one is of no use to you.
Why we love it
If you need to get the ball rolling, this is the way to do it. The app's 35 different templates offer something for everyone.
Templates for Keynote Pro is $4.99 but there are more add-ons
Free

Clear Category

Free

Classical Category

Free

Powerful Category

Free

Business Category

Free

Dynamic Category

Free

Playful Category

Free

Innovative Category
App Store Description
Templates for Keynote Pro is the ultimate Add-On for Apple's famous Keynote application on the iPad and iPhone. With over 35 carefully designed Keynote Templates, including more than 1250 slides, you are definitely ready for your next presentation. Export every template quick and easy to your Keynote app and start working on your presentations in just a few seconds.

SLIDE POOL
Get the largest collection of professional, polished Keynote slides available on the App Store! Every template contains customizable slides for tables, pictures, charts, diagrams, quotes and many more.

SAFE TIME AND MONEY
The app is designed straightforward. Find the right style, export it into the Keynote app and insert your content.

ENDLESS POSSIBILITIES
Six different categories ranging from simple to sophisticated, from fancy to functional, give you the freedom to express yourself. Once you get the idea, there are no limits to your imagination.

DESIGNED FOR KEYNOTE
Keynote is the best way to edit world-class presentations with custom graphics, fantastic animations and effects on your iPhone, iPad or iPod touch. With Templates for Keynote Pro, Keynote gets even better.

WE'RE HERE FOR YOU
Follow us on Twitter for the latest updates, contests, more info at: http://twitter.com/madeforuse