Enter the fourth dimension.
The Fourth Dimension
by Drew Olbrich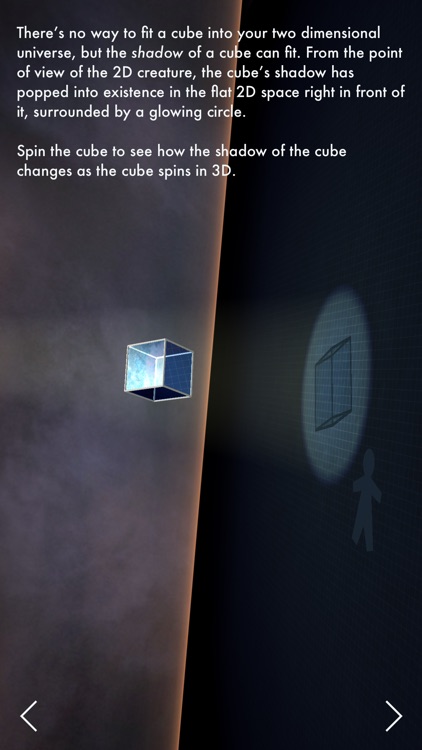 The Fourth Dimension. This stunning interactive book explains the fourth dimension. It takes you on a 30 page journey that starts at dimension zero and works towards the fourth dimension. Each page includes detailed yet engaging text and interactive models that will help you grasp the concept.
What is it about?
Over 250,000 people have blown their minds with this app.
For those who...
It's for anyone with a curious mind.
Not for those who...
If you know everything there is to know about everything, then we suppose you can skip The Fourth Dimension.
Why we love it
This isn't just another educational app. Even if you have little interest in the fourth dimension, you need to check this app out. The way the content is presented is fantastic.
App Store Description
Over 250,000 people have blown their minds with this app.

The Fourth Dimension is a 30-page interactive book that explains a single mathematical idea in language that anyone can understand. Instead of static images or canned videos, this app employs a unique 3D touch interface that lets you literally grasp the concept of the fourth dimension with your own hands.

"Not only can you blow your own mind over and over again, you can also enjoy watching your friends' minds being blown in front of you." — Cult of Mac

"One of the coolest apps I've ever used... The Fourth Dimension is to boring learning apps what Carl Sagan's Cosmos was to staid science documentaries." — BuzzFeed

"The app is very cool, and it's unlike pretty much anything we've seen in the App Store." — The Verge

"This is one of my most favorite iOS apps ever." — George Musser, contributing editor for Scientific American and author of The Complete Idiot's Guide to String Theory

(App Store user reviews follow.)

"Blew my mind. I generally don't use 'learning' apps as they're mostly gimmicks. This one, though, truly made me think. I hope this developer comes out with more outstanding apps such as this one. Bravo!" — Iceitic

"Astounding. That some people care passionately enough about tesseracts to go create a fantastic app for others to understand them is incredible. The app is extremely well designed, wittily written, and executed with love. That alone is worth buying it, besides the fact that I learned what the hell a tesseract was." — Duncan MacMichael

"Fantastic! This is what someone really smart, and who really knows how to teach well, can do with a tablet. And the authors are funny, too, which is a neat bonus." — DNY

"Fantastic app. I work at a leading UK university. If only all our material was this well written and presented. Definitely worth buying and then spending a bit of time with over a day or two to get your head around the fourth dimension. Great app!" — JulesFM

"Great job! This app does the best job explaining the 4th dimension. Why learn it in some boring classroom when here you can have an interactive and visual explanation." — Aco Strklalj