Meet the Wonder Cat
The Wonder Cat
by Futujoy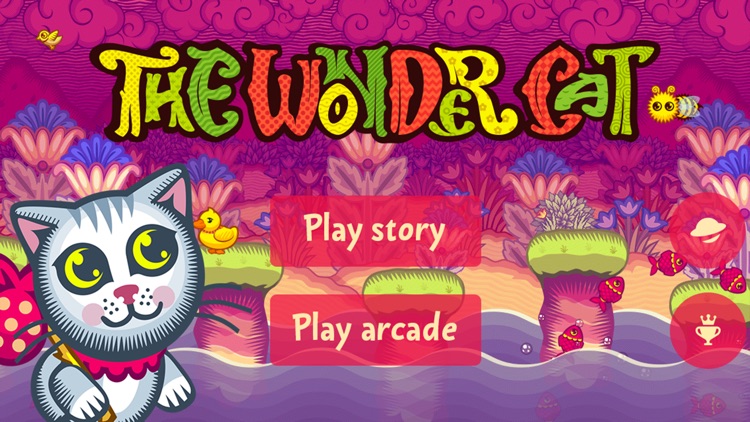 What is it about?
Meet the Wonder Cat! He found himself in unfamiliar lands ridden by severe and untamed nature. The Cat is eager to return home. On the way he will challenge the forces of nature and meet local inhabitants. The Wonder Cat will do a lot of kind things, gain new skills and make good friends who will help him in difficult situations.
For those who...
It's an adorable pick-up-and-play game suitable for gamers of all ages.
Not for those who...
The Wonder Cat is intended for quick gaming sessions since it doesn't have a lot of depth. If you're after something more challenging, you'll have to look elsewhere.
Why we love it
If you're looking for a relaxed, vibrant gaming environment to escape within, The Wonder Cat has it. It's one of the more charming arcade games you'll play this week.
The Wonder Cat is FREE but there are more add-ons
App Store Description
Meet the Wonder Cat! He found himself in unfamiliar lands ridden by severe and untamed nature. The Cat is eager to return home. On the way he will challenge the forces of nature and meet local inhabitants. The Wonder Cat will do a lot of kind things, gain new skills and make good friends who will help him in difficult situations.

In order to help the Cat, you can choose one of the game modes. In the first mode, you have to go through a sequence of levels and lands completing various tasks. In the second mode, your objective is to get as far as you can. Achieving certain milestones you will unlock new lands and characters. Collected on the way stars can be used to gain new skills.

Key features:
- Bright and dynamic world inspired by fairy tales;
- Unique graphics style with variety of themes;
- Two distinct game modes;
- Story mode with more than 70 levels;
- Arcade mode with 10 unique themes;
- Positive and pleasant gameplay without violence. Suitable for children;
- Interactive learning and tips;
- Different skills available to gain;
- Riding on friendly characters;
- Intuitive touch-control;
- Suitable for short breaks;
- Original and authentic music;
- Supports GameCenter;

"What we enjoyed more about this game is the fact that the graphics are so colorful and smooth, perfect for children and adults and including a highly usable interface and an adorable main character." - AppsZoom