The train is boarding, are you ready to win?
Ticket to Ride
by Asmodee Digital
watch trailer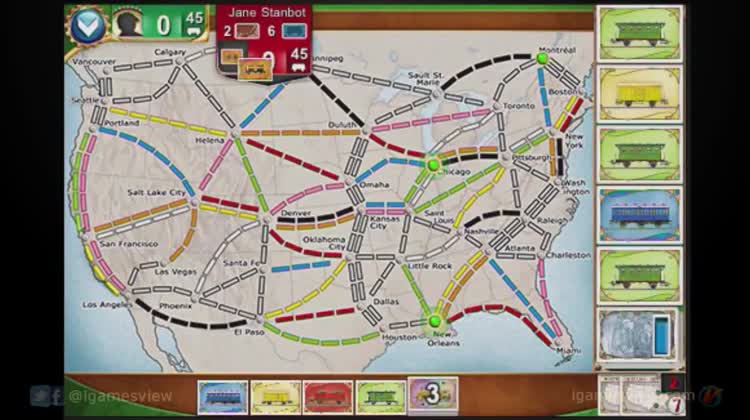 $8.99

in the App Store
Ticket to Ride is based on the classic train board game. This mobile version offers online multiplayer with the game community and Pass and Play mode for up to four opponents. There is an online and offline Hall of Fame, maps with original artwork, and a turn-by-turn in-game tutorial. Claim routes, score points, and come out a winner.
Where will you go? The world is a big place. Where will you end up?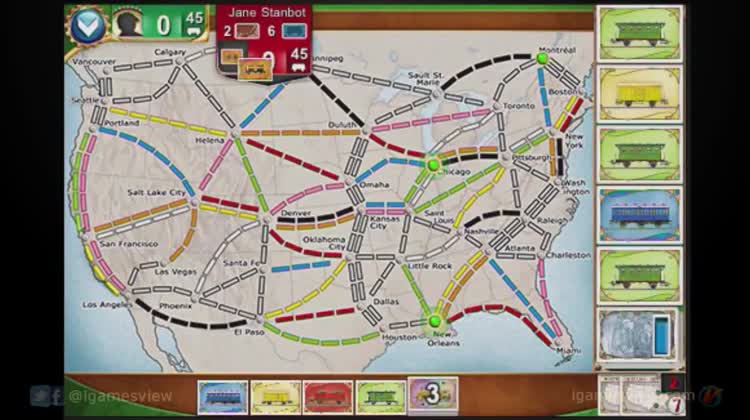 Make your mark. Do you have what it takes to get a ticket to ride? You're about to find out.
What is it about?
Get your Ticket to Ride and prepare to win. Journey across the U.S. and score points for claiming routes and connecting the cities listed. Create the longest route and get the most points for a victory.
For those who...
Enjoyed the Ticket to Ride board game
Like score-based multiplayer games
Not for those who...
Disliked the Ticket to Ride board game
Prefer single-player games
Why we love it
If you played the original Ticket to Ride board game, then you are sure to enjoy this one. Gather the family and go on a journey to create and claim routes with colored trains. Score the highest and be victorious on game night.
Ticket to Ride is $8.99 but there are more add-ons
$0.99

Ticket to Ride USA - 1910

$0.99

Ticket to Ride Europe

$0.99

Ticket to Ride - Switzerland

$0.99

Legendary Asia

$0.99

Nordic Countries

$0.99

Ticket to Ride Pennsylvania

$0.99

India

$0.99

Ticket to Ride Germany

$0.99

Ticket to Ride Nordic Special Pack
App Store Description
Discover Ticket To Ride, the digital adaptation of the famous Ticket To Ride board game.

Don't hang about on the platform – board the train and set off on a railway adventure like no other. Collect wagons to take control of the railways connecting the various cities of the United States of America and relive the golden age of the first railroads. Continue the adventure in other countries using the various maps available in the store, including Europe, India, Asia, Germany, and the new United Kingdom expansion. Now you can create your own railway network by connecting cities across the world.
Enjoy different gaming experiences such as challenging players from around the world in asynchronous multiplayer mode and discovering a very balanced single-player mode on different platforms!
With over 50 million online matches and a new game starting every four seconds, Ticket To Ride delivers a gaming experience that is unique in its genre.

**Ars Technica – ""Ticket to Ride is impressive right from the start""

**Pocket Gamer: 9/10 with a Gold Award – ""A fantastic adaptation of an excellent board game, and a must-buy for strategy fans""

Ticket To Ride series is:
• The original USA board from Alan R. Moon's Ticket To Ride in high resolution.
• 8 additional maps and 2 mini-expansions (with 2 game variations each) to buy in the in-game store, each with their own special characteristics:
· United Kingdom (map and game variations)
· Switzerland (map)
· USA 1910 (game variations)
· Europe (map)
· Legendary Asia (map)
· India (vertical map)
· Scandinavia (vertical map)
· Europa 1912 (game variations)
· Pennsylvania (map)
· Germany (map)
· ...And new updated content regularly!
• Single-player mode: play against 1 to 4 AI opponents.
• Multiplayer mode
· Asynchronous online games (Wi-Fi, 3G and 4G) against other players on all types of smartphones and tablets as well as on computers.
· A unique online community with tens of thousands of players available 24 hours a day!
· Pass and Play Mode: up to 5 players on one screen and the option of adding AI (bots).
· Cross-platform play: challenge players around the world on different platforms and operating systems
• Tutorial to quickly familiarize you with the game.
• Pop-up help during the game to help you get to know all the subtleties of the various boards and game rules.
• Ranking of the best online and single-player players (best scores).

To find out more, visit:
http://www.asmodee-digital.com/en/ticket-to-ride/

You can follow us on Facebook, Twitter, Instagram and YouTube!
Facebook: https://www.facebook.com/asmodeedigital/
Twitter: https://twitter.com/asmodeedigital
Instagram: https://www.instagram.com/asmodeedigital/
You Tube: https://www.youtube.com/asmodeedigital

Got a problem and need help? Contact us on: https://asmodee.helpshift.com/a/ticket-to-ride/

Due to the terms of our conditions of use and our privacy policy, you must be at least 13 years old to download and play Ticket to Ride online or to chat in the Lobby.

Languages available: English, French, German, Spanish, and Italian.