ما الذي يقدمه تطبيق تايرس كود :
Tires Code
by Bassem Elkomos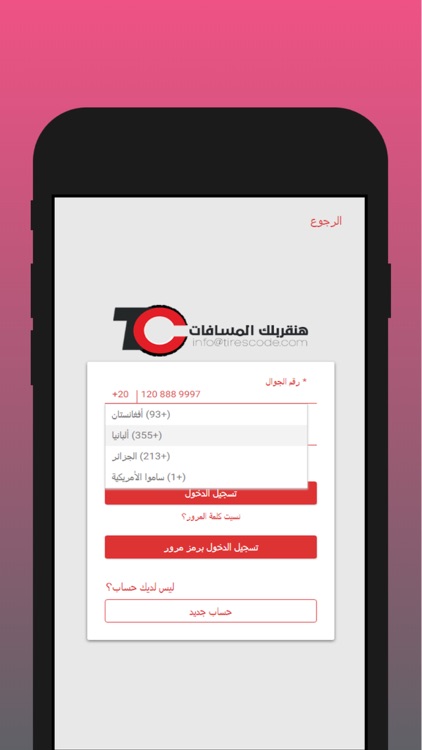 What is it about?
ما الذي يقدمه تطبيق تايرس كود :
App Store Description
ما الذي يقدمه تطبيق تايرس كود :

تايرس كود هو أول واكبر موقع وتطبيق خاص بإطارات السيارات وخدماتها ومراكز الخدمة وما يخصها فهو يضم مجموعة كبيرة من كبار الشركات والبرندات والتُجارللتسهيل علي عملائنا في الحصول علي خدماتهم بكل سهولة فقط بضغطة واحده.

الميزة لدي تطبيق تايرس كود مقارنة بالتطبيقات الأخري التخصص والخبرة تايرس كود تطبيق متخصص ولديه مجموعة كبيرة من التُجار المسؤلة عن بيع خدمات السيارات في كل انحاء مصرفيمنكم من البحث عن المعرض الشركة المنتج المراد الحصول عليه في المكان الذي تتواجد به لذلك يسهل عليك الوقت ويوفر المال من الحصول علي افضل سعر وافضل عروض سواء بالقطعه او اكثر من قطعه.
1- الأمان تستطيع التواصل مع البائع والشراء والدفع عند الأستلام
2- لا داعي للإنتظار تستطيع حجز خدماتك اون لاين
3- يمكنك الحصول علي المنتجات سواء جملة او قطاعي اذا كنت تاجر

ما الذي يقدمه تطبيق تايرس كود ؟

هذا التطبيق يسهل عليك الحصول علي الإطارات او خدماتها في المحافظة التي تقطن بها والأختيار من بين اكثر من تاجر للتقييم الشراء واكثر من منتج مختلف لدي التُجار
نحن نساعدك في الحصول علي التاجر او الشركة التي تريد الشراء من خلالها بدون اي عمولات او اي مصروفات فقط من خلال التطبيق يمكنك البحث عن المحافظة والخدمة التي تريد ان تحصل عليها وسيطرح لك التطبيق البائع الاقرب لك هذا كل ما في الأمر اليس هذا سهلا.



Description:


Tires Code is the first and largest website and application for car tires, services, service centers and what is related to it. It includes a large group of major companies, brokers and dealers to facilitate our customers in obtaining their services easily with just one click.

The advantage is that have a Tires Code application compared to other applications. Specialization and experience Tires Code is a specialized application and has a large group of dealers responsible for selling car services in all parts of your bank. The best price and the best offers, whether by piece or more.


1- Safety You can contact the seller, buy and pay on delivery
2- No need to wait, you can book your services online
3- You can get the products either wholesale or sector if you are a trader

What does Tires Code do?

This application makes it easier for you to get tires or services in the governorate you live in and choose from more than one dealer to evaluate the purchase and more than a different product for dealers
We help you to get the merchant or company that you want to buy through without any commissions or any expenses only through the application You can search for the province and the service that you want to get and the application will offer you the closest seller to you This is all in the matter Is not this easy?
Disclaimer:
AppAdvice does not own this application and only provides images and links contained in the iTunes Search API, to help our users find the best apps to download. If you are the developer of this app and would like your information removed, please send a request to
[email protected]
and your information will be removed.