Please note: To Do List for Nozbe requires iOS 7
To Do List for Nozbe HD
by Macoscope sp. z o.o.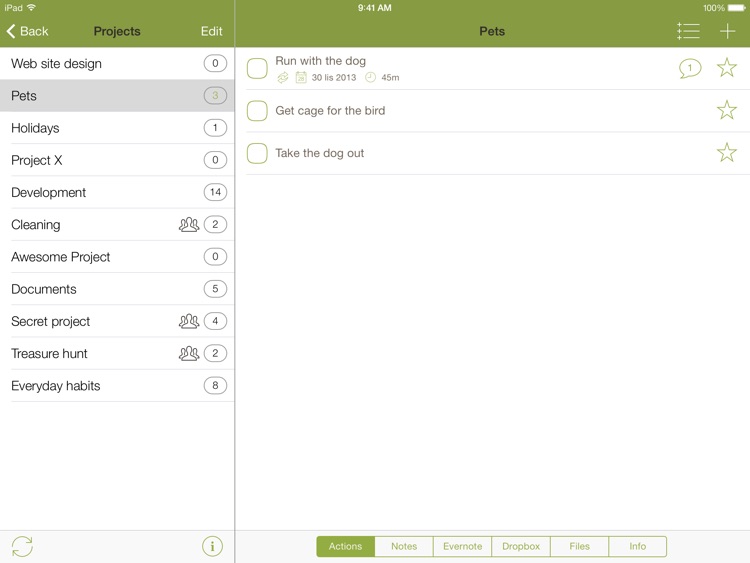 Removed

from the App Store
Nozbe To Do for iPad is another app in the GTD style, with an inbox, next, labels, projects, calendars, etc. Although the app is attractive, it doesn't have anything special or unique.
What is it about?
Please note: To Do List for Nozbe requires iOS 7.x – older versions are not supported.
App Store Description
Please note: To Do List for Nozbe requires iOS 7.x – older versions are not supported.

Be even more productive with Dropbox integration, due dates, project sharing and task delegating notifications and auto-sync. Keeping yourself organized never has been so easy.

To Do List for Nozbe — Simply Get It Done… with this powerful, integrated with Evernote and Dropbox, cloud sync and teamwork supporting application! Introducing the power of Projects, Next Actions and Contexts that not only help managing tasks, but actually get them done!

INDUSTRY EXPERTS LOVE NOZBE!
"The ultimate GTD app" (Lifehack.org)
"Nozbe is a solid online organizer specific to Getting Things Done" (Lifehacker)
"A GTD app that keeps it simple, when I saw Nozbe I smiled" (ZDNet)

WHAT IS TO DO LIST FOR NOZBE
To Do List for Nozbe is a superb productivity app for busy people and tied-up teams, which helps you focus on what there is to do now, thanks to:

● Projects — to organize group of actions together so you won't forget about anything
● Next Actions — to help you plan your day by choosing what to do now, today, soon
● Contexts — to complete your tasks related to the place you're in, people you talk to or resources you have and to make sure you've got everything you need to get things done!
● Notifications - to remind you about delegated actions and due dates and to let you know about project invitations, so you will never miss a thing.
● Application badge icon - to indicate the number of overdue tasks (it's not to depress you!)

To Do List for Nozbe is an iOS client for Nozbe, popular web application.

WITH TO DO LIST FOR NOZBE YOU CAN EASILY WORK WITH YOUR FRIENDS…
To Do List for Nozbe stands out, by going beyond personal task management system with its new collaboration features, which will help you get stuff done with your friends and colleagues.

…AND NEVER LOSE TOUCH WITH YOUR PROJECTS!
To Do List for Nozbe includes CLOUD-BASED sync support for all Nozbe subscribers (optional and paid separately, except for a free account which helps you manage up to five projects) but it's also available for offline use without Nozbe account.


Managing projects never has been so easy. Buy Nozbe and experience real power of productivity – now in beautifully redesigned user interface!

● Share your projects — invite other people and share your projects with them
● Delegate actions — assign tasks to people on your team.
● Comment — comment and read others' comments on tasks in shared projects.
● Use files — browse and open files uploaded through Nozbe right on your device.
● Integrate with EVERNOTE and DROPBOX – it only takes seconds!
● SYNC – be up to date with your tasks wherever you are. You can sync manually or use easy auto-sync - when you exit To Do List for Nozbe, the sync will perform in background*.

* You can use this application separately (without Nozbe account) or if you want, To Do List for Nozbe can seamlessly sync your data with your Nozbe account.

DROPBOX integration in 3 simple steps:
1. Name your folders exactly like your project or context (in Nozbe you will see every file from that folder) or include your project's or context's name in files' names
Click on the Dropbox tab in Nozbe's project view, log in and it's done!*

* Due to API limitations and performance reasons Nozbe searches only two levels of your Dropbox folder hierarchy.

To Do List for Nozbe is also available in iPhone/iPod Touch version, as a separate app.

For some heads up please do follow us on Twitter http://www.twitter.com/nozbeapps

Please be aware