Magic at your fingertips.
Toca Nature
by Toca Boca AB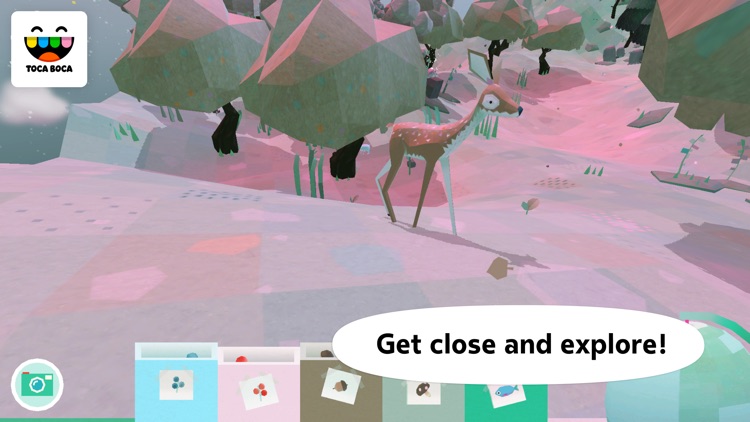 You can build up mountain, plant new forest.
You can collect nuts, berries, mushrooms.
You can feed the animals.
What is it about?
*App Store Best of 2014*
For those who...
It's the perfect digital toy for any child.
Not for those who...
Due to its many methods of interaction, some younger children will struggle with the interface.
Why we love it
If your child loves to explore without any limitations or rules, Toca Nature is a must download today.
App Details
Last updated
June 1, 2016
Release date
July 23, 2014
App Store Description
*App Store Best of 2014*

Nature is magic. Toca Nature delivers that magic to your fingertips.

Shape nature and watch it develop. Plant trees and grow a forest. Raise a mountain and enjoy the view. Collect berries, mushrooms or nuts, and feed the different animals. Learn who eats what and discover how much it takes to winkle a bear out. Walk through different landscapes and become friends with a fox. Capture the moment of woodpeckers zigzagging between trees, and watch the day turn into night.

Find new friends and challenges. Be mesmerized.

Discover the unexpected. End up somewhere far from where you started.

Let us show you the magic of nature!

***
About Toca Boca
Toca Boca is an award winning game studio that makes digital toys for kids. We think playing and having fun is the best way to learn about the world. Therefore we make digital toys and games that help stimulate the imagination, and that you can play together with your kids. Best of all - we do it in a safe way without third-party advertising or in-app purchases.


Privacy Policy
Privacy is an issue that we take very seriously. To learn more about how we work with these matters, please read our privacy policy: http://tocaboca.com/privacy