A beautiful, simple, and intuitive way to explore every day
Trips by Lonely Planet
by Lonely Planet Global, Inc.
watch trailer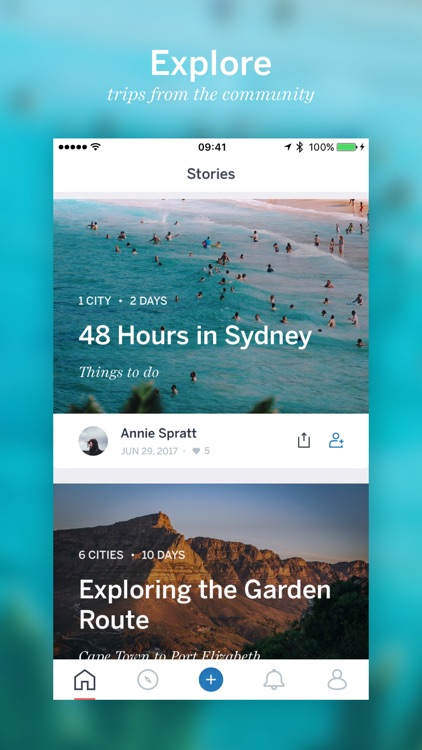 FREE

in the App Store
Discover new places, be inspired by stories from the Lonely Planet community, and share your own great adventures with photos and videos.
Discover the perfect adventure and share it. You can get inspired in Trips by Lonely Planet in quite a few ways, including exploring specific categories and sharing your finds with others.
Stories behind the photos. The stories in Trips by Lonely Planet aren't just about the photographs. Amazing stories can be found in the descriptions of the adventures.
What is it about?
Exploration, and learning about others' adventures, is more than just pictures. The story behind the photos is important, too, even though that picture is often worth a thousand words.
Why we love it
As you view stunning images of the world and enjoy expert narration of those photographs, you might find a story that you want to share. Trips by Lonely Planet recognizes this, and has your back. The app is fully integrated with the Share Sheet extensions on your iPhone or iPad, so you can share what you find through text message, email, or on Facebook. Every trip and adventure in the app is available on the web. When you share a story with someone else, they get a web page address they can click on and view. The web page views look exactly like what you see in the app, complete with images, captions, and descriptions. Yes, you can even share your own stories within Trips by Lonely Planet. The app walks you through selecting photographs, then generates a story for you based on those images. Once it's created, you can edit your story to add your own text and captions, crafting your very own travel guide for others.
App Store Description
Explore every day with Trips by Lonely Planet — a beautiful, simple and intuitive way to share travel experiences. Upload photos and videos to your timeline, then share your trip with your friends, family and fellow travellers. Discover new places, be inspired by stories from the Lonely Planet community and start planning your next adventure.

--------

We extend our warmest thanks to the contributors whose photography appears in our App Store screenshots:

* Share:
* Alex Howard ("Hiking the Na Pali Coast")
* Create:
* Mina Seville ("Touch the Sky")
* Explore:
* Annie Spratt ("48 Hours in Sydney")
* Brad Haynes ("Exploring the Garden Route")
* Discover
* Unsplash; Tommy Lisbin ("Adventure")
* Pieter Ras, 500px ("Wildlife and Nature")
* Annie Spratt ("Cities")
* Wanaporn Yangsiri ("Unsplash Community")
* Brad Haynes ("Ruins")
* Diego Jiménez ("Road Trips")
* Follow
* Michaela Potterbaum ("Iceland: A Bucket List Road Trip")