A program fit for the military and professional athletes
TRX FORCE
by TRX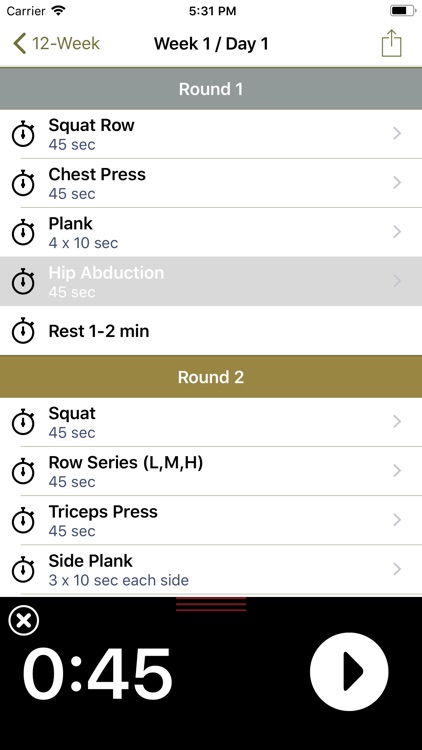 FREE

in the App Store
Get the most out of your training with this enhanced version of the 12-week, TRX Tactical Conditioning program used by all branches of the United States military and many professional athletes.
What is it about?
A robust and comprehensive way to workout, the TRX Force program is great for any fitness level to battle a serious challenge. Along with an extensive and indexed library of workout videos, it even provides a four-week pull up program.
For those who...
Looking for a comprehensive and intense way to get fit.
Don't mind paying extra for more content.
Not for those who...
Want to pay once for an app.
Looking for a less intense way to get fit.
Why we love it
If you're up for a challenge, TRX Force should definitely provide it. It's an enhanced and well-designed way to get in shape.
TRX FORCE is FREE but there are more add-ons
$39.99

TRX FORCE All Content

$49.99

TRX FORCE TCP / Pull Up Bundle

$19.99

TRX FORCE Exercise Library

$15.99

TRX FORCE Phase 1

$15.99

TRX FORCE Pull-up Program

$15.99

TRX FORCE Phase 2

$15.99

TRX FORCE Phase 3
App Store Description
This is the ultra-enhanced digital version of the comprehensive, 12-week TRX Tactical Conditioning Program used in all branches of the US Military and by athletes of all levels to get the most out of their training. Featuring an extensive, indexed exercise video library, a randomized workout selector, benchmark tests, optimized countdown timers and agility and conditioning drills, the TRX FORCE Super App will push you beyond your limits to get you fit for whatever mission you face in your line of duty—or life. The Super App now features an additional four-week pull-up program and integrated timers that adjust to the volume of your music, so you'll never lose track of your workout.

The TRX FORCE Super App contains the most comprehensive and effective tactical strength and conditioning program ever created. To develop the TRX FORCE Super App, we leveraged learnings from our direct work with thousands of service members in every branch of service and the most recent, cutting-edge science and research published on the application of functional training for tactical athletes.

The TRX Tactical Training Program at the Super App's core provides a robust training solution for anyone at any fitness level ready to take on a serious challenge and experience serious results.

Please consult with a physician before starting this or any exercise program. Your participation is at your own risk. Your use of this mobile application shall be considered your acceptance of Fitness Anywhere LLC's Terms of Use, which can be seen here: http://www.trxtraining.com/terms-of-use