••• We are over 6000 5-star rates in the US Store alone, thanks for your support
Vintage Logo Maker & Creator
by HATHAZ Szolgaltato, Kepzesi, Kereskedelmi es Tanacsado Beteti Tarsasag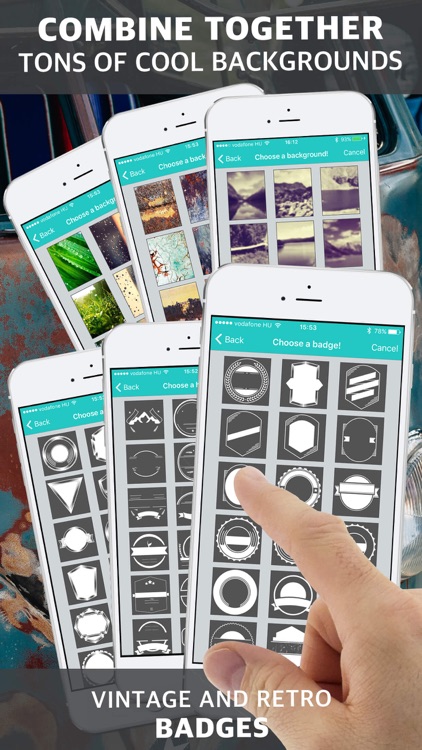 What is it about?
••• We are over 6000 5-star rates in the US Store alone, thanks for your support! •••
For those who...
It's a great way to get inspired.
Not for those who...
The amount of content and customizability is fantastic, so it's too bad Vintage Design is more of a wallpaper creator than a true art creation app. Its output size is limited by its purpose.
Why we love it
If you lack artistic talent, Vintage Design will help you appear as if you have some. It includes hundreds of predesigned badges and ornaments that are pixel perfect.
Vintage Logo Maker & Creator is $2.99 but there are more add-ons
$1.99

Big Bundle - 3 In 1

$0.99

Extra Badges Pack

$0.99

Extra Decorations Pack

$0.99

Extra Backgrounds Pack

$2.99

Big Bundle #2 - Five In One

$0.99

Extra Outdoor Pack

$0.99

Extra Cars & Bikes Pack
App Store Description
••• We are over 6000 5-star rates in the US Store alone, thanks for your support! •••
--------

With Vintage Design Logo Maker you can create professional looking logos, flyers, labels, invitation cards etc. in vintage style! With an incredibly huge amount of artworks in the app, the possible combinations are limitless!

If you looking for something to work as a fast solution to a logo problem, this app offers the quickest and easiest solution.

Recommended particularly for small businesses.

WHAT OUR CUSTOMERS USE THE APP FOR:
- visualizing an idea
- creating small business logos
- designing t-shirt logo
- creating logos for marketing campaigns
- making an album cover
- creating inspirational quotes
- for Facebook posts
- making business cards
- making flyers
- creating personalized cards
- creating avatars
- dressing up a blog
- creating quick mockups
- creating a unique lock screen/home screen
- designing logos and watermarks
- creating birthday cards
- customizing Instagram photos
- teachers creating digital badges and awards for their students
- using it for youth and church media
- using it to brainstorm before getting into Illustrator
- creating a logo for a clothing line

FEATURES:
- universal: available for all sizes of iPhone, iPad and iPod touch
- both portrait and landscape orientation supported
- optimized for iOS 10

GRAPHICS DESIGN:
- 2000+ royalty free professional looking backgrounds, badges, decoration templates created by professional graphic designers
- more than 150 fonts included
- 25 distress and grunge effects
- unlimited combinations

EDITING FEATURES:
- easy-to-use interface
- advanced layer editing: you can lock-unlock, flip, duplicate and change the opacity of badges, decorations, and fonts
- blur your background images
- put different overlays (distress effects) on any objects (backgrounds, badges, decorations or fonts)
- adjust font spacing and type curved text around a badge
- browse between fonts not only horizontally but vertically
- change the order of fonts or hide the one you don't want to use
- link and move more artworks together
- change the order of objects (layers)
- snap to the center feature
- flip objects vertically and horizontally
- advanced coloring option: save your favorite color, check your recently used color or add your color manually typing RGB code
- with Fine Tune you can make step by step fine adjustments to obtain more precise design
- if you make a mistake with designing use undo-redo feature

IMPORT OPTIONS:
- import your own photos from Photo Roll, your Dropbox, Box or Adobe Creative Cloud account
- import your own fonts into the app from your Dropbox or Box account or browse for free fonts on the Web right in the app and import them directly into the app

SAVE OPTIONS:
- gallery feature: store your creations in the app and edit them later
- you can save your logo design with or without background (transparent mode)
- crop your finalized design to a required size
- save your composition as a layered PSD file and edit it later with Photoshop (Adobe Creative Cloud needed)
- export your design to Dropbox, Box or Adobe Creative Cloud account

SHARE OPTIONS:
- share your open projects between iOS devices by uploading a backup to your Dropbox or Box account
- you can easily share your design via E-Mail, Instagram, Twitter or Facebook

RESTORE
You can restore your purchases without paying again. The extra artwork packs (in-app purchases) are stored in the Internet and possible connection problems may occur. If you have any problem with the downloaded content, follow these steps:
1. Open the app
2. On My Projects view tap on Shopping Cart icon
3. Tap 'Restore' on the top to re-download your purchases.

FEEDBACKS:
We update the app frequently adding new features based on our Customer's feedbacks.
In case of any questions or comments please write to [email protected]