Get in a routine.
Wake Up Mo! ~ 3D Interactive Pop-Up Book
by StoryToys Entertainment Limited
watch trailer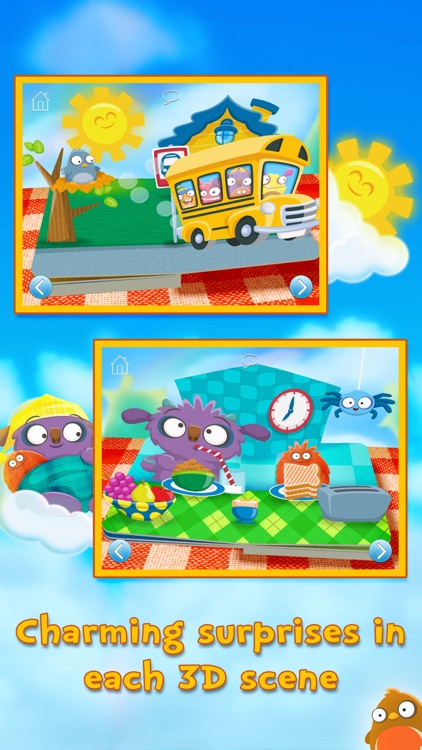 What is it about?
*Awarded The Kirkus Star For Books of Exceptional Merit*
For those who...
It's for parents with children between the ages of 15 months and four years old.
Not for those who...
The scenes are simply stunning, but they won't keep older children engaged for very long.
Why we love it
If your little one needs a better morning routine, this is the way to teach them. They won't be able to resist the charm of Mo.
App Store Description
*Awarded The Kirkus Star For Books of Exceptional Merit*

Wake Up Mo! is a morning routine app for tablets and mobile phones. It is the follow-up to the best-selling bedtime app Goodnight Mo (#1 in US and 40 other countries worldwide). As the sun rises and a new day begins, Mo, a cute little monster, gets ready for school. Beautiful imagery, gently rhyming narration, and a cheerful soundtrack make this the perfect way for little ones to learn how to get ready for the day ahead.

Wake Up Mo! helps young children build a routine by completing tasks in the same order each morning, such as eating breakfast, getting dressed, brushing teeth and packing a bag. It's fun too: little ones will discover charming surprises
in each of the 3D pop-up scenes: whether waking up Mo and the other animals, helping Mo get dressed, catapulting toast onto Teddy's plate, or brushing messy 'morning hair'.

Wake Up Mo! is part of the StoryToys Junior line. Designed for young children aged 15 months to 3+ years old, it includes the following features:

• Full 3D experience - it's just like a real book
• 8 enchanting 3D pop-up scenes packed with simple animations and interactive elements
• Read to Me or Read it Myself modes
• Available in English, French, German and Spanish
• Fully narrated in each language by professional actors
• Wonderfully illustrated, with beautiful, colorful imagery
• Featuring a charming musical score and playful sound effects

________________________

Reviews of StoryToys' Previous titles:

"StoryToys has near-brilliantly rethought children's books. This application evolves the very concept of what a story can be."
~ Jeremy Horowitz, iLounge

"Every page keeps the reader wanting more. The interactivity of the pop-up pages is superb."
~ Leanne McGinty, Ahgoo Review

"Now THIS is what I call an app!! My jaw dropped when I started reading this interactive book."
~ Sylvia Duckworth, French Apps for kids

"Stunning. If I had to sum up this app in one word it would absolutely be stunning."
~ Danielle Smith, TheresABook.com

________________________

STORYTOYS AWARDS:
• Kidscreen 2016 Award
• Winner of the Bologna Ragazzi Digital Award, 2015
• 11 Children's Technology Review Editor's Choice Awards
• 2 iLounge awards for best kids' app
• 2 Mom's Choice gold awards
• Mom's Choice Silver award
• Shortlist nominations for the FutureBook Digital Innovation Award
• Best Kids' App Ever winner
• Longlisted for the DBW Publishing innovation award
• 9 Tech With Kids Best Pick App Awards

________________________

Don't forget to share your review below, we'd love to hear what you think!

Stay in touch to hear about new releases and promotions:
Visit us: storytoys.com
Email us: For any technical issues please email us at [email protected]
Like us on Facebook: Facebook.com / StoryToys
Follow us on Twitter: @StoryToys