A ragdoll-physics arcade shooter.

Waste in Space - Endless Arcade Shooter
by Marco Tormento
watch trailer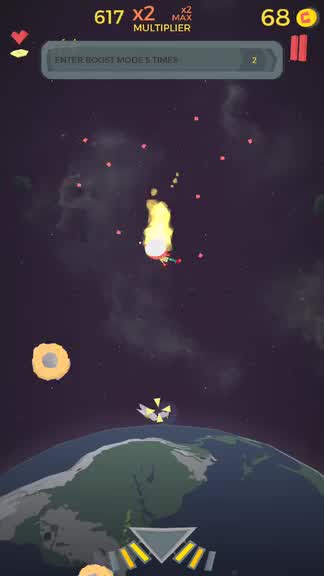 FREE

in the App Store
Waste In Space is an endless arcade shooter with ragdoll physics with a meaning behind everything. It tells the true story that hasn't yet happened but will happen someday at this rate. Trash is orbiting Earth but getting close enough to the atmosphere where it begins to be pulled in by gravity, thus causing a big trash storm coming towards Earth. Your job is to swing from asteroid-to-asteroid and shoot the trash before it reaches Earth.
Use power-up boosts. Use boosts to burn through that stinky garbage!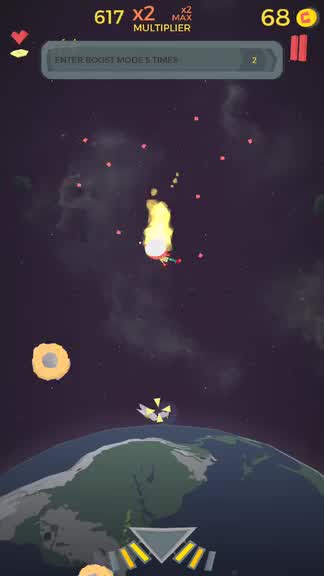 A cast of characters. Enjoy a wide variety of characters and gravity hats. Each have their own unique attributes and can give you an advantage.
Swing and shoot. Swing through the asteroids and shoot that nasty garbage before it heads back down to Earth.
What is it about?
Waste In Space is an endless arcade shooter that combines ragdoll physics for a crazy good time. Swing from asteroid-to-asteroid and shoot the floating bits of trash as you go. Perform sick tricks and rack up combos for even more points and climb the leaderboards.
For those who...
Like endless arcade shooters
Enjoy ragdoll physics
Like hidden meanings behind games
Not for those who...
Don't like hectic games
Don't like to be preached at
Why we love it
It may not happen in our lifetime, but at this rate, our trash is going to end up in space. This endless ragdoll-physics arcade shooter has a special meaning behind the crazy and fun gameplay, and hopefully it teaches a lesson about humanity.
Waste in Space is FREE but there are more add-ons
$2.99

Tin Man

$3.99

Piggy bank

$2.99

Tiziano

$2.99

Senna

$0.99

Mr Bone

$2.99

Invisible

$2.99

D Helmet
App Store Description
Waste in Space is the funniest ragdoll game of all the galaxies!
Swing endlessly between asteroids and destroy all the orbiting trash before it falls down on planet Earth.

"* * * * ½ - The visuals are cute and humorous, the music is catchy, and the intuitive controls are super easy to pick up, but can be difficult to master. The gameplay is fun, crazy, and challenging." - AppAdvice

Why is the space full of trash?
Why are you wearing a big rubber hat?
How Curiosity killed the cat if there's no life on Mars?

Find all your answers in this amazing arcade waste shooter based on a true story not happened yet!

FEATURES

• Endless, exhilarating physics-based gameplay

• Easy to learn, difficult to master, one touch control

• Perform epic combos to maximize score

• Discover 60 different characters & gravity hats, each with their own special attributes

• Collect over 60 unique pieces of orbiting trash

• Test your skills with 20 ranks and dozens of goals

• Improbable commentary of your heroic gestures

• Incredibly funny sticker album of insane acrobatics

• Unforgettable Hall of Trash to show off your collection

• Original music for an experience out of this world

• Local, social and global leaderboards to compete at every level

• Facebook connect to share your game progress across all your devices