What's it like out there?

Weather Pal by Clear Day™ - Live Weather Forecast
by vimov, LLC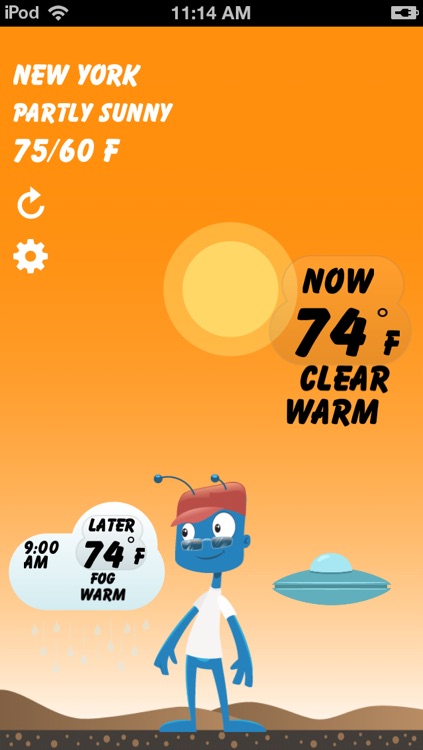 What is it about?
Weather Pal (by Clear Day™) is an absolutely new unique and fun way to check the weather! Our Alien is coming from the outer space to be at your help at every moment. He is dressed the way you should be dressed when you go out, and he gives you a heads up on what you should take away with you.
For those who...
It's for those who need a heads up on the weather ahead.
Not for those who...
Besides the little alien character, there's nothing else that makes this weather app different from the rest.
Why we love it
If you want a more lighthearted view of the weather, this is it. It makes the mundane adorable.
App Store Description
Weather Pal (by Clear Day™) is an absolutely new unique and fun way to check the weather! Our Alien is coming from the outer space to be at your help at every moment. He is dressed the way you should be dressed when you go out, and he gives you a heads up on what you should take away with you.

Once he becomes your friend, you won't be stuck in the rain without an umbrella ;). Weather Pal brings you a very interesting presentation of weather forecast and promises to be fun while doing it.

FEATURES
• Alien Character that changes and dresses according to the current and coming weather condition of your chosen location
• Daily, Hourly Weather Forecast
• Updated Weather Brief by alien
• Ability to switch between current temperature (C/F) and Feels Like Temperature Display
• Detailed weather forecast showing Feels Like, Precipitation, Humidity and Wind
• Automatic current location detector in addition to over 2.5 million searchable locations around the world

SUPPORT
Should you have any questions, suggestions or problems, please contact us at [email protected]
• Follow us on Twitter at www.twitter.com/ClearDay
• Become a fan on Facebook at www.facebook.com/goClearDay
• Check out ClearDay our elegant weather app with stunning weather videos at www.goClearDay.com