Scramble your photo and send as a puzzle to your pal in iMessage.
WIT • Puzzles
by Vogelbusch & Co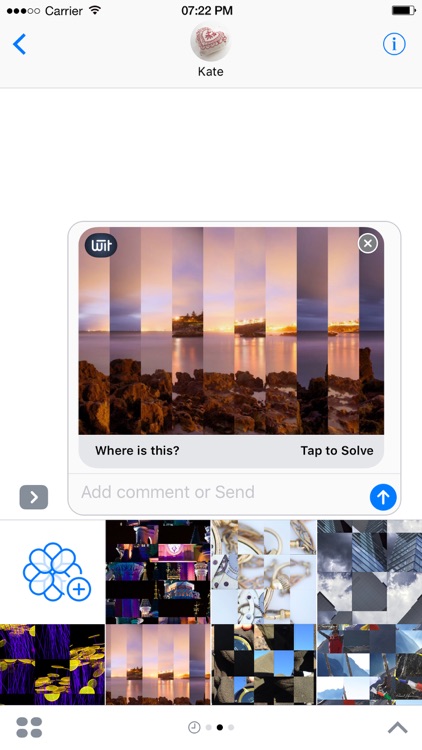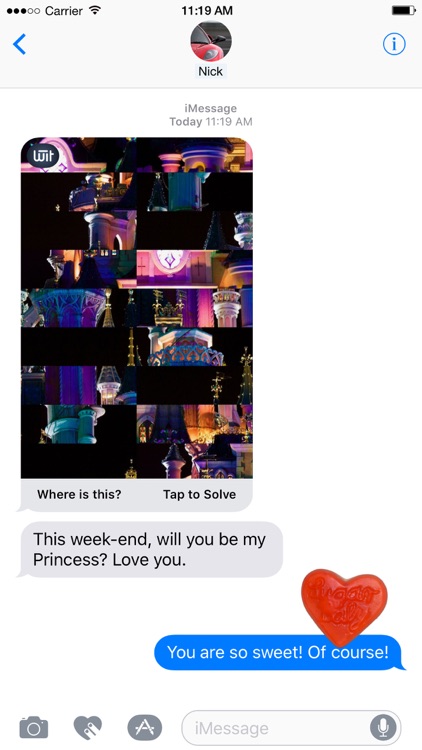 FREE

in the App Store
WIT – What is this? lets you choose a photo, select the grid size, scramble the pieces, and send. Let your friends and family enjoy rearranging pieces to see your picture.
What is it about?
WIT – What is this? is an enjoyable way to not only play a puzzle game with your pal, but share your photos at the same time. Just pick a picture and scramble the pieces. See if your friend can solve it and tease them to send you one back.
For those who...
Enjoy photo puzzle games
Like games that let you share photos
Not for those who...
Dislike puzzle games
Prefer games without photos
Why we love it
Turn your photos into puzzles to share with friends in WIT – What is this?
App Store Description
WIT • Puzzles sends any image as a puzzle via iMessage. If you want to use iMessage, WhatsApp, Facebook etc get WORLD OF WIT for FREE.
Surprise your friends and family, and challenge their wit. With WIT you can send or post any photo as a puzzle, even directly from within iMessage. Make them look closely at your photos as they assemble it and see how many moves it takes them.
From the creators of "You are It" comes a fun new sharing-game: WIT • Puzzles

Be warned! It's really addictive :-)

Puzzle – Definition: /'pʌz(ə)l/ noun
A game designed to test ingenuity or wit.

______________
What is WIT?

• WIT stands for: What Is This? Where Is This? Who Is This? Why Is This? When Is This?
• Send your friends pictures of what you have seen, where you have been, who you have been with … they should know.
• Challenge your friends' wit!
• Surprise them with your amazing photos.
• Be creative: send invitations or proposals as a Wit.
• Make your friends smile as they discover your message.
• Have them look at every curve and detail of your picture.
• Once solved they know your photo by heart.
• WIT lives in iMessage: create, send, solve – all with just a tap.
• For any photo just Pick – Shuffle – Send

_________
Features

• Surprising: Use "Puzzle-Blur" on any photo.
• Share anywhere: Full fledged App with sharing feature.
• Convenient: Right in iMessage.
• Flexible: Use any photo! Or take a photo (App only)
• For anyone: From trivial 2 pieces to insane 144 pieces.
• Smart: Pieces that match move together!
• Versatile: Choose a challenge messages or write your own.
• Easy as 1-2-3: Pick a photo – choose the cut size – send. That's it!

______
Enjoy

Go ahead and try the brand new "WIT • Puzzles"!
Be creative and send personalized Wits to your friends and family.

Website: TheKeptPromise.com
Facebook: facebook.com/TheKeptPromise
Twitter: @TheKeptPromise