حوادث طبیعی همیشه در کمین ما هستند و یکی از هولناک‌ترین آنها زلزله میباشد
ZelzeleNegar - Latest Earthquakes in Iran
by GreenHost IVS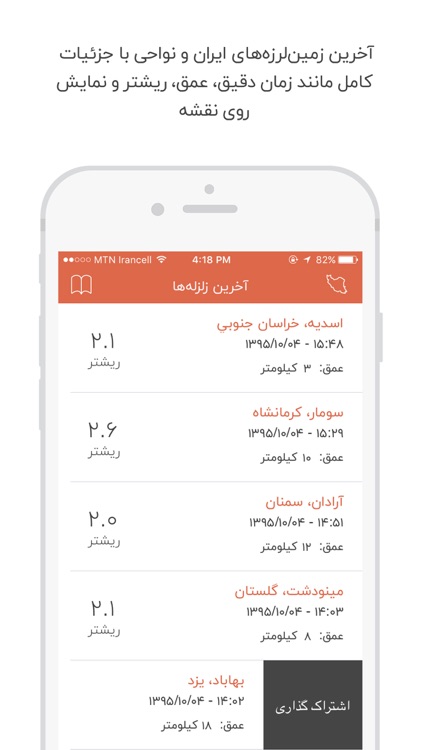 What is it about?
حوادث طبیعی همیشه در کمین ما هستند و یکی از هولناک‌ترین آنها زلزله میباشد. تا به امروز و با وجود پیشرفت چشمگیر تکنولوژی، محققان هنوز موفق به پیش بینی زلزله نشده اند و این موضوع باعث شده تا بشر همواره از وقوع آن هراس داشته باشد. ایران نیز یکی از کشورهای زلزله خیز به حساب می آید. مرکز لرزه ‌نگاری کشور وابسته به دانشگاه تهران تمام زمین‌لرزه‌های اتفاق افتاده در ایران و نواحی را به دقت ثبت‌ می‌کند.
App Details
Last updated
January 5, 2017
Release date
January 5, 2017
App Store Description
حوادث طبیعی همیشه در کمین ما هستند و یکی از هولناک‌ترین آنها زلزله میباشد. تا به امروز و با وجود پیشرفت چشمگیر تکنولوژی، محققان هنوز موفق به پیش بینی زلزله نشده اند و این موضوع باعث شده تا بشر همواره از وقوع آن هراس داشته باشد. ایران نیز یکی از کشورهای زلزله خیز به حساب می آید. مرکز لرزه ‌نگاری کشور وابسته به دانشگاه تهران تمام زمین‌لرزه‌های اتفاق افتاده در ایران و نواحی را به دقت ثبت‌ می‌کند.

اپلیکیشن زلزله‌نگار آخرین زمین‌لرزه‌های ثبت شده توسط مرکز لرزه‌نگاری کشور را با جزئیات کامل مانند محل دقیق وقوع زلزله، بزرگی، عمق و زمان دقیق آن را اطلاع رسانی‌ می‌کند.


- آخرین زمین‌لرزه‌های ایران و نواحی
- نمایش محل دقیق وقوع زلزله روی نقشه
- تاریخ و زمان وقوع زمین‌لرزه
- بزرگی زلزله در مقیاس ریشتر
- عمق زلزله در مقیاس کیلومتر
- نمایش لوکیشن شما روی نقشه جهت مشاهده نزدیک‌ترین زمین‌لرزه به شما
- امکان به اشتراک گذاری در شبکه‌های اجتماعی
- نقشه زلزله‌خیزی ایران
- نمایش آخرین زلزله‌های ایران روی نقشه با دو حالت شهری و ماهواره‌ای
- نکات ایمنی پیش از وقوع زلزله

- هنگام مشاهده آخرین زلزله‌ها با تکان دادن گوشی خود می‌توانید لیست زلزله‌ها را بروزرسانی کنید


------------------


Natural disasters are always lurking around the corner and one of them is Earthquake. Until today, despite substantial progress in technology, researchers are not yet able to predict earthquakes and that has caused humans to afraid of earthquakes. Iran is considered one of the earthquake-prone countries. IRSC affiliated to Tehran University of Iran recording all seismic activities.

ZelzeleNegaar application gives you the latest earthquakes recorded be IRSC with full details such as exact location, magnitude, depth and exact time it happened.


- Recent earthquakes in Iran and territories
- View exact location of the earthquake on the map
- Date and time of the earthquake
- Earthquake magnitude in Richter scale
- Earthquake depth in KM scale
- View your location on the map to view the earthquake nearest to you
- Sharing on social networks
- Seismic map of Iran
- View the latest earthquakes with both urban and satellite map mode
- Earthquake safety tips.

- You can also shake your device while viewing the latest earthquakes to get the latest data from server again!
Disclaimer:
AppAdvice does not own this application and only provides images and links contained in the iTunes Search API, to help our users find the best apps to download. If you are the developer of this app and would like your information removed, please send a request to
[email protected]
and your information will be removed.