The App "Zi Wei Dou Shu", is an essential useful, a "must have" professional tool for Professionals consultants, astrologers, but also useful for the beginners
Zi Wei Dou Shu Astrology
by Takis Karagiannopoulos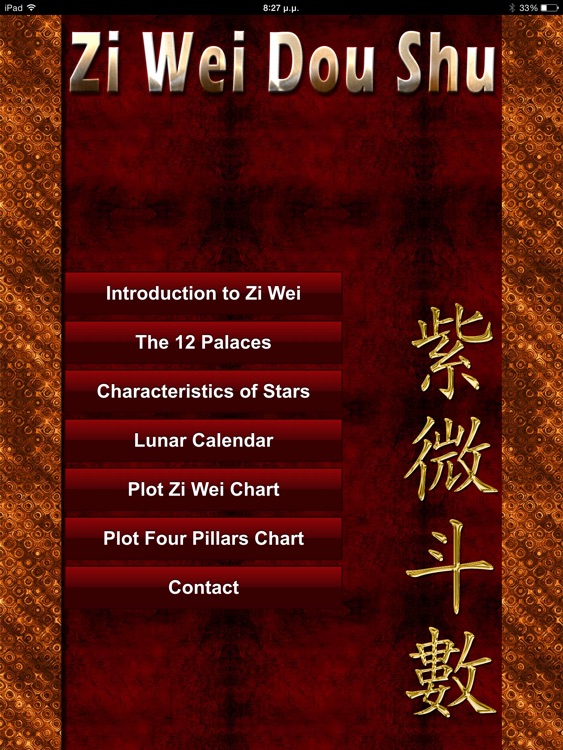 What is it about?
The App "Zi Wei Dou Shu", is an essential useful, a "must have" professional tool for Professionals consultants, astrologers, but also useful for the beginners.
App Details
Last updated
December 27, 2017
Release date
September 27, 2014
App Store Description
The App "Zi Wei Dou Shu", is an essential useful, a "must have" professional tool for Professionals consultants, astrologers, but also useful for the beginners.

Zi Wei Dou Shu 紫微斗數 is variously called as the "Purple Star Astrology Calculation", the Purple Planet Constellation, Purple Star Astrological System or Polar Star Astrology.
This ancient astrological system was created by Lu Dong Bin ( 吕洞宾 ) and written down during Song Dynasty (960-1280 AD) by the Master Astrologer and a great philosopher, Chen Xi Yi ( 陈希夷 ).

Although Ziwei Dou Shu has achieved the goal of providing strong competition to Zi Ping Ba Zi (Four Pillars) because it is in the capacity to give enormous specific details, the methodology did not flourish for the next 1.000 years it has been the exclusive instrument of the Bureau of Astronomy of the Ming and Qing Dynasties, used to serve only the Emperor.

Therefore, Zi Ping Bazi was the only well known main stream destiny analysis method until the recent times, some masters began teaching Zi Wei Dou Shu openly after World War II. Since Zi Wei Dou Shu first appeared in the Song Dynasty, hence, it has a history of slightly more than 1.000 years.

◆ This Zi Wei Astrological System is charted into a "Ming Pan ( 命盘 )" or known as the Personal Life Chart using the Four Pillar of Destiny (birthday, hour and gender of birth of a person).

◆ No need to worry about calendar conversions either, it also converts Western (Gregorian) calendar into Chinese Lunar Dates.

1) Find the Chinese Lunar Month and Day, or on any date you want with absolute precision, taking into consideration the Longitude and Time Zone of the area.

2) Ba Zi - Four Pillars Professional HD Gold Version:
- Precise and easy calculation of the Four Pillars of a person or any date you want.
- 10 Gods
- The Regulating Useful God
- 12 Stages of Life
- Destiny Star
- Na Yin

Dong Gong Date Selection and Special Day info:
- No Wealth Days
- Auspicious Hours
- 12 Day Officers Days
- Hour Group Emptiness
- Hour Road Emptiness
- Hour Yellow & Black Belt Stars
- Heaven and Earth Drilling Sha
- Four Direct Abandonment Day
- Heavenly Pardon Days
- Yang Gong Disaster Day
- Four Separation Day
- Four Extinction Day
- Fire Star Day
- Yellow Embrace Day
- Heavenly Thief Day
- Coldness and Defrosting Day
- Red Phoenix Black Path Day
- White Tiger Black Path Day
- Black Tortoise Black Path Day
- Grappling Hook Black Path Day
- White Tiger Entering Central Palace
- Month Suppressed Big Mishap
- Great Separation Day
- Emptiness Day
- Heaven Doctor
- Avoid Visiting the Sick Day
- 10 Spirits Day Star
- Nine Earth Ghost Day
- Luo Hou Days
- 10 Spirits Day Star
- Non Eligible Day
- Happy Spirit
- Year Sitting Sha and Year Facing Sha

Stems Relationships:

Earthly Branches Relationships:

64 Hexagrams:
- Self Yao and Response Yao Position (Object & Subject)
- Hexagram Palace
- Hexagram Family
- Missing Gua
- Activates Stars

Auxiliary Stars:
- Heavenly Virtue
- Heavenly Virtue Combo
- Heavenly Wealth
- Monthly Virtue
- Monthly Virtue Combo
- Month Emptiness
- Nobleman
- Yin Nobleman
- Yang Nobleman
- Heavenly Officer
- Post Horse
- Red Peach Blossom
- Tomb Storage
- General Star
- Solitary Star
- Separate Edge
- Funeral Door
- Robbing Devil
- Duke Virtue
- Duke Branch Virtue
- Duke Virtue Combo
- Heaven Emptiness
- Dragon Virtue
- Forlorn Star
- Peach Blossom
- Fortune Virtue
- Elegant Cover
- Golden Lock
- Grand Duke
- White Tiger
- Red Matchmaker
- Six Adversity
- Tomb Storage
- Prosperity
- Intellect
- Gold Carriage
- Sword
- Study Hall
- Birth Hour
- Flying Blade
- Cascading Clouds
- Blood Knife
- Heaven Dog
- Death God
- Leopard Tail
- Five Ghost
- Sky Bright
- Litigation
- Heavenly Dipper
- Death Charm
- Greater Delight
- Sickness
- Heavenly Officer Charm
- Moon Suspended Guest
- Gou Jiao
- Rest God
- Moon
- Sun
- Hook
- Five Prosperity
- Thriving Day
- Flying Chaste

Strengthening of the Day Master:

Qi Men Dun Jia Destiny Palace:

Xuan Kong Da Gua Combinations:
Disclaimer:
AppAdvice does not own this application and only provides images and links contained in the iTunes Search API, to help our users find the best apps to download. If you are the developer of this app and would like your information removed, please send a request to
[email protected]
and your information will be removed.