Review: MotionX GPS Drive HD for iPad
July 10, 2010
The Overview
Queue music.  Start song... "Over the river and through the woods to grandmother's house we go…"  Do you get lost easy?  Can't drive 55?  Have you been looking for a GPS navigation app that works on your iPad but just aren't sure if it's worth it?  Well, MotionX GPS Drive HD might just make you bite the bullet and head on down the highway after you purchase this app.
The Features
MotionX GPS Drive HD is a complete navigation application that turns your iPad into GPS device.  It has a very intuitive user interface and is easy to use.  Making full use of the iPad's screen provides the driver with a wealth of information during any trip whether its 2,000 miles, or just around the block.  Allowing the user any number of options, settings, search menus, and customizations helps MotionX turns your iPad into a powerful, full featured navigation monster machine.
The Breakdown
The Good
With a huge array of features, turn by turn voice instructions, and great accuracy, MotionX GPS Drive HD is quite frankly one of the best, if not the best, GPS apps currently available in iTunes. Its dizzying array of functionality can only be touched on in the briefest of ways in this review.  However, I'll try to hit on some of the things that stuck out to me. On the iPad's generously sized screen, along with the higher resolution, the program is stunning.  The graphics are off the chart.  It is literally like holding a map in you hands as you proceed along your routes.  In addition, the larger screen of the iPad is much easier to see then any dash or window mounted model I have personally seen.  A huge plus is the fact that the larger iPad makes typing in addresses, accessing menus, or any of the features infinitely easier than small units, especially if you have larger hands and fingers.  I personally liked using the program in portrait mode (as shown in the photos) although landscape is supported. At $2.99* it is considerably less expensive than other app navigation offerings out there.  But don't let the cost fool you.  This isn't some cheap application trying to pass itself off as a GPS program.  It is quite possibly the most complete and user friendly navigation GPS, period.  In fact, I have removed my old window mounted GPS from my car and now exclusively use this program on my iPad (or using the available  iPhone version of the app). Obviously, to use the program out on the open road requires you have the 3G iPad.  You can use it in your home over a WiFi connection, but that doesn't do you any good once you hit the pavement unless you just want to check a route or find a specific location before you leave. One of the biggest features is that GPS Drive HD runs in real time on your iPad.  What does that mean?  Unlike other GPS offerings, the data stream is live over your connection allowing it to access the internet.  In other words, your iPad is receiving the newest data and instructions every time you open the application via 3G or WiFi.  Accuracy is greatly improved over other nav apps requiring frequent downloads and updates to keep them current. Outside, once the application is open, it only takes a few seconds for Motion X to lock onto a satellite.  Once MotionX acquires a good signal I found that you could put the iPad just about anywhere and it worked.  In other words, it doesn't have to be located in your window or on dash to operate.  Lay your iPad on the passenger seat next to you, in the back seat, in the trunk, in your lap, on the dash, or wherever else you might want to put it in
your vehicle.  It just seemed to work. I found it to be very fast with no discernible lag over 3G.  I also used it on the Edge network and again, it was dead on, which I found pretty amazing.  The icon on the screen accurately matched my cars position on the road going fast, slow, or in between.  The voice commands were prompt and accurate to position as well giving easily heard and understood turn by turn instructions.
*The Gray Area
I am not really sure if the next topic is a good thing, or a bad thing.  I guess it really will depend on the individual user.  But I chose to put this information in what I'll call "The Gray Area" and you can decide for yourself. The $2.99 price tag only covers the cost of the application.  MotionX GPS Drive HD comes with 30 days of the a fore mentioned "real time" live usage for free.  After that, you either pay a $2.99 monthly fee, or get a year for $24.99, both of which are billed through your iTunes account. A great benefit if you own their iPhone application is that you won't pay twice!  Regardless of which subscription you select, account credit will transfer back and forth between devices.  Simply log into your user created MotionX account when you open the app, and you're good to go.  No double dipping by charging you a one subscription fee for the iPad and then one for the iPhone.  That is a huge plus. Please note that you can only be logged on to one device at a time.  You can't be using the app on your iPad in one car, while your wife is trying to use it on her iPhone in another car.  That only seems logical and fair in my opinion.  You can obviously pay to set up more than one account if you have others in your family who want to use it at the same time. In my opinion, depending on how much you travel and rely on a GPS device, the price plan gives you a great amount of flexibility.  Need it all the time, pay the yearly fee and don't worry about how much you use it.  Travel out of town a couple times a year, pay for 30 days only when you want it.  The choice is yours.
The Bad
It is really hard to knock this program, I like it so much.  But there are a couple of serious drawbacks that I cannot overlook no matter how much I like it. The biggest is it appears to be a data HOG.  Since it is operating "live" over your 3G/Edge network, it is drawing from your AT&T account every minute the program is running.  Not a big deal if you've bought their unlimited plan, but a real concern for the 250MB users.  I recently took a 3 hour trip.  Before leaving I reset my "USAGE" to zero on the iPad so that I could track it exactly door to door.  During the trip I did not access any other data features to keep it strictly to what MotionX used. I arrived having used 56MB!  A couple of smaller 15-20 minute trips used between 5MB and 7MB. As you can see, that could add up really fast depending on how often you want to use the app.  So that being said, the additional data usage cost (and consumption) is something to be considered along with the cost of the MotionX subscription you've chosen.  In the end, it could get a little expensive. The app seems to be a little power hungry.  According to my tests it used 3-5% of the iPad battery life every 10 minutes of actual operation during the trips I made.  This wasn't scientifically calculated but was what I observed using the app on my iPad (64GB 3G).  In addition, I would imagine power consumption could fluctuate greatly depending on several factors like the number of voice commands your trip requires, screen brightness, Bluetooth features and other tasks you might be performing will come into play.  As such, your own power usage could vary greatly.  Of course this is easily solved with an in car charger but something to be aware of if you don't have one and you are going on a longer trip.
The Verdict
All in all, I love MotionX GPS Drive HD.  I consider it a must buy iPad application even taking into consideration the cost matrix and power usage.  Both can be somewhat easily solved by purchasing a car charger plus mixing and matching your subscription fee with your anticipated usage (AT&T plan).  Getting 30 days free MotionX account access along with your $2.99 purchase price makes it a no brainer to at least try. In the end, I found the program to be very easy to use.  I simply downloaded the application, setup my MotionX account, and I was up and running.  I really liked the extra real estate the iPad screen provided in all phases of operation.  It was easy to type in locations, do searches, or switch between menu options.  I also liked that once I hit the open road I could glance over to my passenger seat and see where I was without having to strain my eyes.  Add in the extra features like real time Bing search ability, favorites and live traffic info and it is simply hard to beat.  MotionX GPS Drive HD for the iPad easily gets 5 stars from this reviewer.
Mentioned apps
$2.99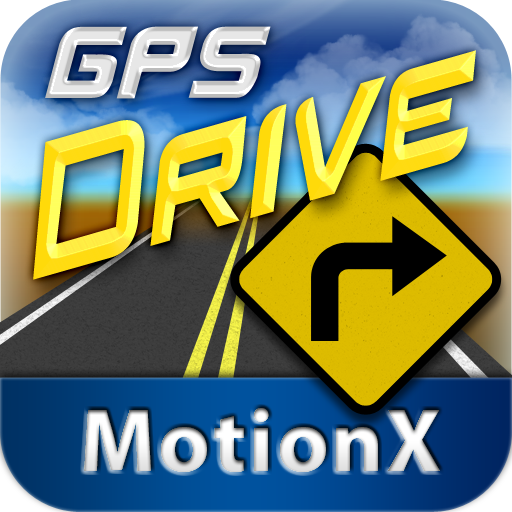 MotionX GPS Drive HD
MotionX™
Related articles