Review:
Asphalt
6:
Adrenaline
-
Experience
The
Rush
December 22, 2010
Overview
The next thrilling installment in Gameloft's hit arcade racing series has finally been released. Asphalt 6 is packed with new cars, immersing tracks, redefined visuals, and a few other minor tweaks that just might make it a notch above its predecessor.
Features
The game has a massive 55-event career mode that takes you through 12 locations, from The Bahamas to Shanghai. These races are organized into 5-group leagues in which you earn stars for your performance. Asphalt 6 also contains a free play mode and multiplayer for up to 6 contenders via Gameloft Live, local wifi, and bluetooth. In order to succeed as a street racer, you'll need to choose wisely and customize 42 cars and bikes. From the main menu, you can access a garage where you can move around a room and look at the vehicles that you own.
The Good
With 55 events, 8 event types, 12 locations, 42 cars, and 30 Gameloft Live trophies, Asphalt 6 includes an absolutely enormous amount of content that will have you glued to the track for many hours. The game provides more than twice the amount of gameplay that Need For Speed: Hot Pursuit and does it without making races too repetitive. The different race types are normal, elimination, under pressure, beat 'em all, drift, duel, collector, and time attack, and will throw in some variation.
A nice new addition in career mode is that there are 2 challenges you can complete in each event for some extra cash and stars. Multiplayer works pretty well, and just like in Asphalt 5, the game will create several AI opponents for you to race against if there are less than 6 players. In each race, there are pickups scattered on the track that will provide you with cash, speed boosts, and of course, nitro. Once your nitro meter fills up completely, you can activate the new adrenaline powerup. This will make your vehicle practically invincible and faster than you can imagine for a few seconds, as well as make your screen blur and turn dark blue. You start out with 3 cars and unlock more by earning stars and handing over some cash. With the money earned from events, you can upgrade 10 attributes 3 times each. Gameloft lets you decide what your machine looks like with paint jobs and numerous decals to choose from.
There are 4 control options that feature a combination of tilt or touch steering and auto or manual acceleration. You have the option of moving the buttons around on the screen, as well as changing the steering sensitivity. The graphics in Asphalt 6 feel much better than they did in Asphalt 5 and compose of detailed locations that are visually appealing. Whether you're racing in an African town or in an underwater tunnel watching sharks swim by, the environment looks stunning. If the game looks amazing on a 3rd generation device, it's hard to imagine how gorgeous Cape Town, Tokyo, or New York City would look on a Retina Display. There are also tremendous improvements with voiceovers. Instead of the monotonous and repetitive announcers that Gameloft is infamous for, Asphalt 6 has an enthusiastic female commentator that says different things for every event. She does an especially good job in informing you when you're being tailed by another racer.
The Bad
One thing you'll notice immediately from your first race is that the useful minimap is now gone. This consequently makes it difficult to discover shortcuts and learn maps when you're flying by in a Bugatti at 200 mph. Eliminating other cars and wrecking your own ride are both easier than before, which takes away from the arcade feel. For some reason, you can't tune your cars in garage mode, which seems rather strange. Also, winning an online match is impossible if you use a car that is worse than that of your opponent's. The control sensitivity might feel a bit low on the default level, but this can be changed easily.
Asphalt 6 still has some of the same issues as the past 2 iOS titles in the series that Gameloft has yet to fix. The length of many races is still way too long, and anything other than the beginning and end are boring and have little impact on the outcome. In beat 'em all mode, your goal is to eliminate enemy cars by randomly trying to smash them and hoping that something happens. This isn't fun at all, and is often full of glitches. The game doesn't flow as smoothly as Real Racing 2 when it comes to turning and braking.
The Verdict
If you're looking for an action-packed racer to pass the time, then look no further. Asphalt 6 will provide you with all that plus much more for only a few dollars. Greatly improved artwork, another set of fantastic rides, and a massive amount of gameplay almost guarantee that you won't ever get enough. For $6.99, Asphalt 6 is a must buy that will likely remain the best arcade racing game for some time.
Mentioned apps
$0.99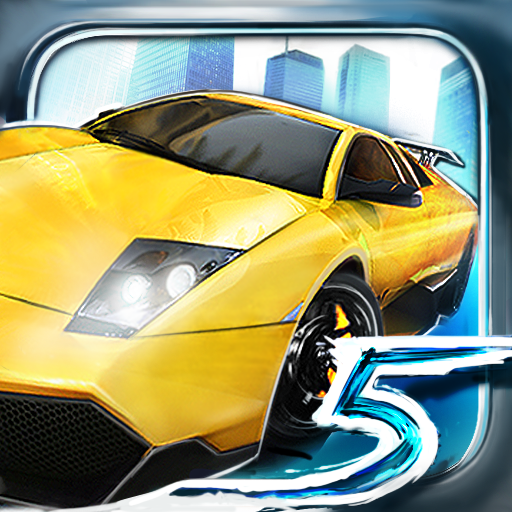 Asphalt 5
Gameloft
$4.99
Need for Speed™ Hot Pursuit
Electronic Arts
$4.99
Real Racing 2
Firemint Pty Ltd
$4.99
Asphalt 4: Elite Racing
Gameloft
Free
Asphalt 6: Adrenaline HD
Gameloft
Related articles