Review:
Lifelike
Craig
For
iPad
Makes
The
Web
Obsolete
February 3, 2011
Overview
Craigslist is a huge online classifieds site with sections for just about every part of the world. It allows you to sell any sort of item, advertise or look for jobs, and post personal ads to find somebody new. Lifelike Craig is a Craigslist browser for iPad. It brings a sharp, clean interface to Craigslist and allows you to post ads and manage them directly from the app.
Features
Lifelike Craig features a great interface, useful maps, favorites and the full capabilities of Craigslist in a fast-to-access application.
The Good
While Craigslist is a great site and has proven very popular, it is a bit ugly. The site features plain text and plain white backgrounds and looks like something you'd see on the net circa 1996. Craigslist HD for the iPad seeks to not only provide a much nicer looking Craigslist, but to also streamline the process of searching the classifieds. Lifelike Craig's version of the Craigslist main page looks much like a newspaper, with a headline style heading at the top and a simple black and white look, with all categories visible on the one page.
When you tap a category, the app switches to a grid view, with the first sentence or two of each listing and a small picture. This is much, much better than in the browser, which simply shows the listing's title. Tapping on a listing switches to a view where the left side of the screen contains the category's listings, allowing you to scroll up and down and the right 2/3rds of the screen shows the selected listing with large pictures and the full ad. This makes it very fast to skim through listings, as you just scroll and tap to change them. This is much better than multiple tabs on a web browser. There is a map button on each listing which brings up a map with a pin at the location of the item, which is extremely useful when you're trying to gauge how far away an item is. You can also "favorite" a listing, which places a red circle around it in listings and lets you access it though the favorites menu. Replying to ads can be done inside the app. The latest update of Lifelike Craig allows you to post your own listings. You just login and select your categories from a list. Then you can type your listing and email just like on Craigslist.com, except with a nicer looking interface. You can add pictures from your picture albums and the listing view will auto add a signature saying it was posted with LC, but this can be removed. You can manage posts you posted previously, and delete or repost them. Lifelike Craig also features fun rustling paper sounds to compliment its newspaper type look. These can be turned off.
The Bad
There is nothing bad about Lifelike Craig. It is a fast, bug-free application for a bargain price.
The Verdict
Lifelike Craig is a must have application if you post or search on Craigslist, as it delivers a superior experience than the website and gives you access to it anywhere. For $2, this app is a no brainer. Highly recommended!
Mentioned apps
$0.99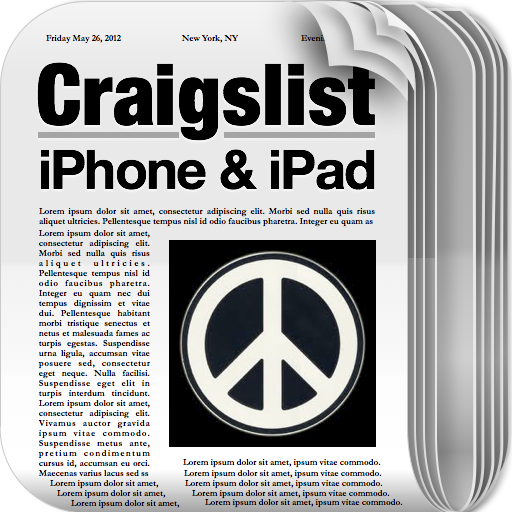 Craigslist
Lifelike Apps, Inc
Related articles