Web-Slinging
Meets
Rope
Cutting
in
Spider
Jack
HD
May 20, 2011
Spider Jack HD ($1.99) by Clickgamer.com (available separately for iPhone) from developers MaxNick is a new physics puzzler that bears not just a passing resemblance to the same publisher's (clickgamer.com is part of Chillingo) hit title Cut the Rope by Zeptolab.
If you are a fan of Cut the Rope style puzzlers, you are going to love Spider Jack. And if you're not, this action-puzzler may be just the hybrid of genres to change your mind.
The game initially apes Cut the Rope; it's easy to be dismissive and call it derivative. But play a few levels before you leave a snarky App Store comment.
Spider Jack actually has more than enough variation in gameplay and even audience, to stand on its own merits.
After a cute cartoon opening, the game begins like Cut the Rope in reverse. You are a spider intent on you next meal. The goal is to cast your web so it leads you up (and later down and around) to your ensnared fly feast. Simple enough, right?
But unexpected, clever elements come into play quickly. You have to float in bubbles, dodge electric currents, even use a hairdryer to propel yourself towards your goal. Some stars are time sensitive adding to the action component of the game. Time-warps come into play in the last of the three included worlds.
This game is as much about timing, swinging and quick reflexes as it is about planning ahead. A straight drop may solve what all the well-planned swings won't.
Like other games of this genre, you can earn up to three stars per level. And while successful completion unlocks the next, Spider Jack has a nice "skip level" option if you get stumped.
There are 75 boards included (with the promise of more to come), spread across three environments: a barn, a bathroom and a laboratory.
Check out the trailer:
An interesting, if not totally welcome, twist is that Chillingo or EA (who acquired Chillingo and recently took over their Crystal gaming network) has it set up so there are unlockable "gift levels." If you invite (read spam) five of your social network contacts you can unlock five bonus levels per environment.
I confess, this isn't the first time I've spammed my friends for in-game rewards, but never on iOS, unless it was for Zynga's Facebook game, Farmville, via the iOS companion apps.
I'm not sure it's fair play for a paid game, but that said, you don't have to get the gift levels either. Just know they are an option and they are a lot of fun, allowing up to five stars for successful completion. And getting them will annoy your friends.
While we're playing true confessions, I have to admit, I don't like Cut the Rope. It's a great game, but it's a pure puzzler and I'm not the biggest fan of the genre. I don't want to think too hard when I relax; call me lazy, but I game to unwind.
But, I do love quick-play action-puzzlers and where Cut the Rope often leaves me in knots, no level of Spider Jack is so hard, nor so time consuming, that you need to beat your head against the wall or Google for cheats.
Spider Jack's web-slinging ways are zippy, and there are a number of different solutions to each level. It's a perfect pick-up-and-play game.
If you love Cut the Rope, Spider Jack is a no-brainer. But even if you shy away from traditional puzzlers, this game serves up enough action, with great graphics, replay value and unexpected twists to be well worth the small price. Grab it and start spinning.
Mentioned apps
$1.99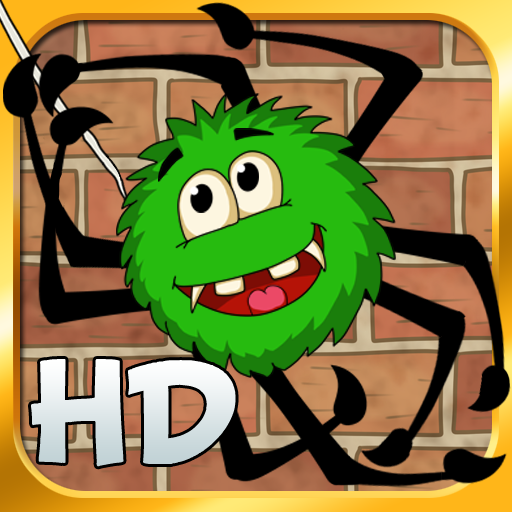 Spider Jack HD
Clickgamer.com
Related articles