Always
Be
Presentation
Ready
With
Keynote
On
iPhone
June 2, 2011
Keynote ($9.99) by Apple® now makes it possible to create beautiful presentations right on your iPhone, direct from Apple.
Fans of Keynote that own iPhones should be pleased this week, since Apple released the 1.4 update for all the iWork apps on iOS, bringing universal support. Now you can create and manage beautiful presentations on-the-go, right from your iPhone.
Those unfamiliar with Keynote on iOS will find a Getting Started presentation that will outline everything you need to know about using the app. Once that's done, you can start creating your own presentations.
Like with the other iWork apps, when you go to create a new presentation, you have the option of copying over from iTunes File Sharing, iDisk, or WebDAV. Starting from scratch will give you a choice of templates to make your presentation look slick. You can also customize your presentation using the right tools.
Whichever template you decide to go with, you'll be taken to the presentation editing screen. This screen will be split into two panes - on the left will be a thin slide navigation menu, and the rest of the screen will be dedicated to the selected slide for you to edit. On the bottom of the slide navigation menu will be a + button for you to add more slides to the current presentation.
When creating the Keynote presentation, all media elements (Photo Library, Tables, Charts, and Shapes) can be resized and moved around on the slide. Text elements can have various formatting styles, appearances, and arrangements. If you tap and hold on a slide in the navigation bar, then you get options like Cut, Copy, Delete, and Skip for the selected slide.
In Keynote, the Tools button will bring up the same basics as Pages and Numbers (Share and Print, Find, Settings, and Help), but there will be two additional things that are exclusive to Keynote: Animation Mode and Presenter Notes.
Going into Animation Mode will allow you to tap on a slide and choose one of the many slide transition animations. Tapping on one will also give you a preview, so you know what you're getting. If you already know how the animation looks like from previous Keynote experience, just tap on the screen while the preview is going to skip it. There's also a "Magic Move" option, which will move an object from the current slide to its location on the following slide. This option requires duplicating slides, of course.
If you're the type that uses notes during your presentations, then that option is present in this mobile version of Keynote. However, there is one major flaw about this - you cannot view your presentation notes without using the presenter display. So those notes that you just typed up and hoped to access? It won't show unless you have the proper equipment. So you've been warned.
When you're done with your current Keynote presentation, you can go through the entire thing with the playback button at the top. Tapping the left side of the screen will bring up the slide navigation bar again, which you can use to quickly go to specific slides. Double-tapping the screen during playback will take you back to the editing mode.
Keynote saves all your progress, and you can even shake to undo recent changes, even the next time you open the presentation. Your Keynote can be exported by email, iDisk, or WebDAV in the following formats: Keynote '09, PowerPoint, or PDF. It can also be put online via iWork.com, or printed via AirPrint.
For the most part, Keynote is a great way to create presentations with your iPhone now. The interface is beautiful and polished, and works well. However, there are still some things that need to be addressed. First, the presentation notes flaw I pointed out earlier. Second - there is no multiple orientation support. Keynote will only work in landscape mode on the iPhone and not portrait. That's the problem with all the iWork apps, actually, because none of them support multiple orientations. Hopefully Apple will change that in the future, but that would be a long shot.
Keynote is worth getting nonetheless. If you don't rely on presenter notes or can deal with the landscape keyboard (I can, I'm just a bit slower at it than portrait), then it's worth it for the convenience of having your presentations with you all the time.
Mentioned apps
$9.99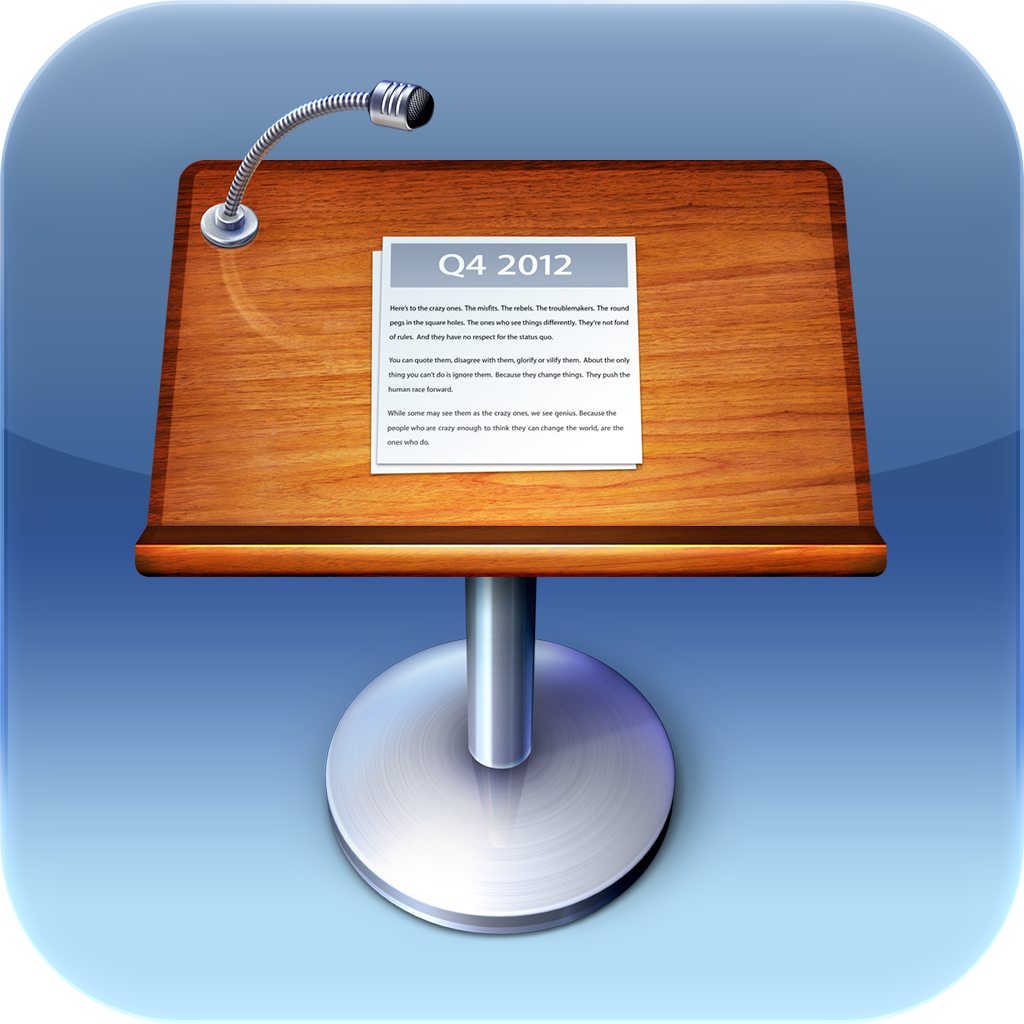 Keynote
Apple
Related articles