Now
You
Can
Have
Batman
Arkham
City
In
Your
Pocket
December 9, 2011
Batman Arkham City Lockdown ($5.99) by Warner Bros. is the iOS companion game to the console and PC versions of Arkham City. The game utilizes the Unreal Engine for graphics, which are absolutely stunning.
Let's face it, Batman is awesome. If you disagree, then you can just stop reading now. Arkham City is one of the best games out this year, and now we finally have a version of it to play on our iPhones and iPads. And let me tell you – it does not disappoint.
The graphics are visually gorgeous, and rival that of the console and PC counterparts, thanks to the Unreal Engine that is built on. The cinematic cutscenes are smooth and fluid, and the transition to battle is seamless. Being a Batman fan myself, I was attempting to pick my jaws up from the floor from these visuals.
When you first start the game, you will have to pick one of four available save slots. The game will then show you a tutorial of the basic moves that you can do. The gameplay itself is more like Infinity Blade, where you move from enemy to enemy and do one-on-one combat, using your fingers in swiping motions to attack, dodge, and deflect.
After the tutorial, you should find yourself at the main game screen, where there are several options: Profiles (game saves), Play, Waynetech, Extras, and Batsuits.
Tapping on Play will continue the game, and you will see a map of Gotham. Each "area" that you can go to a mission, and tapping on the area will display the Threat Level (difficulty) and the number of enemies that you will face. The game will show a cutscene of Batman dropping in on the area, soon being confronted with some Gotham thugs. Then the battle begins.
If you have played Infinity Blade, then the gameplay should be very familiar to you. You can view Batman's health on the top left of the screen, and the enemy's health at the top right of the screen. Batman will already have a health pack gadget available, so tap on it in the bottom left corner if you are low on health. Quickly stringing together swipes in the right combination will have Batman pulling off combos, and tapping anywhere on the screen will have him dodge. Swiping down at the right time will have Batman deflect an attack, which will stun the enemy for a short amount of time, so take advantage of it if you pull it off.
Sometimes, your enemy will enter "rage mode," where they begin glowing red and their hits will do more damage to you. If you can successfully dodge these attacks, then the enemy will be stunned once the rage wears off, so make sure to do a quick combo when this happens. There will be times when you can counter the enemy by tapping on the indicated circles at the right time. Doing this will result in an awesome little scene where Batman delivers some hurt to the darn hoodlums.
Batman will encounter multiple enemies in quick succession after each other, so make sure to heal when you have a chance. Once each enemy falls, you gain experience that goes towards leveling up Batman. With each level up, you will gain "Waynetech Points." These are used to upgrade Batman's damage, health, attack speed, and additional gadgets.
In addition to these normal thugs, you will encounter some infamous Batman villains, including the Joker, Two-Face, and the Lockdown exclusive Deathstroke. These boss battles will have unique gameplay elements that will surprise you each time.
I'm pretty sure that the best thing about this game is the ability to have different Batman skins. That's right, there are three other skins that you can get via in-app purchases (unfortunately): The Animated Series Batman, The Dark Knight Returns Batman, and Batman Beyond. Besides looking cooler, each skin will have it's own set of benefits and weaknesses. The Animated Series Batman has more damage, but less health; The Dark Knight Returns has more damage and health, but less speed; the Batman Beyond has the most speed, but less damage and health. These skins will cost you $0.99 each. So if you want them all, you are essentially going to be paying about $9 for the full experience ($5.99 plus three $0.99 in-app purchases). However, if you're a huge Batman fan, then this shouldn't be an issue (they just look so awesome).
Batman Arkham City Lockdown also includes an Extras section, which includes Biographies, Achievements, Wallpapers, Comic Viewer (complete with some Arkham City comics), and Credits. The Game Options menu includes volume adjusters for music and sound effects (I have both on the max so I can hear everything, especially the POWs when I'm delivering a fatal blow), and a toggle for subtitles during cutscenes. I have to say, though, that the subtitles seem very tiny and are hard to read. It would have been nice if they made it a tad bigger.
I was a bit disappointed that this is not an open-ended game like the console Arkham City, but this is still better than nothing on the iPhone and iPad.
If you are even the slightest Batman fan, then I would highly suggest you pick this up from the App Store now. It's available as a universal app for your iPhone and iPad for $5.99 in the App Store.
While you go download Arkham City Lockdown, I leave you with this:
Na, na, na, na, na, na, na, na, na, na, na, na, na, na, na, na, na, na, na, na, na, na, na, na, Batman!
Na, na, na, na, na, na, na, na, na, na, na, na, na, na, na, na, na, na, na, na, na, na, na, na, Batman!
Batman, Batman, Batman!
Mentioned apps
$5.99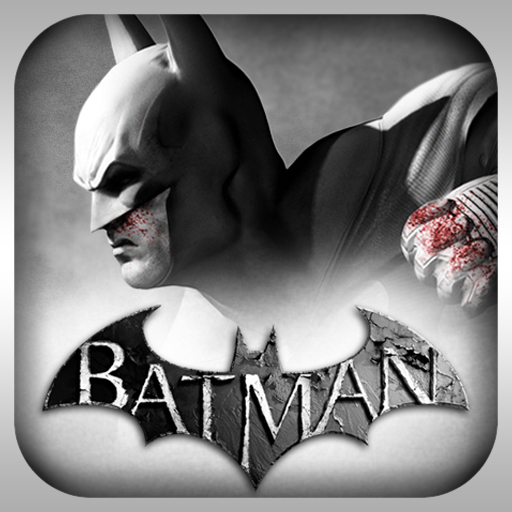 Batman Arkham City Lockdown
Warner Bros.
$5.99
Infinity Blade
Chair Entertainment Group, LLC
$2.99
Infinity Blade II
Chair Entertainment Group, LLC
Related articles