Leap
Through
Space
On
Your
iPad
With
Astronut
May 10, 2012
Astronut for iPad ($1.99) by The Iconfactory is an enhanced version of the original iPhone-only game that came out back in 2010.
Everyone loves outer space, right? Of course you do! Now how about playing the role of an astronaut jumping from planets and moons and avoiding aliens and other obstacles during the journey of space exploration? If you're intrigued, then this game should be right up your alley.
First things first, the iPad version of Astronut is not free like the iPhone version. However, the iPhone version only gave you the first four levels for free, and you had to unlock the rest via an in-app purchase of $1.99. Astronut for iPad is $1.99 and comes with all levels unlocked, so they're both equal — you're just paying and getting all the levels upfront.
If you played the iPhone-only version, then you should know how the game works. There are six "systems" available, though only the first ("Inner Ring") is available at the start. Each system will consist of four levels. To unlock the other systems, you will have to clear the previous four levels. You also can't select an individual level — you will have to go through each set of four.
Controls are simple: you have to jump from object to object in order to reach the finish line at the top in each level. There are two buttons: Boost and Jump. The Boost will allow your astronaut to charge through anything that is in the way — yes, you can smash through enemies. Of course, you should still be careful with the boost, since you will not always be able to control your direction (space has no gravity of course!), and your boost only lasts for a limited period of time. After that, it will have to recharge — fortunately, this won't take too long.
You will have to time your jumps precisely. Why? Because the planets don't really have strong fields of gravity, so they won't be pulling you in, unfortunately. There will also be power-ups to collect, such as hearts and shields, and even shard pieces that will grant you a bonus level to boost your score. Some of the objects you have to jump on will kill you after a few seconds (burning hot planets and black holes), so you better hop on and then be on your way! Falling into the clutches of an alien enemy will also knock a heart piece off; once all three pieces are lost, it's game over.
One of the biggest new features of Astronut for iPad, though, is the fact that you can use your iPhone or iPod touch as a remote control for playing on your iPad. I tried it out and it works flawlessly, and is quite easy to set up. Using a separate controller for the game really adds to the experience, and it can definitely be a great way to keep the kids entertained.
Astronut also features Game Center support for leaderboards and achievements. The game is quite challenging, so with the addition of these, you will definitely keep coming back for more.
If you're looking for a beautiful game to play that takes full advantage of the high resolution graphics of the new iPad, then make sure to grab Astronut for iPad. And while you're at it, grab the free iPhone version to use as a remote to enhance the experience.
This is a game that you don't want to miss.
Mentioned apps
Free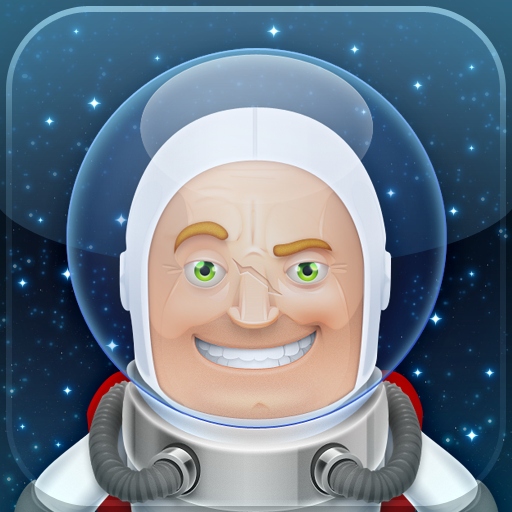 Astronut
The Iconfactory
$1.99
Astronut for iPad
The Iconfactory
Related articles