Quirky
App
Of
The
Day:
Build
A
Zombie
And
Blast
Away
The
Rest
Of
Them
November 19, 2012
I believe that this is the first time that I've ever put work into
building a zombie
and within the same app, blown zombies to bits. I'm not sure about how I feel concerning the juxtaposition of those two activities. It seems like all my hard work to build an awesome zombie just got a big bullet shot through it. However, the app and gameplay is addictive, so I'm going to move on.
Build A Zombie
is a dual purpose app that lets you build a zombie in one portion and shoot to kill in the next. First, you build your zombie. Some of the accessories cost some sort of strange currency. Those aren't dollar amounts. Those are blast points. You earn blast points in the zombie game, and I'll discuss that later. You start out with a zombie in its underwear. Each of the tabs along the top lets you customize a different part of your zombie. There are tons of variations to choose from, and they only cost blast points. Once you've designed the perfect zombie, you head over to the
zombie game
and start killing them. You begin the game with a pistol. All you have to do is shoot as many zombies as you can. There are civilians running around. So, be careful. You'll lose 10 points per civilian that you terminate. There are also some zombies that throw green pigs at you. I don't get it either, but you're suppose to shoot them just the same. You can save up your blast points to buy weapon upgrades as well. The points aren't just for the fashion accessories. How easy is it to earn blast points? I earned over 60 in about 10 minutes. It's really easy. The accessories only cost about 10 blast points, so they aren't expensive at all. The shotgun, which is the next weapon upgrade, is 500. The longer you last in the game, the more blast points you accumulate. You start the round with three hearts. Any time a pig hits you or a zombie  gets you, you lose a heart. The game is over when you lose all three hearts. For a fun change of pace, the hearts are actually drawn like human hearts instead of the traditional, cute hearts that children draw. It's more appropriate for a zombie app.
Build A Zombie is available in the App Store for $0.99.
Mentioned apps
$0.99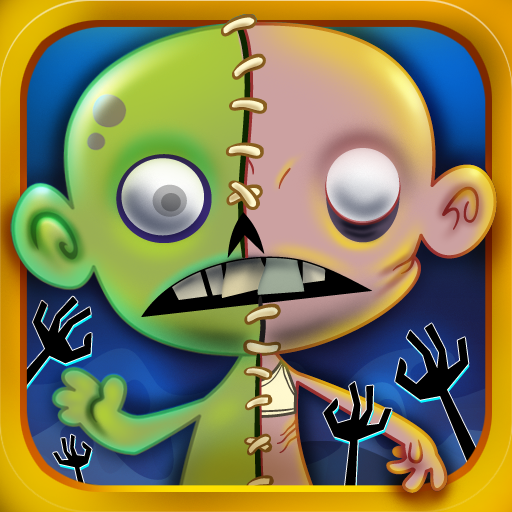 Build-A-Zombie
Apptooth
Related articles