My
favorite
Apple
Watch
apps
this
week
include
Carrot
Weather,
Wunderlist
and
Activity
App-dicted
May 7, 2015
As I continue to get used to my Apple Watch and try out different apps, I have a few definite favorites already. These three apps work well on the watch and each has some useful features.
Carrot Weather
When I read about this app I could not wait to download it to my iPhone. So, when I discovered that it was available for the Apple Watch, I was thrilled. The combination of accurate weather details, a nice interface, and relentless humor make this a fun way to get the weather.
On the Apple Watch, Carrot Weather provides a Glance displaying that sharp wit along with current weather details. When you open the app you can easily see the current conditions, "feels like" temperature, and hourly forecast. For the upcoming week, you can quickly view the highs, lows, and rain probability. You may not hear the talking robot on your Apple Watch, but you do get everything you need.
Carrot Weather is available for $3.99 on the App Store.
Wunderlist
When it comes to task lists, Wunderlist is my go-to app. The features are extensive with flexible due dates and reminders, attachment options, and seamless syncing across devices and the website. The flow for setting up tasks is easy and the interface is intuitive.
Having Wunderlist available for the Apple Watch is a huge benefit of the app. The available Glance shows which task is up next for the current day and the notifications will keep you on track. The app itself has a nice view when opened. Your Inbox, Today, Starred, and Assigned to Me items are displayed by default. The lists visible on your watch can be configured easily in the Wunderlist app on the iPhone. Wunderlist works really well on the Apple Watch.
Wunderlist is available for free with in-app subscription purchase options on the App Store.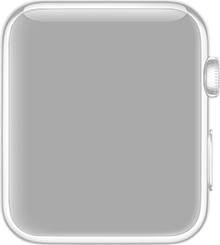 Activity
Some people may think it is silly to list the Activity app as one of my favorites, but I have a good reason. I am not someone who is into health and fitness apps and I do not exercise as regularly as I should. So, to discover and enjoy a built-in app like Activity is a great thing.
My favorite feature of this app is the tap it gives me when I have been sitting too long. As a freelance writer, I often get so immersed in writing that I forget to take a break until my back gets sore or hunger pains strike. So, that little tap is a great reminder that it is time to stand and stretch. In addition, I can now see how much I am moving throughout the day, how many calories I have burned, and how much time I have spent standing. Becoming more aware of my physical being is a step in the right direction to becoming a healthier person. This is why I like the Activity app.
This is the first week for sharing my favorite Apple Watch apps and I think these three are great choices. With so many more to explore, be sure to check back for new discoveries and feel free to share your own favorites in the comments.
Mentioned apps
$3.99
CARROT Weather - Talking Forecast Robot
Grailr LLC
Free
Wunderlist: To-Do List & Tasks
6 Wunderkinder
Related articles