Make
your
own
app
and
glance
with
Dash
for
Apple
Watch
That iThingy You're Wearing
June 19, 2015
Dash for Apple Watch is an awesome new tool for creating your own Apple Watch app and Glance. Have a passcode you need to access often? Want a picture of your puppy Scooter always at hand (or wrist)? Need to view your motivating, personal motto every morning? Dash for Apple Watch lets you do these kinds of things very easily. How cool is that?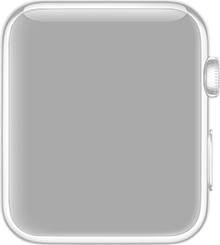 After you download the app, you will see the customization screen. First, you can swipe on the top box to display either your iPhone's battery percentage or enter your own custom text. Next, just swipe on the bottom box to show your Wi-Fi network name, enter some text, or display an image from your photo library. Install the app on your Apple Watch and activate the Glance feature. That's it and it could not be easier.
When you click the app on your watch, you will see exactly what you entered on your iPhone. This same screen is what displays using the Glance feature.
The idea for this app is terrific and it would be great to see some future updates to create additional screens. Personalizing exactly what you want or need to see on your handy Apple Watch brings tons of possibilities and even more convenience to the already useful device.
Dash for Apple Watch is available on the App Store for free with no in-app purchases. So, if you own an Apple Watch, you should definitely give it a try.
Mentioned apps
Free
Dash for Apple Watch - Custom Watch App and Glance
Roy Marmelstein
Related articles