My
favorite
Apple
Watch
apps
for
June
26,
2015
App-dicted
June 26, 2015
This week's favorite Apple Watch apps are going to fall into three categories: fun, useful, and entertaining. The majority of the time, these favs concentrate on those that make you more productive in some way or make your life easier. There is one this week that falls into that category, but in honor the weekend on the way, let's look at some fun ones too.
Clock – Timer
Starting off with the useful app for your Apple Watch is the clock timer. Yes, this comes on the watch by default, so don't laugh. It has just become more and more helpful for me all the time. We all have such busy lives and are constantly multitasking, it seems. There are times when remembering to stop what you are doing to even stir the dinner you have on the stove poses a challenge, at least for me.
Now, I take advantage of an app that Apple thought I should have on the watch – the timer. You can set it by the minute for up to one hour. This makes it handy for quick, short-term reminders. Stirring the soup, flipping the burgers, or just for a tap on the wrist when it is time for me to publish my article on time, the timer is quite useful. And, since it's already on the watch, why not use it?
You do not have to search for this one on the App Store, just look at your wrist for the orange timer icon and you're set.
Dash for Apple Watch
Dash for Apple Watch is the fun app for this week, but could also be considered a useful one. This app allows you to create your own custom app and Glance for your watch. To set up the app or Glance, swipe on the top box to display either your iPhone's battery percentage or enter your own custom text. Next, just swipe on the bottom box to show your Wi-Fi network name, enter some text, or display an image from your photo library.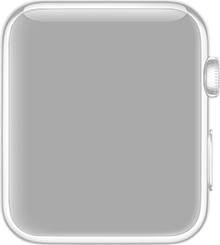 After you install Dash for Apple Watch on the actual watch, you will see exactly what you entered on your iPhone. It is fun because you can have that cute picture of your kitty or that silly one of your girlfriend. It is useful because you can include passcodes, battery percentage, or some other custom text that you need on a regular basis.
Dash for Apple Watch is available on the App Store for free, so it is certainly worth having on your watch.
Solitaire by MobilityWare
The entertaining Apple Watch app this week is Solitaire by MobilityWare. A recent update to the popular game brought it to the watch and it looks and works well. You can play the Daily Challenges, check your trophy status, and view countdowns to upcoming challenges.
On the watch, Solitaire looks good on the small screen and is pretty responsive so you can complete a game easily. When selecting cards from the sides of the screen, it can be a little finicky so you have to press precisely. But, other than that it is a fun way to pass the time while waiting for the bus or the checkout line to move.
Solitaire is available for free on the App Store, so it is another one worth a try for Apple Watch wearers.
The Apple Watch is great for keeping us on track with tasks, appointments, and such. But at the same time, there is no reason you can't have some fun on it too. Have you used any of these apps on the watch yourself? If so, what are your thoughts on them?
Mentioned apps
Free
Dash for Apple Watch - Personal Watch App and Glance
Roy Marmelstein
Free
Solitaire
MobilityWare