AppAdvice
Game
Brief
Play
the
cards
right,
drop
dominoes,
trap
and
eat
bugs
while
solving
mysteries
and
more
August 7, 2015
Mobile gaming has been a huge hit with iOS, and we cover dozens of games each week here at AppAdvice. We know that sometimes it's hard to keep up with all of the awesomeness in the App Store, so we're bringing you the highlights of the mobile gaming scene each week in our weekly Game Brief column. This is your guide to the hottest new games available on your iOS devices.
So sit back, grab your favorite beverage of choice, and get ready to check out some cool games. Enjoy!
Who knew dominoes and gravity mix together so well?
Domino Drop
In the mood for a puzzle game that is both relaxing and challenging? Then look no further than Domino Drop. These sure aren't your parents' dominoes.
Domino Drop
Vitalii Zlotskii
Domino Drop is a relaxing puzzle game that'll keep you busy
Domino Drop features a skeuomorphic design that many of us don't see often anymore, but it is a welcome change and fairly tasteful. The wooden domino case looks fantastic, as well as the USB "dongle" that plugs in on the side to display your score. The dominoes themselves look great too, as they are bright and vivid, and animations in the game are smooth. The jazz soundtrack means easy listening too.
Drop the dominoes!
Let gravity take its course.
The goal in Domino Drop is to drop the dominoes at the top of the screen onto the game board so that like-colored halves match up with each other in groups of at least two or more. White pieces need to be in groups of at least four before they can be cleared. Since these are dominoes, the other half won't "drop" until the other side is matched, making it harder than it looks. Plus, you can't rotate the pieces, so you have to plan ahead.
Domino Drop Tails
The difficulty is ramped up in Tails mode.
There are three game modes in Domino Drop: Classic, Tails, and Pro. Classic and Pro are similar, as the goal is to make as many matches as you can for points, with the only difference being that Pro doesn't show you the next domino. Tails revolves around the white pieces — you have to match up enough white pieces as indicated by the number on them, and doing so clears them all out and then you start the cycle again, but with the number to match increased by one.
I'm a big fan of puzzle games, so Domino Drop is a new favorite. The design is beautiful, despite the skeuomorphism, and the music is great. The gameplay itself is something different, and a fun spin on a classic. I've been playing this game a lot over the past week and I feel it's a must for any puzzle game collection.
For more about Domino Drop, check my review.
Get
Domino Drop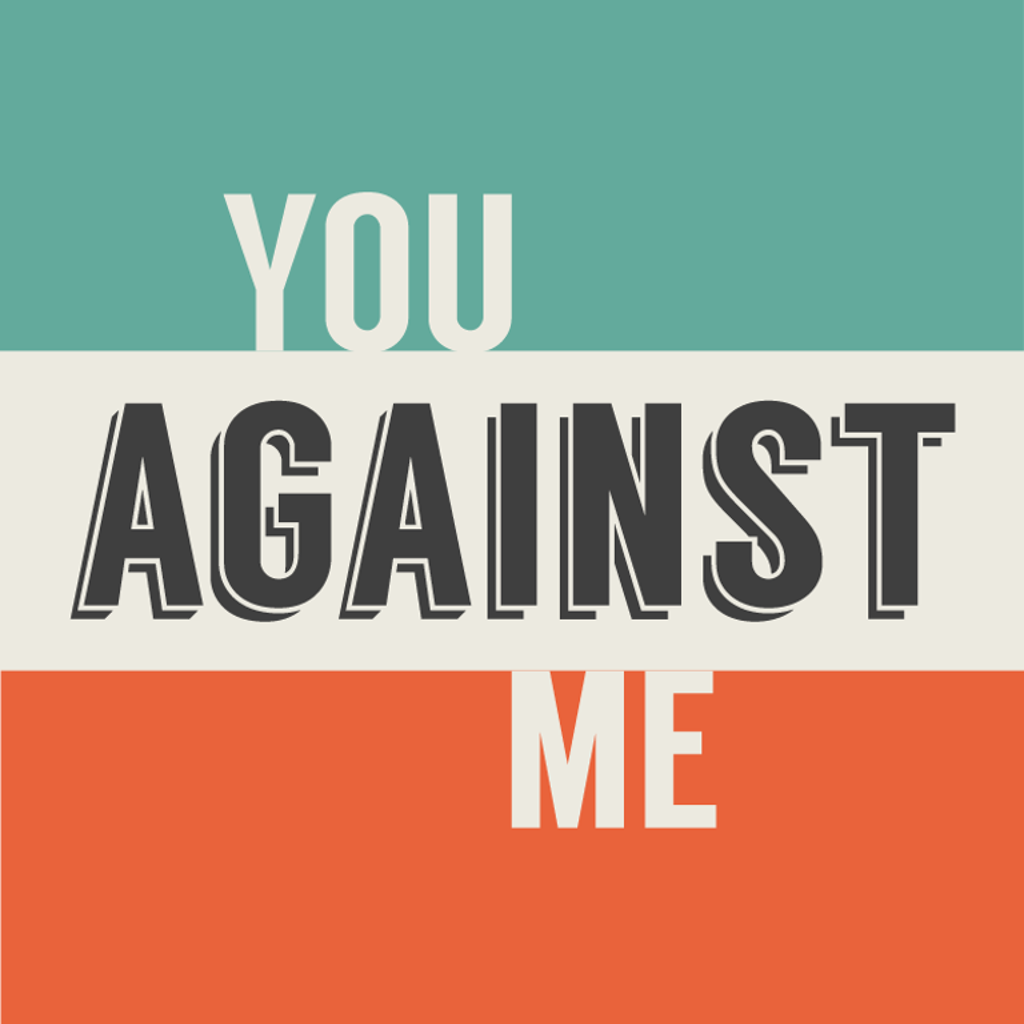 Conquer the board by playing the right hand
You Against Me
Feel like playing against others in a turn-based card game? Then you should try You Against Me.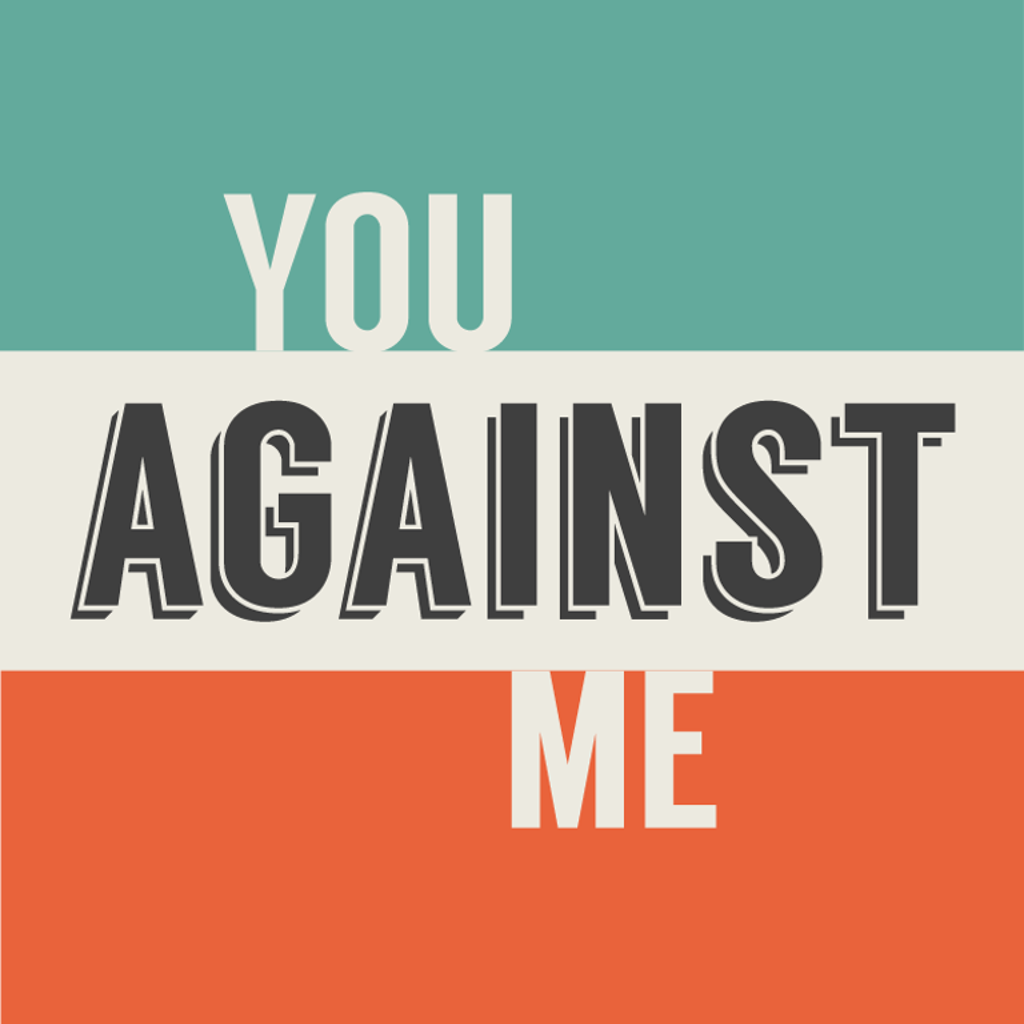 You Against Me
Easy 8 Software
It's just You Against Me in this tricky and challenging card game
You Against Me has a flat but colorful design that fits in well with the aesthetics of iOS. The typography is easy-to-read and fits in with the style. While the default colors work well together, the developers decided to give players a plethora of different color palettes to choose from, including light and dark backgrounds. There is an upbeat and quirky soundtrack to go along with everything, making this simple game a keeper in terms of visual and audio.
Take turns and conquer the board
Play your cards right and outwit your foe.
You can play You Against Me three ways: online through Game Center with strangers or friends, local pass-and-play, or against two difficulty levels of AI. The goal remains the same: claim as much of the board as you can. The grid consists of square tiles that go from one to 25, and each player has a hand of five cards. Both players take turns placing one of their cards on the board to claim a number (Stars are wild cards), and then draw another card from their deck or the opponent's (the cards are two-sided). You can steal the opponent's numbers by playing a card that matches up with one of their claimed tiles, and if you claim numbers adjacent to each other, you can lock them in. The player with the most claimed tiles wins.
Change the game
There are many color themes to choose from.
For a closer look at You Against Me, check my full review.
Get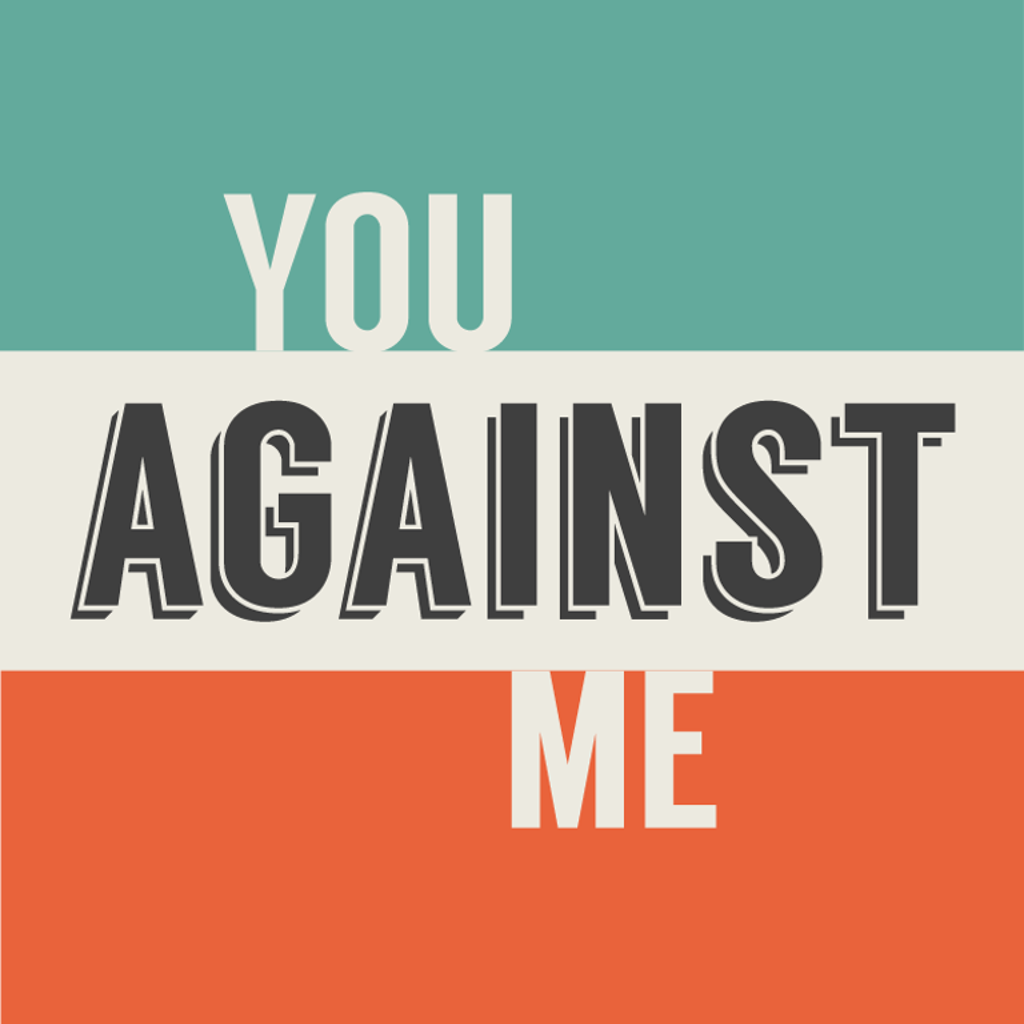 You Against Me
Man the cannons!
Man the cannons!
There have been a lot of puzzle games this week, but that's never a bad thing, especially if you enjoy these types of stimulating games. Manowar is another one worth checking out, but only if you're prepared for a pretty but maddening hell.
Manowar
Lachlan Nuttall
Manowar is a gorgeous but challenging puzzler
Manowar is a game about a ghost ship lost in the sea, and the corresponding graphics are stunning. You have rich backgrounds, complete with subtle animations, and a unique wooden labyrinth that represents the ship on each level. The atmospheric soundtrack and sound effects are a joy to the ears, and animations are smooth and fluid.
Balance the ship
Tilt to move the balls, load them up, and fire!
There are 48 levels in Manowar right now, and while that doesn't seem like a lot at first glance, be prepared — this game is trickier than it first seems. Each stage consists of a different ship layout, but the goal is the same: get all cannonballs loaded into the cannons and then fire them. Launching the balls from the cannons causes the other balls on the ship to "jump," so you have to think about the order to be successful. It starts off easy, but the difficulty picks up rather quickly, especially when you begin to get different colored cannonballs and cannons. Controls are intuitive for the platform, as it needs only tilts and taps, so you can play the game with one hand. Alternatively, you can choose to go drag instead of tilt for movement.
See the pattern
Figure out the pattern to get all the cannonballs loaded into the cannons.
Even though I'm finding Manowar to be frustrating at the point I'm in, the game is fun, and the challenge is part of that. I appreciate the ravishing visual style and music, as it is some of the best I've seen on mobile lately. This is a game that has been made with mobile in mind due to the straightforward controls, and in a hectic world, that's always something to be grateful for. If you think you have what it takes to beat these maddening puzzles, then make sure to pick it up this weekend.
Manowar is a universal, indie title on the App Store for only $1.99.
To learn more about Manowar, don't miss my original review.
Get
Manowar
Only a spider can solve mysteries and uncover the secrets
Only a spider can solve mysteries and uncover the secrets
Did you love the original Spider: The Secret of Bryce Manor that came out in 2009? Or just like spiders, mysteries, and puzzles? If so, then you need to check out Spider: Rite of the Shrouded Moon.
Spider: Rite of the Shrouded Moon
Tiger Style Games
Spider: Rite of the Shrouded Moon is a sequel that was well worth the six-year wait
While the original game had great graphics at the time, it would be considered dated now. Fortunately, Rite of the Shrouded Moon has been revamped with some amazing new visuals that are even more realistic than ever before. The room environments that you'll be crawling and jumping through are incredible, featuring detailed textures, lavish colors and lighting, The bugs you'll be encountering, as well as the spiders you can unlock and play as, are lifelike. The music is soothing, with well thought out sound effects.
Trap and feed
Be quick about catching your prey.
In Rite of the Shrouded Moon, you control a spider who is exploring an abandoned manor filled with mysteries that you must solve by finding secret areas and discovering clues for each sector. Along the way, you have to spin webs to trap and eat tasty bugs, while also tackling dangerous and aggressive bugs like hornets before you die. Since the spider only has a limited amount of silk, you have to think carefully about where you place your webs, and earn more silk by feeding. Once enough bugs have been eaten, a portal opens up and you must reach it to access the next area.
The great thing about Rite of the Shrouded Moon, though, is the fact that it uses your location to fetch weather data and display that in the game in real-time. So you can be playing during clear days or nights, or even rain. This is special because there are some bugs that you can only find at night or when it rains, and if you are trying to get a perfect collection in the game, then this provides months of replay value.
Find clues, solve mysteries
Crawl and jump into crevices to find secrets and the necessary clues to advance.
Controls in Rite of the Shrouded Moon are pretty easy to learn, but difficult to master in trickier situations. You control the spider's movements by doing a long press in front or back of it to go in that direction. Swipe to jump, and tap on the spider before jumping to use silk thread. Webs can only be spun when the threads create a closed space, and sometimes it is difficult to do that, so strategize carefully.
I have not played the original The Secret of Bryce Manor, but I'm still in love with Rite of the Shrouded Moon this week. Fortunately, this is a standalone game, so you don't need to have knowledge of the first to enjoy this sequel. I love the graphic style of Rite of the Shrouded Moon, the music is atmospheric and calming, and the controls are intuitively made for the platform. It's a nice mix of puzzle, strategy, and mystery solving, and the replay value is high due to the four different leaderboards on each stage (day and weather condition) and collectibles.
Spider: Rite of the Shrouded Moon is on the App Store as a universal download and well worth the $4.99 admission price.
To learn more about Spider: Rite of the Shrouded Moon, make sure to check my in-depth review.
Get
Spider: Rite of the Shrouded Moon
Get your fix of flashy lasers and explosions
Get your fix of flashy lasers and explosions
In need of something that is packed with explosive action this week? Then you should check out .Decluster Zero: Bullet Nocturne.
.Decluster Zero: Bullet Nocturne
MASAYUKI ITO
.Decluster Zero: Bullet Nocturne is a neo-retro bullet hell shmup that guarantees fun
This is the revamped follow-up to the original .Decluster: Into the Bullet Hell that came out earlier this year. In fact, Bullet Nocturne is, at its core, a remixed version of the original game. While this sounds like a ripoff, hear me out: the neo-retro graphics look even better, the soundtrack is made up of remixed tracks, and the gameplay itself has been redone from the ground up to make it feel like an entirely new game. The developers have taken the levels from the original and made modifications to the bullet patterns and placements, so even if you got the first game down to a science, this new version will play completely different.
Flashy lights and lasers, oh my!
Can you dodge all of the bullets and obliterate your foes?
Controls in Bullet Nocturne are simple, like other bullet hell shmups. Drag your finger to move the ship around — it fires automatically. Double tapping will change the basic weapon from linear to wide-shot and vice versa. If the meter on the left is full, that means you can do a Homing Laser by tapping the screen with a second finger. This targets the nearest enemy, and all bullets around you are cancelled out and turn into valuable items. A tap during the homing laser enters Capture Mode, where you can slow down any bullets that enter the circle. Over time, these change into stars when the homing laser is fired. Getting the meter charged faster is possible by lifting your finger from the screen for a brief amount of time, and you can have up to three charges for the homing laser.
A revamped experience
Bullet Nocturne is a remixed version of the original. Bigger, better, more explosive.
Items are found after you defeat enemies or use your special weapons. There are score multipliers and star items, which give points depending on what your current Star Multiplier is. And when you do face inevitable defeat, Bullet Nocturne allows you to play from the last level you managed to reach.
I love bullet hell shmup games, as they are what I mostly play when I visit the local arcades (not much anymore). These are always fun because they're packed with crazy action, flashy colors and explosions, and it's always a challenge — who can survive the longest and get the most points? I am getting a kick out of .Decluster Zero: Bullet Nocturne, and highly recommend it to any bullet hell fans.
.Decluster Zero: Bullet Nocturne is a universal app on the App Store for $2.99. There is also a Lite version available, which is recommended to check if your device can handle the game.
For more about .Decluster Zero: Bullet Nocturne, check my review.
Get
.Decluster Zero: Bullet Nocturne
Editor's Choice
Spider: Rite of the Shrouded Moon
Editor's Choice
Our top pick of the week goes to Spider: Rite of the Shrouded Moon.
While there have been a ton of great game releases this week, it should be no surprise that the best one is Spider: Rite of the Shrouded Moon. This is a sequel that was six years in the making, and it has been well worth the wait. The visuals and music are superb, and the controls are easy enough for anyone to pick up, even newcomers to the series.
Even if you aren't a big fan of spiders (I'm certainly not), there is just something incredibly satisfying about being quick with making a web and seeing some pesky bugs get trapped in it, then going in for the feast. And since spiders aren't always on the top of the food chain (hornets are dangerous buggers), the risk involved when tackling bigger, tougher foes is exhilarating. The clues behind the mysteries that need to be solved will always make you think, and you may even be stuck for a while, but going back to levels and collecting new bugs is still fun.
Honestly, Spider: Rite of the Shrouded Moon is a game that is constantly on my mind since I started playing it, and I am intent on finding all of the bugs and solving everything. That doesn't happen too often, which is why this game is my top pick this week.
So what are you waiting for? Go out and show the bugs who's boss!