7
Best
Apps
to
Play
With
Your
Friends
Online Party
Pocket Gaming
January 28, 2023
Gone are the days of playing board games and charades to keep in touch with your friends. With advances in technology, you can now use tons of different apps to interactively play together from far away!
From classic games to problem-solving experiences, these apps offer loads of interactive entertainment that will delight friends. Get the gang back together and dive into these picks for the seven best apps you should try out right away!
Among Us
Among Us
Among Us is an online multiplayer social deduction game that is quickly becoming one of the most popular titles in gaming.
The game puts a unique spin on the classic game of deception, as players take on the role of a crew member aboard a spaceship, planet base, or sky headquarters. Players can join up in groups of four to 10 participants and must work together in order to keep their ship intact and travel back home.
But there's a catch! They have replaced one of you with a shape-shifting alien who wants nothing more than to eradicate the rest of the squad before they reach Earth. The imposter looks identical to all other characters, making it nearly impossible for other players to detect their malicious intent. To win this thrilling game, you must use your detective skills to deduce who the imposter is, while also avoiding danger and sabotaging their plans.
If you want to play Among Us on mobile, the good news is that it's free! You can download the game on iOS or Android devices from the App Store or Google Play Store. However, there may be ads in the free version of the game. You can purchase the ad-free version for just $2. To do this, tap on the "Remove Ads" option in the game and follow the prompts to select your payment method. With that, there will be no ads, so you can enjoy your gaming experience distraction-free!
With its easy-to-learn mechanics and exciting gameplay, it's no wonder why this title has taken over the gaming world. It will provide hours of entertainment and laughter as you attempt to keep your ship together and return home safely. Good luck — and watch out for that shape-shifting alien!
Free
Among Us!
InnerSloth LLC
Animal Crossing: Pocket Camp
Animal Crossing: Pocket Camp
Animal Crossing: Pocket Camp is the perfect way to enjoy outdoor living without having to leave your couch. This digital world has something for everyone with customizable campsites, engaging seasonal events, and limited-time furniture and outfits. Players can share their Player IDs with friends or use the random player avatar feature to make new acquaintances while they explore their digital landscape.
In-app purchases are also available to help players get the most out of their experience. For just $12 a month, you can access all the content available on Animal Crossing: Pocket Camp and make some treasured memories along the way! So gather your friends and start your camp adventure today!
Free
Animal Crossing: Pocket Camp
Nintendo Co., Ltd.
The House of Da Vinci 3
The House of Da Vinci 3 is the captivating conclusion to a trilogy that follows the famed inventor, Leonardo da Vinci. Get ready for an immersive experience with this pickup-and-play title that doesn't require you to have played the first two games in the series. With no pesky ads or intrusive in-app purchases, it's easy to get lost in the incredible puzzles and mysteries that await as you explore The House of Da Vinci.
Experience this adventure for yourself. Download The House of Da Vinci 3 on iOS App Store or Google Play Store for just $5.99 and see why fans are giving it an average rating of 4.9/5! Enjoy the concluding chapter of one of the most beloved puzzle games around.
$5.99
The House of Da Vinci 3
Blue Brain Games, s.r.o.
Pokemon Unite
Pokemon Unite
Pokemon Unite is a new team-based real-time strategy game from The Pokemon Company that combines elements of MOBA (Multiplayer Online Battle Arena) games like League of Legends with classic Pokemon franchise gameplay.
The beloved characters from Pokemon play as powerful allies in an online battle arena, giving you and your buddies a chance to team up and take on other players. Players control their Pokemon and must battle both wild and opponent controlled Pokemon to gain experience and Unite points. Score goals by depositing your Unite points into hoop-like goals at the top and bottom of the map. This is sure to be an exciting gaming experience with so much going on.
Enjoy all this at no cost, or spend some of your hard-earned Aeos gems for an even more immersive experience.
Free
Pokémon UNITE
The Pokemon Company
Heads Up!
Heads Up!
Heads Up! Is a fast-paced game that will get everyone laughing and having a good time. The game has been around forever and now it's available on your phone, making it easier than ever to play with friends, even remotely.
Download the app and select a deck of cards from categories like movies, celebrities, or brand names. Then each player holds their phone to their forehead, displaying the answer so that all the other players can see while they try to guess correctly. Most chat platforms allow users to hide their own video display so you won't be able to see the answers written out!
This fun and exciting game is available for only $1.99 in the Apple App Store with in-app purchases or free from the Google Play Store with In-app purchases.
So, if you're looking for a fun way to pass the time with your friends and family, check out Heads Up!
$1.99
Heads Up!
Warner Bros. Entertainment
Scrabble GO
Scrabble GO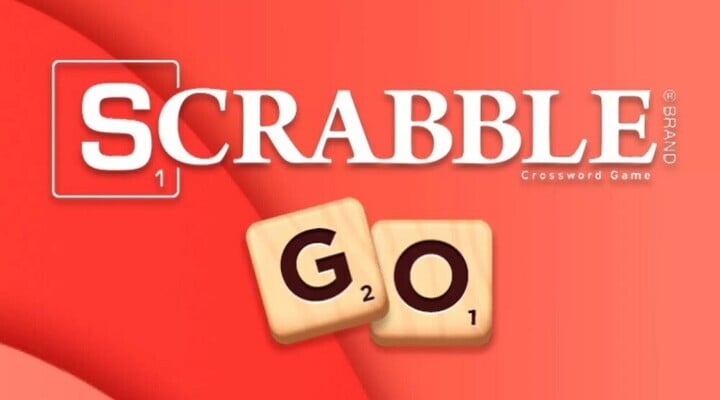 This online version of the classic board game has all the same engaging gameplay, with a few exciting twists. The app gives you access to tournaments, leaderboards, and special events. Whether you're a seasoned Scrabble player or just getting started, Scrabble GO offers something for everyone.
Test your strategic skills as you find the best words with the highest scores on the board. With new events regularly popping up, you can keep coming back for new puzzles and challenges that will have you hooked for hours!
Don't forget that it's also available for free on Google Play and the Apple play store, but with in-app purchases.
So, what are you waiting for? Download Scrabble GO and get ready to test your skills! Invite your friends and family for the ultimate challenge.
Free
Scrabble® GO - New Word Game
Scopely, Inc.
Chess Play & Learn
Chess Play & Learn
Chess is a classic tabletop game that has been around for centuries. It is beloved by players of all ages, which is why playing it with your friends can be so much fun.
With the advent of technology, there are now plenty of ways to enjoy chess virtually. Whether you're looking for a way to connect with old friends, challenge yourself against a computerized opponent, or try something new with an online group, playing this classic virtually has never been easier or more enjoyable.
The best part about playing this traditional game on an app is that you don't need special equipment or knowledge. All you need is a computer, tablet, or smartphone and access to the internet.
Plus, there are tons of outstanding features available on virtual gaming platforms like leaderboards and tournaments that add an extra layer of competition and engagement. That means that whether you're a casual player or a serious competitor, you can find something that fits your style and preferences.
Get it now on the Apple App Store or Google Play Store. It is free with in-app purchases.
Free
Chess - Play & Learn
Chess.com, LLC
In Summary
These seven apps provide the perfect blend of entertainment and bonding for even the pickiest of gamers. So don't just sit around and wait for something fun to come along. Grab your family and friends and get ready for an evening of friendly competition! With these outstanding apps, everyone will have a blast testing their wits against each other.
Download them today on your iOS or Android device, invite some friends, and let the games begin! And when you're done playing, share this article with others, and don't forget to leave a comment letting everyone know which game was the most rewarding experience. Good luck, and happy gaming!