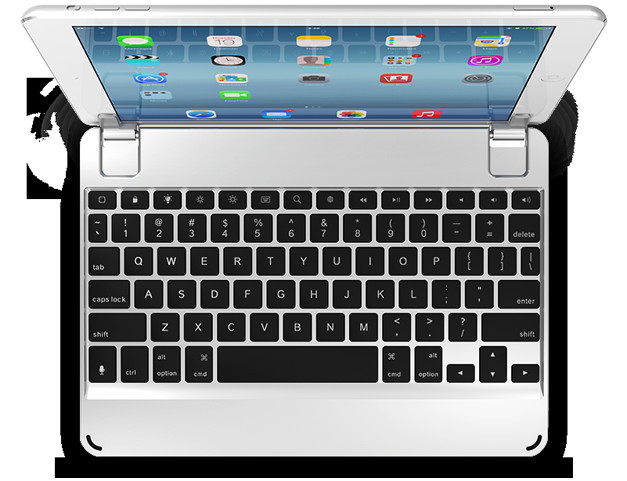 BrydgeAir
Keyboard
Makes
Your
iPad
Feel
More
Like
a
MacBook
It
might
help
you
bridge
the
gap
between
tablet
and
computer
Accessories
May 11, 2016
I'm typing this review entirely on my iPad, using the BrydgeAir Keyboard. There is, of course, no accessory that will turn your iPad into an actual laptop, but a Bluetooth keyboard like BrydgeAir's brings it pretty close.
This keyboard looks like it goes with the iPad. The aluminum design adheres to the iPad aesthetic, with one exception which I'll outline below. The keys and functionality line up with the keyboard on a MacBook, albeit slightly smaller.
The BrydgeAir Keyboard isn't cheap. Is it worth its price? Let's find out.
The facts
Product
BrydgeAir Keyboard
Compatibility
iPad Air/Air 2, 9.7-inch iPad Pro
Colors
Silver, Gold, Space Gray
What I liked
The BrydgeAir Keyboard felt instantly familiar. Once I made the Bluetooth connection, I just started typing. The keyboard is narrower than on my laptop, and some of the keys are smaller, but that didn't affect my ability to touch type at all. There are even some bonus keys, like a dedicated Siri key.
Most of the keyboard shortcuts you expect are present here. I like my keys to have a bit of a click and travel to them, and these keys do. The BrydgeAir Keyboard is solid and has the heft to it; it feels like a laptop keyboard. The keyboard is backlit, and there is a dedicated key to toggle the backlighting between dim, medium, and bright.
Your iPad is held in place by two clips which allow you to put your iPad at any angle you desire. This is an excellent feature; many keyboards and stands limit you to one or a few angles.
What I didn't like
As I mentioned above, there is one thing that keeps the keyboard from looking totally Apple-like, and that's the attachment mechanism. I found it a little bit awkward; when the keyboard and iPad are closed together, you can clearly see the clips that hold the iPad in place. The clips fit the iPad well, but there is no room for any kind of case on your iPad, except perhaps a skin. I always keep a case on my iPad, so having to use it naked in order to use this keyboard makes me nervous.
This keyboard is heavy. I suppose it needs to be, in order to keep the iPad from tipping over at obtuse angles, but it does make me less likely to want to toss it into my bag.
The BrydgeAir keyboard was designed for the iPad Air, so the Sleep/Wake feature may well work with that model, but it doesn't work with my 9.7-inch iPad Pro.
This is a very small complaint, but the keyboard doesn't come in Rose Gold, the color of my iPad.
Bottom line
The BrydgeAir Keyboard is a nice product for its particular use case. It's high quality, easy to use, works flawlessly, and matches the iPad in look and feel. It's a solid option for iPad Air and iPad Air 2 users.
Yet there are many cheaper Bluetooth keyboards out there, so I'm not sure I can recommend this one over all the rest. I can't recommend it for 9.7-inch iPad Pro users in particular, unless you have already considered and rejected Apple's Smart Keyboard which is the same price.
In most ways, Apple's Smart Keyboard for 9.7-inch iPad Pro is superior: the Smart Connector eliminates the need for Bluetooth, it's light and thin, and it allows you to use a case to protect the back of the iPad. But Apple's Smart Keyboard doesn't have the solidity, key movement, and laptop-feel of the BrydgeAir, so it comes down to personal preference.
The BrydgeAir Keyboard can be purchased in all three colors on their website for $149.99; there are also versions for all of the other iPad models. It can be purchased on Amazon for $149 to $157.99, depending on color.