Apple
Announces
'Designed
by
Apple
in
California'
Photo
Book
The
book
arrives
on
Wednesday,
Nov.
26
The People Behind Apple
November 15, 2016
On Tuesday, Nov. 15, Apple announced a new hardbound book chronicling 20 years of design. Designed by Apple in California becomes available tomorrow, Nov. 16 at select locations and online.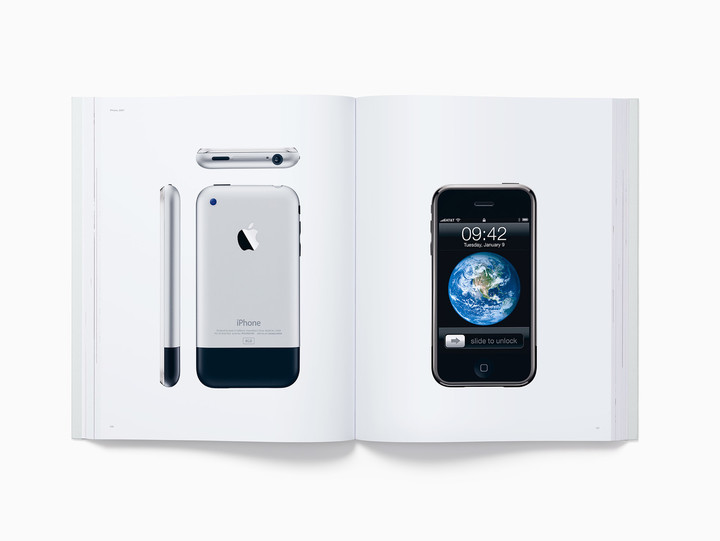 First-Generation iPhone in Designed by Apple in California
Featuring 450 photographs of past and current Apple products, the book covers products from the 1998 iMac to the 2015 Apple Pencil.
In the book's foreword, Jony Ive, Apple's chief design officer, notes:
While this is a design book, it is not about the design team, the creative process, or product development. It is an objective representation of our work that, ironically, describes who we are. It describes how we work, our values, our preoccupations, and our goals. We have always hoped to be defined by what we do rather than by what we say.
We strive, with varying degrees of success, to define objects that appear effortless. Objects that appear so simple, coherent, and inevitable that there could be no rational alternative.
Apple Watch in Designed by Apple in California
"Designed by Apple in California" is available in small (10.20" x 12.75") and large (13" x 16.25") versions at $199 and $299, respectively. The book will be available through Apple.com in Australia, France, Germany, Hong Kong, Japan, Korea, Taiwan, the United Kingdom, the United States, and select Apple Stores.
The book is dedicated to the memory of Steve Jobs.