Get
Your
Adult
Coloring
Fix
With
Pigment
June 28, 2017
Coloring books for adults has become a huge business. It brings us back to simpler days, letting us feel relaxed and free of worries for a while. Carrying around your adult coloring book and supplies can be a bit too much sometimes, so it's nice to be able to have everything you need right in your pocket. This is an app that gives you that, along with more tools than you probably ever imagined using in your adult coloring hobboy.
From mandalas to holidays to abstract and more, this digital coloring book has it all. Sit back, pick a coloring tool, choose your color palette, and start coloring.
Pigment is one of the best adult coloring book apps on iOS. The app itself is beautifully designed and easy to navigate, and there are a ton of different designs that you can choose from, ranging from the traditional mandalas to abstract art to holiday themes and much more.
Pigment has several different options for coloring tools as well, in case you want to go with a colored pencil, a marker, or even an airbrush effect. Just tap on the section you want to color and start painting — Pigment is smart enough to help you stay inside the lines, so you don't have to worry about ruining the adjacent sections, especially the tiny ones.
While you get a lot of options with the free download, you can subscribe to the Premium version for new, weekly designs so you're never out of content to color.
A comprehensive adult coloring book solution.
Pigment has a gorgeous design and a lot of variety in terms of design and tools. It's a quintessential adult coloring book for iOS, because it's so feature-rich and easy to use. The vast library of pages to color provides something for just about anybody, allowing you to quickly find something that reflects your personality.
When you're finished with your design, you might want to share it. Pigment makes this quick, simple, and easy. You can save the image to your Photo Library, print it, or share it via email, social media, or any other app that has Share Sheet Extensions.
As another wonderful option, Pigment now allows you to send your create as an animated card. The app plays through all of the steps you took in creating your masterpiece, merging them together into a short animation that you can share through email, social media, and more.
If you're looking for a coloring fix, this is it. Pigment provides you with plenty of options not only for what you color, but also for how you create your artwork.
So Much to Do
Pigment offers a vast library of books from which to choose. Better still, the list grows and changes based on upcoming seasons, holidays, and other events. No traditional coloring book can compete with that.
Find What You Want Quickly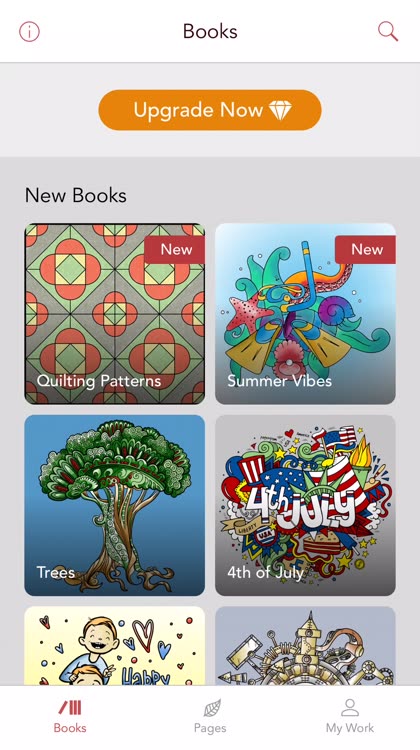 In Pigment, it takes just a few seconds to find the book you want and begin coloring. The library is very organized so you can always find something new, no matter your mood or inspiration.
FREE
Pigment - Adult Coloring Book
Pixite Inc.